The Film About 'The Banker' Has All the Ingredients of a Spy Thriller
(Bloomberg) -- From the small stage to the big screen, Latvia's central bank governor is proving quite a lure in the Baltic nation's theaters.
Ilmars Rimsevics, who sat on the European Central Bank's interest-rate-setting panel before becoming engulfed in a corruption scandal early this year, is the subject of a new documentary -- 'The Banker' -- currently showing in Riga. The film, which runs a little over half an hour, covers his rise and fall and contains all the ingredients of a spy thriller: bribes, money laundering, trips to Russia and a rogue state's ballistic-missile program.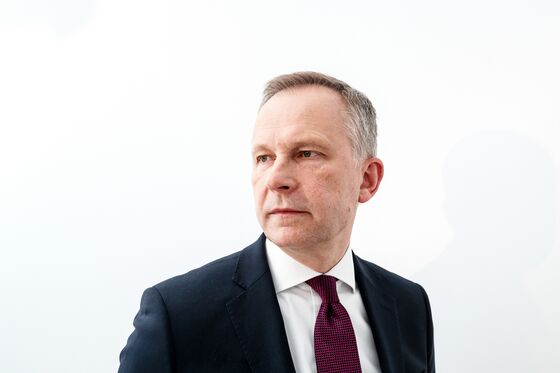 It's not the first time Rimsevics, who's sending a substitute to ECB meetings in Frankfurt while he fights the case against him, has played a starring role in performances in the Latvian capital. He was the main character in the 2016 satire 'Success Story,' which skewered his push for austerity after the 2008 economic crisis. In one scene, a supporter of his economic medicine is stabbed to death.
The latest documentary, made by two journalists, outlines the case against Rimsevics, who's accused of taking a bribe from a now-defunct bank in exchange for helping it resolve regulatory problems. But it doesn't reveal the contents of a secret 2013 tape recorded in an isolated lakeside resort outside Riga that's key to the prosecution. The head of the anti-corruption bureau simply tells the audience that the tape is shocking. Rimsevics declined to comment.
At the end of the film, one of the documentary makers peppers Rimsevics with questions as the two men walk down a street. Feeling hounded, the banker slips into a store to avoid the camera. While his pursuer gives up, Rimsevics could face a final showdown in court this year if prosecutors get their way.