Skidding Swedish Government Is a Victim of Its Economic Success
(Bloomberg) -- Sweden's government is getting little credit for what is set to be the longest economic expansion in at least four decades.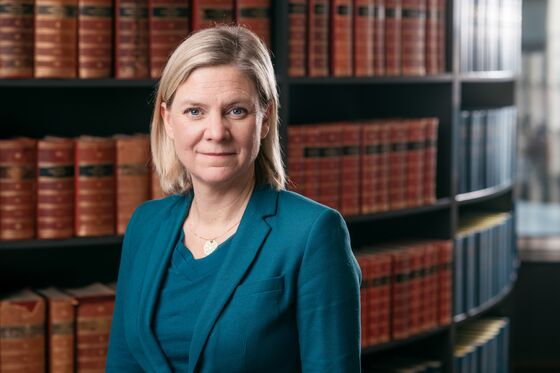 Sliding in the opinion polls, the ruling Social Democrats are looking more and more likely to be booted out of power in September's election. A recent survey showed support around 24 percent, down from about 31 percent in 2014's election.
In an interview on Thursday, Finance Minister Magdalena Andersson said the government is in a sense a victim of its own success. "The political discussion doesn't focus on the areas that are doing well," she said by phone. "That's also what it should be like."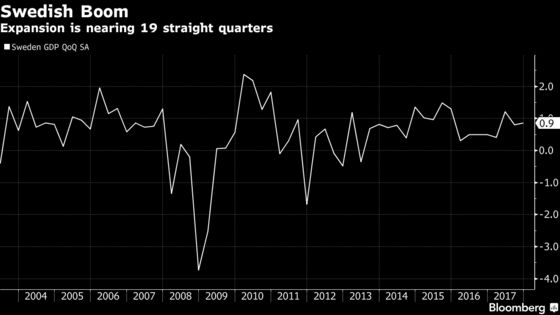 Voters are turning their backs on a party that by many metrics have achieved economic success over the past four years. With an expansion heading into its fifth year, the latest figures showed annual growth still topping 3 percent, helped by a global recovery. Employment is at a record high and successive budget surpluses have driven public debt to the lowest level since the late 1970s.
But there are economic sore spots. Andersson's government has raised taxes over the past four years and the top marginal rate now reaches 60 percent. A record wave of immigration has increased competition in the labor market, keeping the unemployment rate above 6 percent and straining Sweden's generous welfare state.
In a poll by Demoskop released this month, only 7 percent of voters held the economy as the most important issue and only 3 percent said that jobs were. The top issue was immigration, with 20 percent of voters deeming it most important, followed by health care, integration and crime.
The focus on immigration and integration comes after Sweden, a country of just 10 million people, accepted more than 500,000 migrants over the past four years. Health care has also deteriorated, with those waiting longer than 90 days for an operation or specialist treatment tripling over the past four years.
The shift in priorities shows that people have "studied the issues well" over the past years and that the need for tax increases has now abated, said Andersson. The view now is "we'll manage to finance welfare without raising taxes," she said.
The Social Democrats, which have ruled in a coalition with the immigration-friendly Green Party, did a sharp policy u-turn on migration policy late in 2015 after a massive influx of migrants sparked concerns over a system collapse. The party is now clear about the need to keep migration at a level that's compatible with safeguarding the welfare system.
But the shift has also led to a sharp division within the party, with one MP even abandoning her seat in protest. So far, it doesn't seemed to have lured back voters that have abandoned the party. Demographics is already threatening the welfare system, as staffing shortages are on the rise while a rapid population increase adds to pressure from a graying population.
Andersson said the stricter immigration policies were unavoidable.
"Our view is that it's completely necessary as we can't take a disproportionate responsibility compared to other EU countries," she said. "We need to focus on that the people who gain the right to stay in Sweden become a part of our society: learn Swedish, find housing, get a job."