Irish Protocol Risks Harming N. Ireland, DUP's Donaldson Says
The agreement on the Irish border struck as part of the U.K.'s exit from the European Union risks damaging Northern Ireland's economy and should be withdrawn, Jeffrey Donaldson said in his first television interview since becoming head of the Democratic Unionist Party last month.
Under the terms of the Brexit accord, Northern Ireland -- unlike the rest of the U.K. -- remained under the EU's customs and single market rules to avoid creating a visible border with the Irish Republic, a move that would risk reviving sectarian conflicts. As a result, some U.K.-produced products that don't meet EU standards risk being barred from entering Northern Ireland.
"I believe there are opportunities going forward, but we can't get to those opportunities because of these unnecessary barriers," Donaldson told Sky News. "Much of our supply chain comes from Great Britain, whether you are a consumer buying goods in the supermarket or a business relying on component parts for your manufacturing process. We need to fix that supply chain problem."
Prime Minister Boris Johnson has threatened to suspend parts of the Brexit divorce agreement if the EU doesn't change its approach to checks on goods entering Northern Ireland. Donaldson's party backs Northern Ireland remaining part of the U.K. and opposes and land or sea border between the countries.
His remarks come after U.K.'s chief Brexit negotiator and its secretary of state for Northern Ireland wrote in the Irish Times that European Union leaders need to engage in "constructive and ambitious" discussions to resolve the lingering Brexit dispute over the border.
Goods must be able to move "as freely as possible" within the customs territory of the U.K., and products important to Northern Irish consumers that come from Great Britain must continue to be available, David Frost and Brandon Lewis wrote in the opinion article.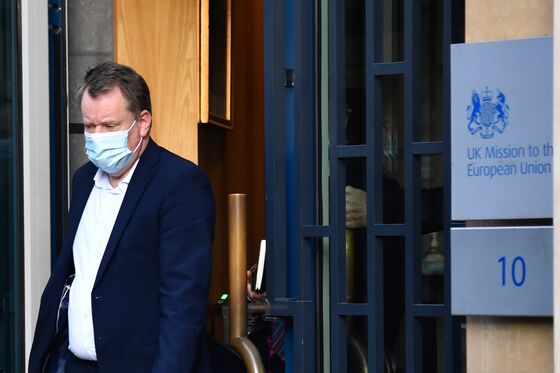 The situation is "urgent" and the "way forward is to find a new balance in the way the protocol is operated," Frost and Lewis wrote. "We must make a serious effort to do so rapidly."
In a discussion about the Frost-Lewis article, Irish Prime Minister Micheal Martin said that the EU had demonstrated "good will and a generosity of spirit" toward the British government, adding "the time for warning each other is over, it's time for engagement, constructive engagement with a view to reaching a resolution, the Irish Times reported.