Site Linked by U.S. to 'Putin's Chef' Fights Facebook's Block
(Bloomberg) -- A Russian media outlet linked by the U.S. to an ally of President Vladimir Putin says a lawsuit it filed in the U.S. against Facebook Inc. is meant to repair its reputation after it was unfairly associated with an accused troll farm thought to have influenced the 2016 election.
The Federal Agency of News, based in Putin's home city of St. Petersburg, is suing the social media giant for shutting down its account in April. The complaint, filed in San Francisco federal court on Nov. 20, is intended to restore FAN's access to Facebook and dispel claims that it's been part of alleged meddling efforts by indicted Russian oligarch Yevgeny Prigozhin, FAN General Director Evgeny Zubarev said in an interview last week in Moscow.
FAN was mentioned in the October indictment of Elena Alekseevna Khusyaynova, identified by the U.S. Justice Department as the chief accountant for "Project Lakhta." The U.S. described Project Lakhta as a Russian political interference operation said to be funded by Prigozhin and FAN as one of a dozen entities in operation to support it. FAN, in its lawsuit against Facebook, describes Khusyaynova as its own chief accountant.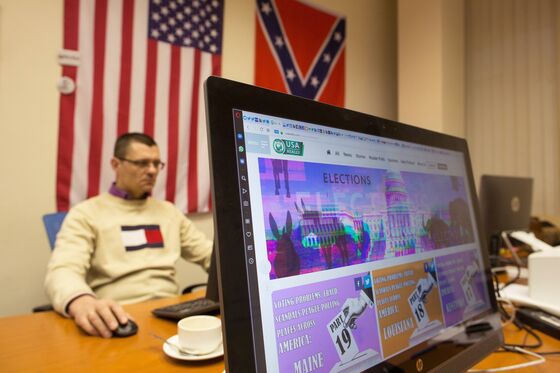 "They say we are trolls -- let them prove it," said Zubarev, a former crime reporter who runs the self-described "pro-Russian" news operation. "You have to have a very low opinion of Americans to really believe that we got their president elected."
Representatives of Facebook didn't respond to requests for comment on the lawsuit and Zubarev's statements. In April, Facebook removed almost 300 sites controlled by Internet Research Agency, the alleged troll farm. The chief security officer at the time, Alex Stamos, said then that IRA repeatedly used complex networks of inauthentic accounts to deceive and manipulate people who use Facebook, including before, during and after the 2016 US presidential elections. "It's why we don't want them on Facebook," Stamos wrote.
The legal fight and accompanying accusations of a "witch hunt" -- FAN's new English-language portal, USAReally.com, also has been blocked on Facebook, Twitter and Google, among others -- are feeding into a narrative in Moscow of a U.S. crackdown on free speech. FAN says it has a monthly readership of almost 9 million.
"Being able to sue Facebook and show that the U.S. is engaged in censorship just like Russia is the best win they can have," said Bret Schafer, a social media expert at the Alliance for Securing Democracy of the German Marshall Fund of the U.S. "A lot of it is to make the U.S. look bad" by making it seem like Facebook did this at the government's request, he said.
Facebook cited violations of its terms of service after deleting FAN and more than 270 Russian-language accounts in April. FAN argues in its lawsuit that Facebook's action was in response to pressure to cooperate with Special Counsel Robert Mueller's investigation into Russian interference in the 2016 election. Mueller's team indicted IRA in February.
Prigozhin, known as "Putin's chef" for his Kremlin catering contracts and accused by the U.S. of being the man behind IRA, was also among those charged with funding and organizing operations to interfere with the 2016 presidential vote. Prigozhin denied any role in election meddling or a relationship with IRA in November 2017. He didn't respond to a request for comment for this story.
FAN denies any connection with IRA, though it acknowledges they operated out of the same building from 2014 to 2015. Meanwhile, in addition to the accountant, Khusyaynova, FAN's former general director, Alexandra Krylova, has been indicted in the U.S. over the alleged interference. Khusyaynova has denied all allegations. Krylova, indicted for her role with IRA, hasn't commented on the indictment.
"Presenting themselves as a news outlet helps to bolster the message they're trying to push," said Lee Foster, who's in charge of analyzing information operations at cybersecurity firm FireEye. "It makes it hard to counteract because it blurs the lines between legitimate and illegitimate."
Zubarev wouldn't comment on whether Prigozhin is financing FAN.
FAN alleges in its complaint that Facebook violated the free speech protections of the First Amendment to the U.S. Constitution by unfairly censoring users, including Russian news organizations engaging in the dissemination of information.
"Our point is that the internet is a forum and Facebook is using its market power to shut down free speech, and is acting like a government regulator," said Dennis Boyle, FAN's legal counsel in the U.S. Boyle traveled to St. Petersburg earlier this year to vet the organization after the case was referred to him by Russian attorneys. He isn't representing USAReally.com.
The claim has won the attention of legal scholars in Silicon Valley who see the argument as just the latest attack by Russian trolls.
"If this lawsuit wins, the Russian trolls will have unfettered access to spread lies on Facebook and Facebook can have nothing to do with it," said Eric Goldman, a law professor at Santa Clara University, who notes that private entities are rarely liable for upholding the Constitution. "They're weaponizing the First Amendment against us by trying to reduce America's ability to decide what can and can't be discussed. I don't think we've ever seen anything like it."
FAN set up USAReally in May, saying it aimed to counter "the hegemony of the U.S. authorities in the information field." It's spending about $350,000 a year on the new site, and says it aims to shape public opinion with news articles and blogs. USAReally puts its readership at 20,000-25,000 a day. A front-page story on Dec. 4 exposed what it termed "black holes" in the Pentagon's budget.
"All this time we've been in a state of war, battling for our rights," USAReally's editor-in-chief, Alexander Malkevich, said in an interview in the site's Moscow office, which it shares with FAN. It's decorated with a photograph of President Donald Trump and the U.S. and Confederate flags as well as a Russian-language map of the U.S. pinpointing key social and economic problems in every state.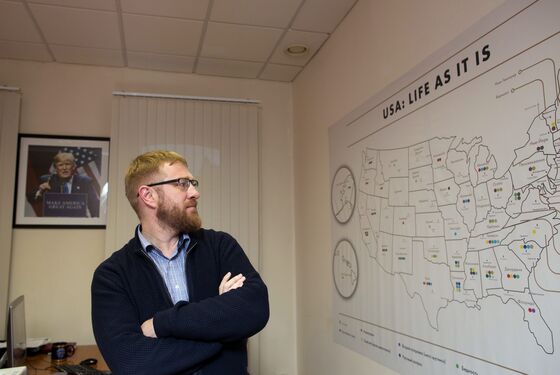 Malkevich, who's a member of a Russian state-sponsored organization of civil-society groups, was briefly detained and questioned as he was leaving the U.S. in early November after observing the midterm elections. In public comments during his trip he said he was in "deep shock" at what he called "violations" on election day in Democratic-controlled states.
A letter given to him signed by the Department of Justice's unit charged with registering foreign agents linked USAReally to the alleged troll farm and gave a deadline for the site to comply with U.S. laws governing its activity. Malkevich says he's now in the process of declaring it a foreign agent representing the interests of an overseas government.
Schafer from the Marshall Fund says drawing the attention of regulators seems to have been the goal. "As a media outlet they couldn't be more irrelevant, but there wasn't any real intent for this to be an influence operation outlet," he said. "This is all part of an elaborate PR stunt."