Sinn Fein Moves Into Lead as Varadkar Trails Before Election
(Bloomberg) -- Sinn Fein, the former political wing of the Irish Republican Army, moved into the lead ahead of the Feb. 8 general election, a poll showed, with Prime Minister Leo Varadkar's Fine Gael pushed to third place.
The party scored 25%, the Irish Times said late Monday in Dublin, citing a poll of 1,200 voters taken between Jan. 30 and Feb. 1, up 4 points from a survey for the newspaper taken two weeks ago. Fianna Fail dropped 2 points to 23%, while Fine Gael dropped 3 points to 20%.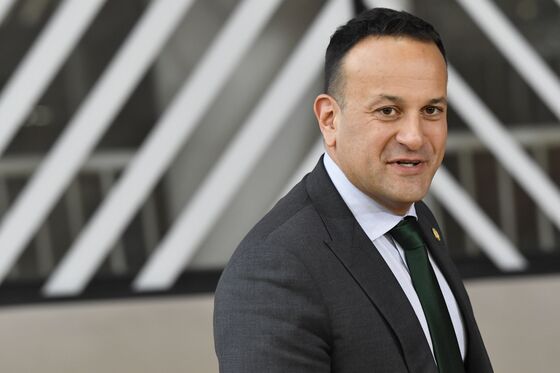 Both Varadkar and Fianna Fail leader Micheal Martin pledge not to enter government with Sinn Fein, who aren't running enough candidates to approach a majority in government. In an RTE radio interview, Varadkar warned of "massive" tax rises if Sinn Fein came to power, a charge rejected by the party.
Varadkar has placed Brexit at the center of his bid for power, claiming his government is best placed to protect Ireland while the EU and U.K. negotiate a future trade agreement. Voters though appear more focused on domestic issues including a housing shortage and struggling health care system, a mood Sinn Fein appears to be capitalizing on.
Some 41% of voters are satisfied with Sinn Fein leader Mary Lou McDonald, the poll showed, compared with 30% who are happy both with Varadkar and Fianna Fail's Martin.
Martin remains the most likely candidate to be prime minister, according to bookies' odds, as he's best placed to form a coalition with smaller parties, the Labour Party and the Greens. Labour scored 4% in the poll, with the Greens at 8%.
Still, Sinn Fein's rise is likely to complicate the formation of a government, as the party eats into the support of Fianna Fail, the Greens and Labour. Those three parties combined may not command a majority in the 158-seat parliament, the poll indicated.
That could mean Martin requiring Varadkar to back his minority government, just as Martin did with his administration.
Alternatively, Fianna Fail could drop its opposition to coalition with Sinn Fein -- an outcome bookmaker Paddy Power made favorite on Tuesday morning, with a 22% chance.
Irish bonds were lower alongside their peers as the haven bid was unwound after Asian stocks advanced. Ireland's 10-year bond yield was one basis point higher at -0.12% at 8:03 a.m. in London.