Singapore's Opposition Wins Most Seats Ever: Election Update
(Bloomberg) -- Prime Minister Lee Hsien Loong's party will extend its 55-year rule in Singapore, as it sought a fresh mandate to counter the city-state's worst-ever recession amid the coronavirus pandemic.
However the win wasn't as decisive as in years past. Ballot counts released in constituencies across the island showed the ruling People's Action Party leading most areas, but generally by smaller margins than in 2015.
While it will still be a small minority in parliament, the opposition Workers' Party won the most elected seats any opposition party has ever held in Singapore, retaining both constituencies it currently holds and winning a new group district.
Wearing masks and observing strict social distancing at polling booths, all voters had their temperature screened as authorities worked to ensure safety amid the Covid-19 outbreak that's shaken the city-state. Counting began immediately after polls closed, with the final outcome likely to be clear late Friday or early Saturday.
While Singapore bans opinion polls during election campaigns, analysts and the opposition parties expect the PAP to form the next government. It's been in power since the country's independence in 1965 and has never won less than 93% of parliamentary seats, despite seeing its popular vote slip as low as 60% in 2011.
Here's how the election happened (all times Singapore):
Workers' Party wins most seats ever (3:43 a.m.)
The opposition Workers' Party won the new four-seat district of Sengkang, capping the most successful night for an opposition party in Singapore history.
In addition, the Workers' Party retained its current flagship Aljunied, meaning two group-representation constituencies will now be held by the opposition for the first time ever. The party also easily held its single seat stronghold in Hougang.
In Sengkang, the ruling PAP had fielded Ng Chee Meng, a Minister in the Prime Minister's Office and Secretary-General of the National Trades Union Congress. Ng was previously education minister for schools and was once tipped as being among the country's new generation of leaders to potentially hold top positions in coming years. Among candidates from the Workers' Party, Jamus Lim, a 44-year-old associate professor, had garnered attention for his performance in a televised election debate.
Workers' Party supporters took to the streets with flags in the wee hours of the night, cheering and shouting the names of the constituencies their candidates won.
PAP retains parliamentary supermajority (3:18 a.m.)
Singapore's ruling People's Action Party has secured a two-third majority after winning 62 of 93 parliamentary seats, allowing it to make amendments to the constitution, pass laws and policies without many obstacles.
Two ministers survive as PSP comes up short in West Coast (3:07 a.m.)
The ruling party has won the West Coast district, returning two ministers: S. Iswaran, minister for communications and information, and Desmond Lee, minister for social and family development. They were up against Tan Cheng Bock, a familiar face in politics and one of the more popular opposition figures.
Tan Cheng Bock started out with the ruling PAP in 1980 and was an elected lawmaker for 26 years. In 2011, Tan re-entered politics when he contested the heated 2011 presidential election and narrowly lost. He started the opposition Progress Singapore Party last year, which has attracted PM Lee's estranged brother as a member.
PAP retains parliamentary majority (3:03 a.m.)
Singapore's ruling People's Action Party (PAP) extended their nearly six-decade rule of the city-state after securing a simple majority in this year's general elections, according to results announced by the Elections Department on Saturday.
Votes are still being counted in other constituencies. The PAP is looking to extend its supermajority as well.
Deputy PM Heng Swee Keat survives in East Coast (2:40 a.m.)
Deputy Prime Minister Heng Swee Keat and his party members won in a tightly-contested vote, paving the way for Heng to possibly be the next prime minister. Heng was fielded in Singapore's East Coast district for the first time in a nomination day surprise. He is currently also the finance minister, and the first assistant secretary-general of the ruling People Action's Party.
The East Coast group-representation constituency was a key battle in this year's election. The ruling party was up against the Workers' Party, who had fielded popular candidates including 33-year-old Nicole Seah.
Heng's team took 53% of the vote to the Workers' Party's 47%.
Singapore's virus response ministers
reelect

ed (2:23 a.m.)
Singapore's government elevated so-called fourth-generation leaders to spearhead the city-state's response to the Covid-19 pandemic. As results came in, several were reelected handily.
Three of the front line ministers of Singapore's virus response were easily reelected leading slates of candidates in People's Action Party strongholds. Minister of Trade and Industry Chan Chun Sing's slate got 63% of the vote in Tanjong Pagar, while Manpower Minister Josephine Teo's slate got 65% in Jalan Besar. Health Minister Gan Kim Yong's slate got 59% in Chua Chu Kang.
A fourth minister in charge of the virus response, Lawrence Wong, and his slate were leading according to the ballot sample released earlier in the night.
Yet as elsewhere, the 4G ministers Chan, Teo and Gan saw reduced vote share for the ruling PAP compared to 2015. And another key 4G leader, Deputy Prime Minister and Finance Minister Heng Swee Keat who led Singapore's response to the subsequent economic crisis, was in a closer race in East Coast.
First official district called is a PAP win, with lower margin (1:24 a.m.)
The ruling party won its first official seat of the 2020 election, in Bukit Panjang, though its vote share declined from 2015.
The PAP's winning candidate got 53.7% of the vote, defeating Singapore Democratic Party chairman Paul Tambyah, who got 46.3%. That's much closer than the last general election, when the PAP won by about a 2-1 margin here in 2015.
PAP on track for supermajority, again (12:36 a.m.)
Singapore's ruling party is almost certain to hold its majority in parliament, and appears on track to retain its supermajority as well, according to sample counts released by the Elections Department. The PAP leads in more than two-thirds of seats in parliament in those sample counts. If results hold, it would allow them to continue to pass through laws and policies without many obstacles.
The main opposition Workers' Party was ahead in 10 seats, which would be a record number of elected seats for the opposition.
Singapore PM Lee has strong lead in Ang Mo Kio (12:34 a.m.)
Prime Minister Lee Hsien Loong appears likely to cruise to reelection in his home constituency, leading his PAP slate to collect 72% of the vote in a sample ballot count.
Workers' Party leads in Aljunied, Hougang, Sengkang, in sample count (12:15 a.m.)
The opposition Workers' Party appears on track to retain its biggest political prize, the group constituency of Aljunied, according to a sample count released. They also led in Hougang, a single-member district they currently hold.
They also hold a slim lead in the sample count in Sengkang, a new group district that will elect four MPs on a slate together.
The Workers' Party is the only opposition party with elected seats in Singapore's parliament. If those results hold, it would be their best-ever performance in a general election.
Deputy PM Heng narrowly leads in sample count (12:06 a.m.)
Heng Swee Keat, the deputy prime minister running in a new constituency, and his PAP slate narrowly led a Workers' Party slate, 54% to 46%, in a sample ballot count released. The full count is ongoing.
Heng had helped spearhead the government's response to a pandemic that may lead to the country's worse-ever contraction since independence. He personally delivered four nationally televised stimulus packages in about three months worth almost S$93 billion ($66.8 billion), laden with cash handouts, tax waivers and wage subsidies.
PAP vote share declines in first sample counts (11:38 p.m.)
The first sample ballot counts released on election night in Singapore showed the ruling People's Action Party leading in several districts, but in many cases by less than their winning margin in 2015.
The PAP's vote share in the sample count declined in five districts across the country from 2015 final results, though they still led in every one. In Marine Parade for example, where former Prime Minister Goh Chok Tong recently retired, the sample count showed PAP's vote share slipping by about 7 percentage points, even as the ruling party held a double-digit lead for the seat.
The Election Department issued a statement to caveat the announcements:
"As this is a sample count, the election result could be different. Counting is still in progress. The public should wait for the announcement of the election result by the Returning Officer, Mr Tan Meng Dui, which will be broadcast 'live' on television."
Sample counts coming up (11:24 p.m.)
Before the final votes are released, the Elections Department will release sample counts for this year's elections, giving an early indication of the possible outcomes for the various constituencies.
Think of it as a sort of exit poll as might be seen in the U.S. or other countries, except this is actual ballots cast, not an opinion survey. Sample counts are derived from a random sampling of ballot papers from each polling station within a constituency.
This is the second time sample counts will be released, the first being in the 2015 polls. Local media have reported a margin error of up to four percentage points.
Singapore polls close, counting starts (10 p.m)
Polls have closed in the city-state after an intense campaign period that has focused on issues from creating jobs to the government's handling of the coronavirus pandemic.
All eyes are on how the ruling People's Action Party will perform this time around, compared to the 69.9% of votes it got in 2015.
Turnout headed for possible record high (9:32 p.m.)
With about 96% of registered Singaporeans casting their ballots as of 8 p.m., the Elections Department announced more than 2.5 million votes have been cast so far in Singapore's general elections. That's higher than 2015, when about 2.3 million people cast votes.
It also defended its decision to prolong polling by two hours saying "the decision to extend polling hours was made because there was still a small number of polling stations with long queues." It said in a separate statement there will be no changes to polling and vote counting procedures.
Polling hours were extended until 10 p.m. across much of the island. At least two opposition parties criticized the extension. The Singapore Democratic Party called it "highly irregular," while both they and the People's Power Party said there were logistical problems raised by the extension.
Poll closing times extended (7:24 p.m.)
Singapore extended the hours for most polling stations to 10 p.m., a two hour extension as the city-state reported long lines to vote. The extension will slightly delay results here, as counting is set to begin after polls close.
Voter turnout (6:30 p.m.)
Some 2.16 million people, or 81% of those registered to vote, have cast their ballots as of 5:00 p.m local time, according to the Elections Department. In the 2015 elections, the total turnout was 93.56%.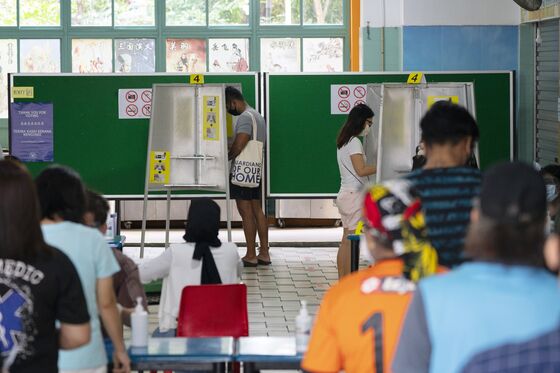 Teething problems (4:50 p.m.)
"I think the queues are a bit longer. But the officers are trying their best," Prime Minister Lee Hsien Loong was cited as saying by Channel News Asia before casting his vote.
"From what I know, the teething problems have been sorted out and it's running smoothly now."
Ruling party's challenge (1:15 p.m.)
The People's Action Party (PAP) came to the election confident that voters would endorse its Covid-19 response, the University of Nottingham Asia Research Institute Malaysia honorary research associate, Bridget Welsh, told Bloomberg TV in an interview Friday.
"I think they will get a majority of the voters to do that," Welsh said. "But at the same time, the campaign itself has been very negative. The PAP has been on the defensive. The issues that have been raised will be things that PAP will have to grapple with irrespective of what happens in the contest.
"It puts PAP very much in the hot seat given the fact that they have not controlled the election narrative."
Long queues and disposable gloves (12 p.m.)
The Elections Department apologized for the longer-than-usual queues for voting, caused when people arrived outside their assigned time for casting their vote.
"This, together with measures that had been put in place to ensure safe voting, had led to long queues," the department said in a statement. "To address the long wait, we did away with the requirement to don disposable gloves, as voters would already be required to sanitize their hands. We observed that this step in particular contributed to the longer than usual voting times. Gloves are still available for voters who would like to use both sanitizer and gloves."
Singaporeans began voting in what could be Lee's final election before he hands power to the so-called "fourth generation" of People's Action Party (PAP) officials led by Deputy Prime Minister Heng Swee Keat, who have helped spearhead the government's response to Covid-19.
Any drop in support compared with the last election in 2015 -- or even a more extreme scenario where the PAP fails to win a two-thirds majority in Parliament for the first time -- could potentially affect Lee's succession plan or prompt the government to adopt more populist measures like it did in 2011 following its worst-ever result