No 'Big Bang' Virus Reopening as Singapore Seeks Middle Path
(Bloomberg) -- Singapore will not take the same approach as the U.K. and U.S. for mass reopening, but neither will it keep the sort of restrictive outlook that China and Australia have adopted. Instead, it will chart its own step-by-step approach, Health Minister Ong Ye Kung said.
"What we want is to take a more middle path. Get ourselves vaccinated, that's critical, maintain both containment and mitigation measures," Ong said Friday in an interview with Bloomberg Television's Haslinda Amin. The country would "open up progressively, package by package, nothing big bang, and each step of the way, make sure we keep the population safe," he said.
His remarks come as Singapore plans to further relax virus curbs with larger group sizes allowed at restaurants from July 12, while it works toward a more expansive easing. The country has ramped up inoculation, setting milestones that are tied to more reopening such as having at least half its population fully vaccinated by the end of the month and two-thirds around its National Day of August 9.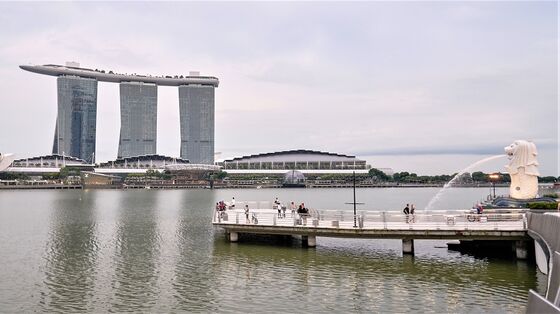 Still, even with one of the best vaccination rates in Asia and more first doses administered than New York and London, the city-state of about 5.7 million has so far maintained a more conservative stance on reopening, sparking frustration among some businesses and people over the cautious pace.
Its exit path is being closely watched as a potential template for other areas that have contained the virus, vaccinated their populations and now want to rejoin the world. Ong cited the dilemma of so-called Covid-Zero countries like China, Australia and New Zealand that have maintained very tight border controls and pointed to their challenges of opening up because cases there are low and their population remains naive to the virus.
On the other hand in places like the U.K. and U.S, there's "so much uncertainty" when they open up. "You don't know if infections are going to shoot through the roof and how would that translate into severe illnesses, even deaths?" he said.
For more on Singapore's reopening strategy
Singapore Employers Can Make Jab Mandatory in High-Risk Settings
Government officials have said they're drawing up a roadmap that plans to treat Covid-19 as endemic, and manageable as part of daily living like influenza. They are also looking to further relax rules around dining, office work and events, with more freedoms for those fully vaccinated.
Ong said officials will have to think of a more definitive roadmap as Singapore approaches its vaccination milestones, particularly around loosening travel restrictions and changing its health protocols. Fully vaccinated people will be first in line to travel abroad for leisure, and it's likely that only those who have been inoculated can go abroad when overseas travel resumes, the Straits Times reported, citing comments from Ong in a separate Instagram broadcast.
The Straits Times Index rose 0.6% on Friday bucking weakness in the MSCI AC Asia Pacific Index. The city-state's benchmark equity gauge rebounded after dropping 2.6% over two consecutive sessions of declines. Gains were led by real estate developers and investment trusts, sectors that will benefit from the nation's reopening.
Ong warned that herd immunity may be elusive because of more highly-transmissible variants of the disease. More than 3.7 million people have gotten at least their first dose, while nearly 40% of the population have received both doses.
"To get herd immunity you may need 90-95% of your population vaccinated and we may not get there, not even a place like Singapore where there's a lot of trust between people and institutions," Ong said. "We may get 80% if we are lucky, which means it's difficult to get to herd immunity, but what we can achieve is to arrive at an endemic situation where you can live with the virus."
Meanwhile, Ong said booster shots may likely be needed. He said in the Instagram broadcast that the country could begin to provide such shots around the start of February next year, according to the Straits Times.
"The question is timing and also what type because you also need to respond to variants," he said, adding Singapore may tap the supply of vaccines it has secured for some booster shots and any rollout of these jabs should be smooth. "We have a very close working relationship now with Moderna, Pfizer and other suppliers, and we are in talks with them."