Singapore's PM Warns Nation Is Facing 'Very Grave Situation'
Singapore is facing a grave economic challenge posed by the coronavirus pandemic that may affect the timing of the nation's election, said Prime Minister Lee Hsien Loong.
In a meeting with reporters on Friday, Lee said the tide "had not turned" with the outbreak. As more residents come home to Singapore, more virus enters the country, he said.
"People must be quite clear that we are doing all we can to help them to stabilize the economy, to preserve jobs, to help companies stay in business," Lee said, including reducing costs and helping the key industries that have been drastically hit like aviation. "We are under no illusions that this is the end of the story because nobody can tell what lies ahead."
Amid the uncertainties of the pandemic, Lee said he has not yet decided when to call for a general election that must be held by April 2021. Lee said he would need to weigh "conducting an election under abnormal circumstances, against going into a storm with a mandate which is reaching the end of its term."
"If we were sure that the thing could settle within the next six months, I think we can say well, let us wait for six months, let things calm down, then we carry on," he said. "But nobody can say. I expect that it can easily get worse before it gets better."
On Thursday, the government unveiled a supplemental budget worth more than S$48 billion ($34 billion) in an effort to combat the growing impact of the coronavirus pandemic. The so-called "Resilience Budget" includes a deferral of income tax payments and scrapping property taxes for hotels and shops hardest hit by the outbreak.
But even after tapping $17 billion in reserves, Lee said it was "quite possible" Singapore may may need to draw upon those funds again before the outbreak subsides.
"As we approach the end of the year, we will have to think whether we need to extend that package, and if so, whether you want to modify it, increase or decrease it, or whatever," he said. "That we have prepared for, but we must also be psychologically prepared that if things actually get worse during the next few months before the end of the year, we may need to do something even before that. If it comes to that, we will go to the reserves."
Deaths from the pandemic have now risen beyond 24,000 globally. Singapore initially won praise for being able to minimize community spread since reporting its first infections back in January, but new cases have sharply risen in recent weeks as Singaporeans returning home from abroad tested positive for the virus.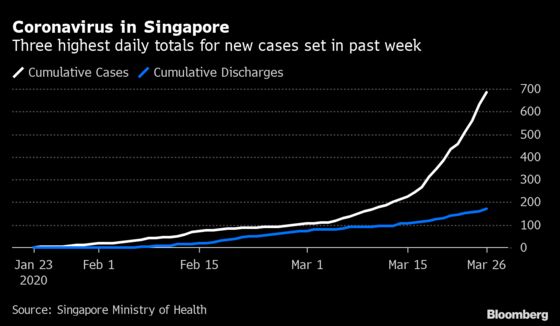 On Thursday evening, Singapore reported an additional 52 coronavirus cases, bringing the total to 683. Of the new cases, 28 were imported and 24 were from local transmission, the government said in a statement.
Aside from the second stimulus package, the government this week also triggered a number of other measures to combat the spread of the coronavirus, including shutting bars and cinemas and suspending religious services.
Singapore on Thursday also announced it was a criminal offense to breach government ordered "Stay-Home Notices" and safe distancing measures. Those include gatherings outside of work or school of more than 10 people and physical distancing of at least one meter in settings where interactions are non-transient. The maximum penalty for either offense is a fine of S$10,000 ($7,000) and six months imprisonment.
The government had previously said it would consider joining other countries in closing schools and some work places if the situation worsens. All pre-schools run by Singapore's ruling People's Action Party Community Foundation already closed for four days starting Thursday after more than a dozen employees from one of its schools tested positive for coronavirus.
The prime minister on Friday resisted shutting the school system down while noting Singapore is watching the development of the coronavirus situation in schools very closely.
"I think we should look at schools as individual schools rather than one whole system," Lee said while commenting on the recent outbreaks at two schools.. "We confine and we rub out that cluster, but it does not mean that I must shut the whole system down."