Singapore Opposition Chair Calls for Inclusiveness After Poll
(Bloomberg) -- After 55 years of single-party rule in Singapore, a best-ever performance for the opposition in Friday's vote shows the country is ready for an inclusive government with different views, Workers' Party chairman Sylvia Lim said in an interview.
Speaking to Bloomberg TV's Haslinda Amin on Monday, Lim said the "hard-line, combative campaigning" that has been a staple of the People's Action Party in elections appeared to have "backfired" as a younger generation of voters had a vision of Singapore different from their parents.
"We want a Singapore which is inclusive of different views," she said. "We have to find a way to be more accepting and to talk through our differences."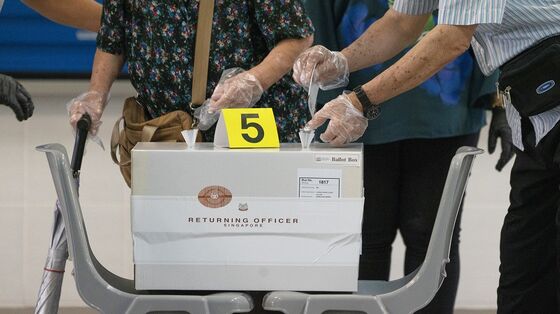 Prime Minister Lee Hsien Loong said the results showed "a clear desire for a diversity of voices in Parliament," adding that the outcome also reflected the "pain and uncertainty" caused by a loss of income and anxiety over jobs triggered by the coronavirus pandemic. Lee hinted at some changes ahead, saying government policies must reflect the younger generation's "significantly different life aspirations and priorities" compared with older Singaporeans.
As the sole elected opposition in the new parliament, the Workers' Party won a record 10 seats while securing two group representation constituencies, prompting analysts to declare this is a "vote for change" that will trigger "soul searching" among the country's leaders. While the People's Action Party (PAP) secured the remaining 83 seats, its share of the popular vote was just 61.2% -- slightly more than its all-time low of 60.1% in 2011.
Lim said her party was "very pleased with the vote of confidence," and noted some voters had questioned the government's decision to call for an election amid a pandemic that has infected more than 45,000 people in the city-state.
"There was a sense that the majority of Singaporeans felt that the government should focus on controlling and handling the pandemic, rather than to have an election at this time because its term was still able to run until April next year," she said.
Here are some other takeaways from the interview, where she spoke on issues from how the party clinched a new district to the election performance of the deputy prime minister.
On the role of younger voters
One of the two group representation constituencies (GRC) won by her party was in Sengkang, in Singapore's north east. "We were not expecting to win that GRC but it looks like during the campaign the momentum shifted and because our team in that area matched the profile of the voters -- meaning that the oldest candidate was 44, the youngest was 26, they are all parents of young children," she said. "So, nationwide, I'm not able to say right now whether the younger voters tipped the balance overall, but I think certainly in that particular constituency, it made a big difference."
On when opposition will become a true alternative to PAP
"Rome wasn't built in a day," she said. "A lot of how Singapore moves forward, whether the ruling party will have a smaller majority in parliament in the next few elections or whether it deteriorates to the point where the voters feel that another party is able to take over -- this is all in the horizon -- not so immediate."
"I think, what our elections have shown is that Singaporean voters in general take their vote very seriously," she said. "I don't think they will, in general, vote just as a protest, but they will also look at what is at stake, who is providing the alternative and whether they think they can accept that person as their member of parliament."
On performance of Deputy Prime Minister
"I do not know how much time he and his team had to really work out a strategy," she said of Heng Swee Keat's campaign in the East Coast in which his slate of five candidates won with a 53.41% of the vote, among the worst performances among senior officials. "It appeared as if the campaign wasn't well prepared. So I'm not sure how much of that is really attributed to him per se or to the party as a whole."
On Heng as likely next prime minister
"Well, I actually know DPM Heng personally, although not very well because he was a police scholar and I was a police officer in the past," she said. "In fact, he headed the recruitment interview when I was recruited to the police force and by all accounts, I think everyone agrees that he's a very decent man. But I suppose in a sense, he might be more comfortable crunching numbers and so on. I mean, charismatic is not a term that we would ascribe to him, but that doesn't mean of course, that the Prime Minister has to be charismatic in a firebrand manner. I mean, he can show competence in other ways, so I do believe that as and when DPM Heng becomes PM, he will have his own style of leadership, he will have a team with him. So it's not just him alone."