Singapore PM Says Asean May Need to Choose Between U.S. and China
(Bloomberg) -- Singaporean Prime Minister Lee Hsien Loong warned that Southeast Asian nations might be forced to choose between the U.S. and China, as concerns deepen about a Cold War-style conflict between the world's two biggest economies.
"The circumstances may come where Asean will have to choose one or the other," Lee said on Thursday night at the close of a regional summit hosted by the 10-member Association of Southeast Asian Nations. "I hope it does not happen soon."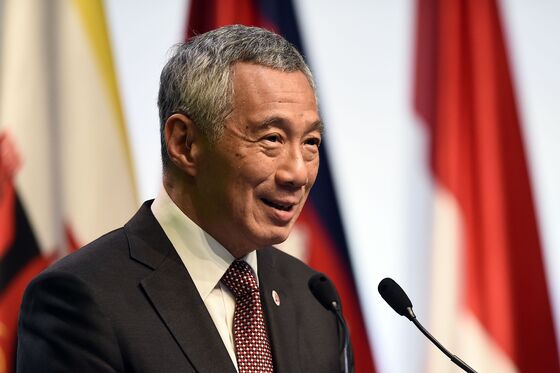 Lee's remarks reflect fears among smaller nations that the U.S.-China trade war could disrupt supply chain integration throughout Asia, leading to different sets of rules for operating with either powerhouse. Earlier this month, former U.S. Treasury Secretary Hank Paulson warned of an "Economic Iron Curtain" dividing the world, if the two countries couldn't reach a deal.
Southeast Asian countries have long sought to balance the world's major powers to avoid getting caught in another conflict like the Vietnam War. That strategy has underpinned stability, leading to increased trade with China, as well as closer security ties with the U.S. to hedge against Beijing's expansive territorial claims in the South China Sea.
In another sign of regional realignment, Australia, India, Japan and the U.S. -- a group informally known as the "Quad" -- met Thursday in Singapore to reaffirm their "shared commitment to maintain and strengthen a rules-based order in the Indo-Pacific in which all nations are sovereign, strong, and prosperous," the U.S. said in a statement.
It was that same rules-based order order that Lee warned was "fraying" as China's rise and Trump's "America First" policies encourage nations to pick a side. He called for greater economic integration and said Asean must understand where it might need to make a choice between one of the other.
"If you're talking about economic cooperation, theoretically that is win-win," Lee said. "But if the global economy pulls apart into different blocs," he added, "then Asean will be put in a difficult position."
Speaking alongside Lee after finalizing a tax agreement Friday, Vice President Mike Pence underscored the strategic tension with a few thinly veiled jabs at China. Pence, reiterating talking points he has used during his attendance at Asean events this week, said "empire and aggression had no place" in the region, which American and its allies have begun calling the "Indo-Pacific" to emphasize India's role.
Pence also pledged to defend freedom of navigation in the South China Sea, where Beijing has built military outposts to defend its claim to roughly 80 percent of the water body.
"The South China Sea doesn't belong to any one nation," Pence said. "And you can be sure: the United States will continue to sail and fly wherever international law allows and our national interests demand."