Sinema Offers Support for Taxing Top Earners in Democratic Plan
(Bloomberg) -- Arizona Senator Kyrsten Sinema, a crucial swing vote for Democrats, has given the Biden administration a list of specific tax policies she will support in order to raise revenue for the social spending plan Democrats hope to pass this year, people familiar with the matter said.
Sinema would support the billionaire tax put forward this week by Senate Finance Committee Chairman Ron Wyden, or a House Democrats-backed 3% income surcharge for earners above $5 million, the people said on condition of anonymity to discuss sensitive negotiations.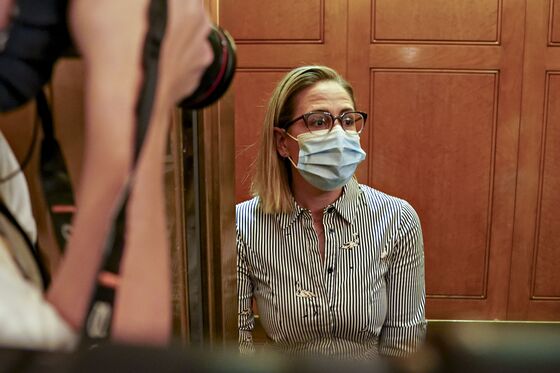 She also will back a 15% corporate minimum tax; changes to the taxation of multinational companies; a tax on stock buybacks; expanding a surtax on high earners' investment income; and increased IRS enforcement funding and financial-account data collection, according to the people.
Sinema's office didn't immediately respond to a request for comment.
The list helps clarify, and significantly limits, what Democrats hope to accomplish on the tax side of the broad multitrillion-dollar legislation they aim to make their signature achievement of this Congress. Democrats in the Senate must remain unified to pass the proposed legislation, giving any one lawmaker the ability to dictate its terms as long as Republicans stay united in opposition; Sinema and West Virginia's Joe Manchin have already forced their party to make significant changes to the package.
In fact, some of the options supported by Sinema, including the billionaire tax and IRS account-data collection, are already on life support because of opposition from Manchin and other Democrats.
The administration and congressional Democrats are working under the assumption that Sinema will continue to oppose rate hikes to corporate and individual income tax rates, since they were not on that list, though several of the policies she supports would raise taxes on corporations and the wealthy.
Other items Democrats proposed that aren't on her support list include a rewrite of a Trump-era tax break for small businesses known as the pass-through deduction; taxation of carried interest; and limiting how wealthy taxpayers can use Roth IRAs.