Sinema Agrees to Broad Tax Hike Outline to Fund Biden Agenda
(Bloomberg) -- Senator Kyrsten Sinema has agreed to raise tax revenue from companies and the wealthy to fully fund President Joe Biden's economic agenda, according to a person familiar with the matter.
The Arizona Democrat -- who has opposed raising rates on corporations and individuals -- will back ways of increasing revenue from domestic corporations, global companies, high net-worth individuals and through tax enforcement, according to the person who requested anonymity because the talks are private.
The specifics of what she would support weren't immediately clear.
The tax changes would provide enough revenue to fund the roughly $2 trillion package Democrats are pursuing on climate, health and early childhood programs. Disagreements on the revenue portion of the package have been one of the issues holding a deal that would move plans toward actual legislation.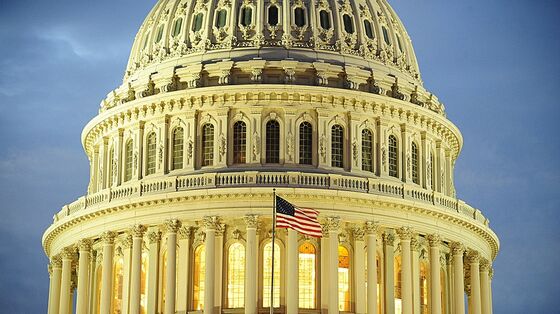 Politico earlier reported the agreement.
The possible breakthrough comes after a day of discussions among Democratic leaders and Sinema and her staff over the tax policy goals for the bill. Sinema had previously said that she would likely not support increases to corporate and individual tax rates, prompting Democrats to look at alternative tax options to increase revenue without upping the headline rates. 
Democrats are considering options including an excise tax on stock buybacks, a levy on the unrealized gains of billionaires and corporate minimum taxes as a fallback on tax rate hikes. However, those ideas have yet to be fully developed and could face political resistance from other Democrats.
The White House declined to comment. Representatives of the House Ways and Means Committee and the Senate Finance Committee did not immediately respond to requests to comment on Thursday evening.
House Ways and Means Chairman Richard Neal said he met with Sinema midday Thursday to discuss his plans to increase the corporate tax to 26.5% from 21% and the individual rate to 39.6% from 37%. They also talked about strengthening international rules to tax more of the profits U.S. companies earn abroad.
He added that he was confident she wants to see a bill pass and supports the overall policy goals of the package.
"She's in on renewables. She's in on the issue of the child credit. She's in on family medical leave, and that's the way she ranked them," Neal said. "She said, 'I agree with you -- this has gotta pass.'"
Neal said his talks with Sinema Thursday didn't conclude in an official agreement but that his committee continues to talk with her office.