Putin's Silence Unnerves Russia After 'Panic' Over Pension Plan
(Bloomberg) -- Russia's attempt to roll out a proposal to increase the pension age under the cover of the World Cup has triggered the worst tumult President Vladimir Putin has faced at home in years, fueling speculation the Kremlin might soften a reform that's crucial to righting public finances.
A decade in the making but unveiled hours before the Russian national team's opening game at the soccer tournament last month, it came at a time when incomes stagnate and the economic outlook remains dim. The plan to push back the time people can retire starting next year quickly spilled into protests and a steep drop in Putin's poll ratings. Among the four parties in parliament, only the pro-Kremlin United Russia supported the legislation on Thursday.
Through it all, Putin kept mum in public, even though he approved the proposal before it went to parliament, according to two officials familiar with the deliberations. Authorities knew that the reform, while seen as inevitable, would be a tough sell, they said. But Putin's public silence amid the signs of popular opposition has sown uncertainty about the Kremlin's plans, even within the government, these people said, speaking on condition of anonymity to discuss confidential deliberations.
Lawmakers in Moscow approved the bill in first reading and also extended the period of deliberation by a month until Sept. 24. While that's leaving the ball in Putin's court, the president is only likely to speak up before regional elections in September, according to Evgeny Gontmakher, a former government official.
"A certain panic has set in among the government ranks-- evidently they didn't expect such reaction," said Gontmakher, who's also a management board member at Moscow's Institute of Contemporary Development. "I don't rule out some watering down."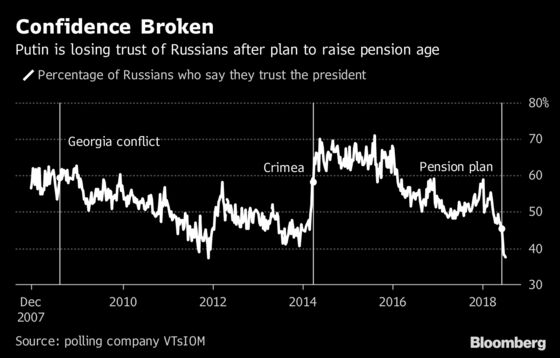 Despite reports of worry in the Kremlin, Russia's government has tried to stay on message. Finance Minister Anton Siluanov has insisted there will be no change to the parameters of the overhaul.
But in a sign of a rift among lawmakers, 104 members of the lower house of parliament opposed the bill on Thursday, with 328 votes in favor. Several United Russia lawmakers were absent for reasons ranging from health problems to travel, and one cast a ballot against, according to the Vedomosti daily.
The proposal has rankled Russians because life expectancy remains so low that it would allow for too few years of retirement. Life expectancy is currently under 68 for men and below 78 for women. Meanwhile, poor job prospects could leave many older people unemployed.
According to an analysis by Alfa-Bank, international experience shows that governments pre-announce pension reforms by an average of five years, introducing them at moments of faster economic growth and exposing a smaller share of the population.
Putin's re-election to a record fourth term in March elections provided an opening for a decision that Russia had long dreaded. It has one of the lowest retirement ages in the developed world, unchanged since 1932, leaving the government to contend with growing expenses as the population shrinks. Women can stop work at 55 and men at 60.
Under the proposal, the retirement age will rise gradually, reaching 65 for men by 2028 for men and 63 for women by 2034. To sweeten the offer, the cabinet has suggested raising the average monthly pension.
As a result, the number of retirees is projected to fall by almost 14 percent to 31 million by 2034, with Alfa-Bank estimating that expenditures for the state pension fund could drop by about 300 billion rubles ($4.8 billion) every two years. The changes could add about 0.2 percentage point to potential economic growth each year, Bloomberg Economics estimates.
Still, the public fallout has been swift. Confidence among Russians in Putin fell below 38 percent in the first two weeks of July, the lowest level since December 2011, according to state-run polling company VTsIOM. Another recent survey found that 80 percent oppose the plans, with 43 percent of respondents saying they'd join any local protests against them if they take place.
Another point of contention is that for now it excludes changes in spacial benefits for the military and law enforcement that allow veterans to retire early.
As for the ill-timed rollout, the finance minister said it was "pure coincidence" that the announcement came on the opening day of the World Cup.