Shorting Mexican Stocks Is in Vogue
(Bloomberg) -- Optimism about a revised trade pact between Mexico and its North American counterparts isn't fully spilling over into the nation's stocks.
Short interest in the iShares MSCI Mexico ETF climbed to a two-week high of 13 percent of shares outstanding Friday, according to the most recent date from IHS Markit, double the 12-month low hit in early August. The slew of negative bets are piling up in the midst of a rally for the $1.2 billion exchange-traded fund, which advanced for a fifth consecutive day Monday as it extended gains since Andres Manuel Lopez Obrador's election win in July to 8.7 percent.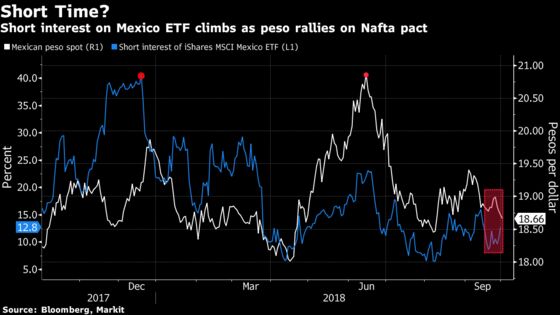 It isn't totally clear why short sellers have been growing more more bearish in the past couple weeks, even as Mexico reached a bilateral trade deal with the U.S. and speculation swirled that Canada wouldn't be left out of a final accord. But it could be a simple case of investors deciding that the optimism has gone too far, with prices poised for a pullback.
"The ETF has seen a big run-up, so this could be guys saying too much, too fast," said Kathryn Rooney Vera, the head of global research at Bulltick Capital Markets in Miami. "But I wouldn't be shorting" Mexican stocks.
That sentiment was echoed by Esteban Polidura, a strategist at UBS in Mexico City. He said the new trilateral trade treaty puts to rest one of the big political uncertainties in the region, supporting Mexican stocks and the peso. Mexico's benchmark stock index was up 0.7 percent as of midday Monday, with the peso trading 0.2 percent stronger and the ETF up 0.9 percent.