Buoyed By Vaccine Push, Israel Central Bank Ups Growth Forecast
(Bloomberg) -- Israel's world-leading sprint to vaccinate its population is spurring optimism inside the country's central bank.
The Bank of Israel kept its benchmark interest rate at an all-time low 0.1% for a sixth straight decision on Monday, an outcome unanimously expected by analysts in a Bloomberg survey. Researchers forecast that under a rapid vaccination campaign, output could expand 6.3% this year and 5.8% in 2022.
"The fast pace of the inoculation process in Israel increases the optimism regarding a rapid return of the economy to a path of growth in the coming year," the monetary committee said in a statement accompanying the decision on Monday.
Those forecasts contrast with a projected 3.7% contraction in 2020, and pessimistic outlooks of 3.5% growth this year and 6% in 2022 if doses are given out gradually and the economy doesn't reopen fully before the middle of next year.
Policy makers voted to stand pat after rolling out emergency stimulus programs throughout the pandemic, preserving what little firepower they have despite the economic fallout from an ongoing third lockdown and concern over a roaring shekel.
The currency traded little changed after the central bank decision Monday, while local stocks fell.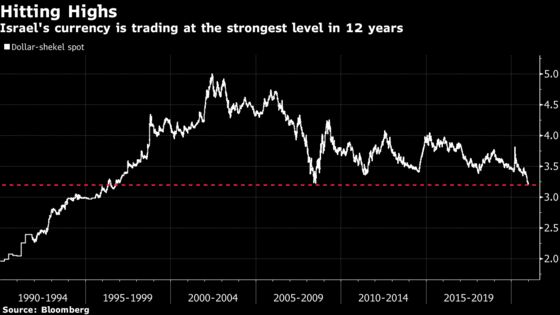 Governor Amir Yaron said the current mix of conditions led the central bank to hold its key rate but with further easing at the ready. "The Bank of Israel will continue to enhance the extent of monetary policy accommodation as needed," he said at an online press conference after the decision.
Even as local virus cases are ballooning, Israel says its vaccine campaign is leading the world, with more than 10% of its population receiving first doses. Other economists are also raising their domestic outlook for 2021 based on the potential for recovery beginning as early as the second quarter.
Challenges persist, though. Chief among them are high unemployment, which continues to rise, and the collapse of the government last month, with all the fiscal risks and instability inherent in a fourth election in two years.
And worryingly for central bankers, the shekel is appreciating with a quarter-century record in sight, despite massive foreign-currency purchases and a rate cut in April.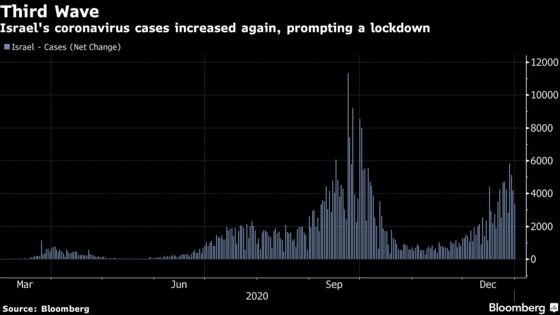 Yaron said the central bought a record $20 billion on the foreign exchange market last year to moderate the currency's appreciation. The shekel has resisted efforts to tame it because of a record high current-account surplus, robust foreign direct investment and increasing natural gas exports. The currency, now trading around 3.2 to the dollar, gained nearly 7.5% against the greenback last year.
Policy makers said exports appear to have held up well and that some of the trend is due to global developments like a weakening dollar.
"I don't think they can do very much," said Barry Topf, a former director of market operations at the Bank of Israel who helped to design its intervention program. "I think they know that, too, and just don't want to say it."
The onus for boosting the economy now lies heavily on the Finance Ministry, at a time when it won't have a 2021 budget until mid-year at the earliest because of the government's collapse.
Bank Hapoalim Ltd.'s chief economist, Victor Bahar, didn't expect action on Monday but wouldn't rule out a rate cut to zero within months if the shekel remains strong.
"I don't negate a chance that they say, 'Let's break the momentum,' and lower rates to zero" at an upcoming meeting, he said.