Sharp Rise in Tariffs Could Threaten Global Economy, WTO Warns
(Bloomberg) -- Restrictive trade measures including tariffs and import duties rose sharply over the past year and could threaten global economic growth and jobs, according to the World Trade Organization.
WTO members applied 137 new trade-restrictive measures during the year that ended in October, up from 108 in the prior-year period, according to the Geneva-based organization. The coverage of these trade-restrictive measures amounts to $588 billion, which is more than seven times larger than a year ago.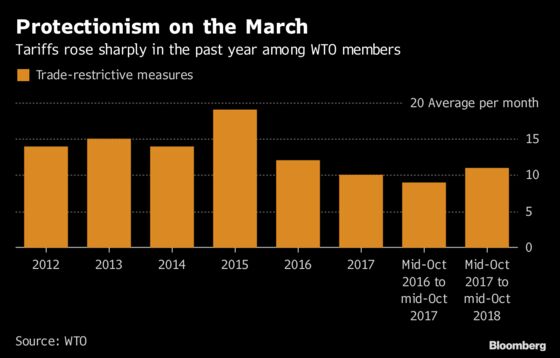 "This proliferation of trade restrictive measures and the uncertainty created by such actions could place economic recovery in jeopardy," WTO Director-General Roberto Azevedo said in a statement. "Further escalation would carry potentially large risks for global trade, with knock-on effects for economic growth, jobs and consumer prices around the world."
The report comes as the U.S. and China seek to ease trade tensions that have roiled global markets. Since April, the U.S. has announced three rounds of tariffs on as much as $250 billion of imports from China, which has retaliated in kind.
The WTO defines trade-restrictive measures as new or increased tariffs, customs procedures, quantitative restrictions and local content measures. The WTO cut its outlook for global commerce through 2019 and warned that tension between major trading partners increasingly threatens economic growth.
The WTO in September said it expects world merchandise trade growth will slow to 3.9 percent in 2018 and 3.7 percent in 2019, compared with 4.7 percent in 2017.
"I urge WTO members to use all means at their disposal to de-escalate the situation," Azevedo said in the statement.