May Steps Up Deal Push as Honda Delivers New Blow: Brexit Update
Theresa May steps up her diplomatic drive try to save her divorce agreement with the European Union, as Honda dealt the latest blow to the U.K.'s post-Brexit car industry. Meanwhile seven politicians quit the Labour Party in protest at Jeremy Corbyn's position on leaving the bloc, as well as alleged antisemitism within the official opposition.
MP Justin Tomlinson confirms Honda's plan to close Swindon plant by 2022
Foreign Secretary Jeremy Hunt says "trust and vision" needed as he enters talks in Brussels
Barnier says EU still open to a permanent customs union if U.K. red lines shift
MPs including Chuka Umunna and Luciana Berger say they will run as independents after splitting from Labour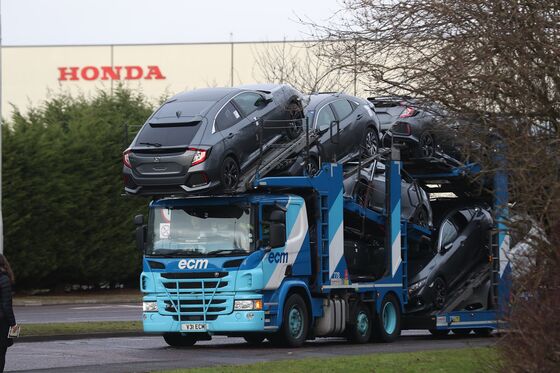 Anger Spills Over as Labour MPs Meet (7:50 p.m.)
There were raised voices as Labour MPs met for the first time since seven of their colleagues quit the party over its Brexit policy and failure to tackle anti-semitism. Lawmakers could be heard crying and swearing at the meeting, addressed by Party Chairman Ian Lavery. An unidentified woman lawmaker shouted that another was a liar.
"The lip service to anti-semitism showed no understanding whatsoever of the enormity of what happened this morning," Labour MP Louise Ellman said after the meeting. "He gave me no reassurance at all that the Labour Party is going to deal with it in any proper way."
Labour Deputy Leader Tom Watson earlier warned Jeremy Corbyn that more Labour MPs could quit the party if the leader failed to hear the concerns of the seven who resigned on Monday morning.
"Unless we change, we may see more days like this," Watson said in a statement posted online, adding that those who quit were not "traitors" and had been "premature" in their actions. "They have left at a critical moment for the country when all our attention should be on solving the Brexit crisis. I regard them as people who have drawn the wrong conclusion to a serious question."

Cox, Barclay Travel to Brussels (3:55 p.m.)
Brexit Secretary Steve Barclay is traveling to Brussels with Attorney General Geoffrey Cox for talks, May's spokesman James Slack told reporters. This morning, Slack said Barclay's focus was on finding alternative arrangements for the so-called backstop plan for the Irish border. Cox is expected to give a speech this week on how the measure could be changed.
Slack was also asked about Honda closing its factory in Swindon (see 3 p.m.). "We believe it is only right to wait until the company has spoken with the workforce" before commenting, he said.
MP Says Honda to Consolidate Production in Japan (3:20 p.m.)
Justin Tomlinson, the member of Parliament for North Swindon, said on Twitter Honda's plan (see 3 p.m.) is to consolidate all of its production for the European market in Japan, and that its decision was based on global trends and not Brexit.
Tomlinson said he doesn't expect any job losses, or changes in production until 2021.
Frustration Builds in Ireland Over U.K. Stance (3:10 p.m.)
Irish Foreign Minister Simon Coveney said Ireland is spending hundreds of millions of euros to protect against the U.K. leaving the EU without a deal.
"We don't want to have to do that. Of course we want a solution here and yes, there's frustration in Ireland," Coveney said as he left a meeting of EU foreign ministers in Brussels. "We have less than 40 days to go to the U.K. formally leaving, and we still don't know what the British government is actually asking for to get this deal ratified."
Coveney reiterated that while the EU could offer the U.K. reassurances over the temporary nature of the Irish border backstop, the text of the divorce deal struck in November won't be changed.
Sky: Honda Plans to Close U.K. Plant by 2022 (3 p.m.)
Honda Motor Co. is planning to close its U.K. factory in 2022, Sky News reported, dealing a new blow to a British auto industry already struggling with a Brexit-related slowdown and potential new tariffs after the U.K. leaves the EU. An announcement could come as soon as Tuesday, Sky said, citing a person close to Honda it didn't identify. A Honda spokesman declined to comment.
The factory in Swindon is Honda's only one in the EU and employs around 3,500 workers to make the Civic hatchback. Honda plans to retain its European headquarters in Bracknell, Berkshire, as well as its Formula One racing team operations in the U.K., Sky said.
Barnier Says EU Open to Permanent Customs Union (2:50 p.m.)
The EU's chief negotiator on Brexit, Michel Barnier, said he and European Commission President Jean-Claude Juncker told May that while the bloc would not reopen the Brexit withdrawal agreement, it was prepared to be more ambitious on a future relationship with the U.K.
"We could go even further if the U.K.'s red lines evolve," Barnier said in a video address to a conference at Bocconi University in Milan, referring to a permanent customs union if Britain chose. But he also reiterated that the EU is prepared for the U.K. to leave without a deal if May can't secure a majority for one in Parliament.
May Steps Up Talks With EU Leaders (12 p.m.)
May spoke to the prime ministers of Italy, Croatia, Hungary, Finland, Belgium and Bulgaria, as well as the president of Cyprus over the weekend. She intends to speak to the leader of every EU member state as she seeks to secure changes to the contentious Irish backstop in her Brexit deal, according to her spokesman, James Slack. More calls are expected on Monday.
Attorney General Geoffrey Cox will make a speech Tuesday setting out what changes would be required to eliminate the legal risk that the U.K. could become indefinitely trapped in the backstop arrangement after Brexit.
Umunna: Major Parties Are 'The Problem' (10:40 a.m.)
Chuka Umunna, Labour's former chief business spokesman, said the mainstream political parties cannot be the answer because they have "become the problem." It's clear this grouping isn't just protesting at Labour's failures on Brexit but seeking to launch a new political force in Britain.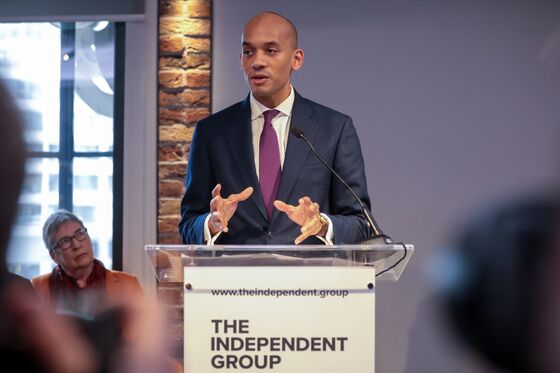 "Politics is broken, it doesn't have to be this way, let's change it," Umunna said. "The established parties are simply not up the challenge. They can't be the change because they have become the problem."
Mike Gapes, another of the MPs quitting the party, explained how anger at the leadership's policies had driven him to leave: "I'm sickened that the Labour Party is now a racist, antisemitic party. I'm furious the Labour leadership in complicit in facilitating Brexit."
Corbyn 'Disappointed' at Splinter Group (10:30 a.m.)
Corbyn's office were ready for the announcement when it came and had their own response out soon afterward. "I am disappointed that these MPs have felt unable to continue to work together for the Labour policies that inspired millions at the last election and saw us increase our vote by the largest share since 1945," the Labour leader said.
Corbyn accused the Tories of "bungling Brexit" and insisted he had set out "a unifying and credible" alternative plan. "Now more than ever is the time to bring people together to build a better future for us all."
Seven Labour MPs Quit Party in Split with Corbyn (10:10 a.m.)

Seven Labour members of Parliament called a dramatic press conference to announce they've quit the party. It's been coming for a while and the reasons for the split range from antisemitism, allegations of bullying, and -- inevitably -- disagreements over Brexit policy.
Former Labour MP Chris Leslie told reporters he could not live with Corbyn's policy of helping to deliver a Brexit that will damage his constituents lives, and refusing to back a second referendum. "Choosing to stand by while our constituents lives and futures are hurt by Brexit is a fundamental violation of Labour values," Leslie said. "We have no choice but to say collectively enough is enough, there has to be a better way forward and there can be a better way forward."
The MPs who gathered at the press conference to announce their resignations were Leslie, Luciana Berger, Angela Smith, Mike Gapes, Ann Coffey, Gavin Shuker and Chuka Umunna