Sessions Is Forced Out After Months of Trump Abuse Over Mueller
(Bloomberg) -- Attorney General Jeff Sessions has resigned at the request of President Donald Trump, according to a letter delivered to the White House, after becoming a target of the president's open contempt for ceding control of the Russia investigation.
Trump installed Matt Whitaker, chief of staff at the Justice Department, as acting attorney general and put him in charge of the Russia probe led by Special Counsel Robert Mueller, according to a U.S. official. Whitaker, who has been a critic of the Russia probe, now has the power to fire Mueller or curb his investigation into Russian interference in the 2016 presidential campaign.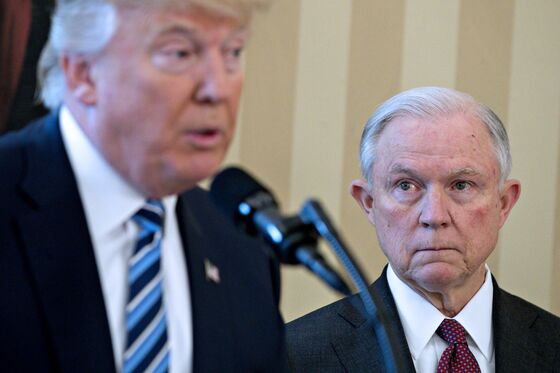 Trump said he will nominate a permanent successor for Sessions at a later date. Winning confirmation in the Senate may become easier because Republicans gained seats in Tuesday's midterm elections.
Democrats warned against interference in the probe. Senate Minority Leader Chuck Schumer said that "protecting Mueller and his investigation is paramount." Schumer and Democrat Nancy Pelosi, who is likely to become House speaker next year, called on Whitaker to recuse himself, with Schumer citing "his previous comments advocating defunding and imposing limitations on the Mueller investigation."
Several Republicans expressed concern about Whitaker taking over the Russia probe. Republican Senator Susan Collins of Maine criticized Trump for stripping Deputy Attorney General Rod Rosenstein of his role overseeing the probe.
"It is imperative that the Administration not impede the Mueller investigation," she tweeted. "I'm concerned Rod Rosenstein will no longer be overseeing the probe. Special Counsel Mueller must be allowed to complete his work without interference—regardless of who is AG."
Mitt Romney, who just won election to the U.S. Senate from Utah, also tweeted that the Mueller probe should be allowed to proceed "to its conclusion unimpeded."
Republican Senator Lamar Alexander of Tennessee said Mueller's probe will continue to its end "because no new attorney general can be can be confirmed who will stop that investigation."
Mueller declined to comment, according to his spokesman, Peter Carr.
Whitaker, in a Justice Department statement released on Wednesday evening said, "I am committed to leading a fair department with the highest ethical standards, that upholds the rule of law, and seeks justice for all Americans." He added that it had "been a privilege" to work under Sessions.
Before Trump gave a news conference on Wednesday, White House Chief of Staff John Kelly called Sessions and told him that Trump wanted him out, the official said.
Trump said at the news conference that he wanted the Mueller probe to end, calling it "very unfair."
"It should end because it's very bad for our country," he said.
Rosenstein, who appointed Mueller and has overseen his probe from the beginning will stay in his post, according to the official.
Whitaker, a former U.S. attorney for the Southern District of Iowa, had served as Sessions's chief of staff since September 2017. Previously he was a conservative legal commentator who was critical of the scope of Mueller's probe.
In July 2017, he said during an interview on CNN that he could envision a scenario under which a temporary attorney general doesn't fire Mueller but rather "just reduces his budget to so low that his investigations grinds to almost a halt."
The next month, Whitaker wrote an op-ed posted on CNN's website in which he argued that Mueller's investigation appeared to be going too far and may constitute a "witch hunt," echoing one of Trump's favorite descriptions to criticize and discredit the probe.
Whitaker also worked on Sam Clovis's failed campaign for Iowa state treasurer in 2014 after both of them ran unsuccessfully for the U.S. Senate. Clovis, who later worked in Trump's presidential campaign, has been interviewed as part of Mueller's Russia probe.
Democratic Representative Jerrold Nadler, who is in line to become chairman of the House Judiciary Committee in January, said it is "wholly inappropriate" for Whitaker to take over the Mueller probe and that Rosenstein should continue overseeing it.
"The firing of Attorney General Jeff Sessions fits a clear pattern of interference from President Donald Trump in the work of the Department of Justice and the ongoing criminal investigation being conducted by Special Counsel Robert Mueller," he said in a statement. "There is no mistaking what this means, and what is at stake: this is a constitutionally perilous moment for our country and for the president."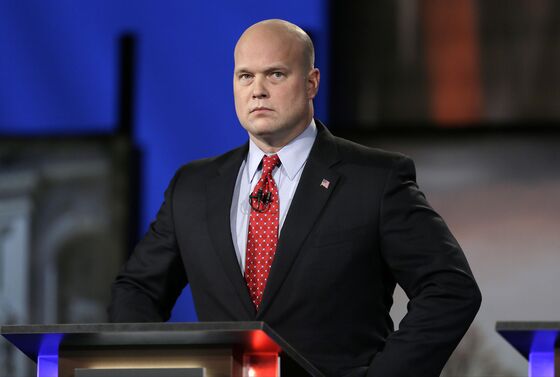 Democratic Senator Richard Blumenthal of Connecticut also criticized Whitaker's appointment. "This is a break-the-glass moment," he said.
But Senate Judiciary Chairman Chuck Grassley praised Whitaker. "A fellow Iowan, who I've known for many years, Matt will work hard and make us proud," he said in a statement.
Republicans warned Trump last year against replacing Sessions, but some of that resistance appeared to break down by late August, when several key GOP senators signaled to Trump that he could find a new attorney general after the midterm elections.
"The president's entitled to an attorney general he has faith in, somebody that's qualified for the job, and I think there will come a time, sooner rather than later, where it will be time to have a new face and a fresh voice at the Department of Justice," Senator Lindsey Graham of South Carolina, who may be in line to head the Judiciary Committee next year, told reporters in August. "Clearly, Attorney General Sessions doesn't have the confidence of the president."
Sessions, a 71-year-old former Republican senator from Alabama, was the first senator to endorse Trump's insurgent presidential campaign. But the former federal prosecutor went from being one of Trump's closest campaign advisers to an outcast. Sessions had held on to his job as the nation's top law enforcement officer despite frequent bursts of embarrassingly public criticism from Trump.
"I'm disappointed in the attorney general for many reasons," Trump told reporters in September.
The president lambasted Sessions for recusing himself from decisions about the federal probe into Russian meddling, an inquiry the president has regularly lambasted as "fake news" and a "witch hunt."
Sessions took himself out of decision-making on the probe in March 2017 even after Trump dispatched the White House lawyer to persuade him not to do so, according to a person familiar with the matter.
That left Rosenstein overseeing the investigation, and he named Mueller as special counsel.
Sessions is departing as Mueller's Russia investigation grinds on. He's won guilty pleas and agreements to cooperate from Trump's campaign chairman Paul Manafort and his former National Security Adviser Michael Flynn. He also obtained indictments against Russian individuals and companies accused of a sweeping conspiracy to hurt Democrat Hillary Clinton and ultimately to help Trump win.
Trump's running commentary criticizing Sessions and the Justice Department injected more turmoil into an agency that was still reeling from the president's firing of FBI Director James Comey in May 2017.
Trump originally said he fired Comey on the recommendation of Sessions and Rosenstein for mishandling the inquiry into Clinton's use of private email when she was secretary of state, although the president later acknowledged he acted because of Comey's pursuit of "this Russia thing."
One reason Sessions endured months of taunting from Trump is that he believed he was protecting the integrity of the Justice Department and was trying to prevent the president from bringing in someone who would politicize it, according to a U.S. official who has worked with Sessions and frequently talked with him.
After recusing himself from the Russia probe, the staunchly conservative Sessions spent his time ramping up efforts to combat violent gangs, drug use and illegal immigration -- all key components of Trump's law-and-order agenda.
Read More: Jeff Sessions' Corporate Friendly Approach Likely to Outlast Him
Sessions took the lead in imposing Trump's travel ban targeting a number of mostly Muslim nations, canceling the so-called Dreamer program that let the children of undocumented immigrants remain in the U.S. and forcing the separation of migrant families as part of a border crossing crackdown.
He bolstered the agenda of Trump's evangelical supporters with new rules letting employers opt out of providing health insurance that covers birth control and paving the way for religious businesses and employees to discriminate based on their closely held beliefs.
Sessions clashed, though, with Jared Kushner, the president's son-in-law and senior adviser, resisting his proposals to overhaul the criminal justice system and standing by his hard-line approach to imprisonment and sentencing.