Sessions' Ouster Won't Affect Mueller Probe, Trump Lawyer Says
(Bloomberg) -- Jeff Sessions's ouster from the Justice Department won't change the course of Special Counsel Robert Mueller's investigation, according to Donald Trump's lawyer Jay Sekulow.
Sekulow, speaking Thursday on his radio show, said there will be "no effect day-to-day" on Mueller with Acting Attorney General Matt Whitaker, Sessions's former chief of staff, in charge. Whitaker has taken responsibility for supervising Mueller's probe even though he has written critically about the special counsel's work and publicly criticized it.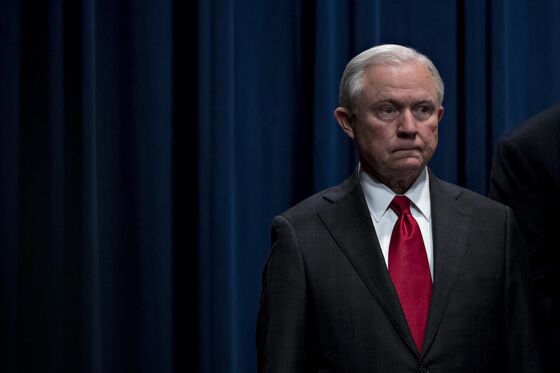 Whitaker is "very smart" and qualified to lead the Justice Department, so there's "no rush" to appoint a successor, Sekulow said.
The main difference, Sekulow said, will be that Mueller's confidential report goes to the attorney general now, not Deputy Attorney General Rod Rosenstein, who had overseen Mueller's work after Session's recused himself from the investigation.
"We will conduct ourselves in the same professional manner," Sekulow said of Trump's legal team. They have negotiated with Mueller's team about a potential interview of the president and about materials the special counsel has requested from the White House.
Candidates including Solicitor General Noel Francisco, Representative John Ratcliffe of Texas and others are "all really well qualified people," Sekulow said.