Putin, Vucic Discuss 'Future Steps' on Serbia-Kosovo Deal
(Bloomberg) -- Serbian leader Aleksandar Vucic met Russian President Vladimir Putin in Moscow to discuss how to push forward a deal with Kosovo after a plan to rework their borders faced international resistance.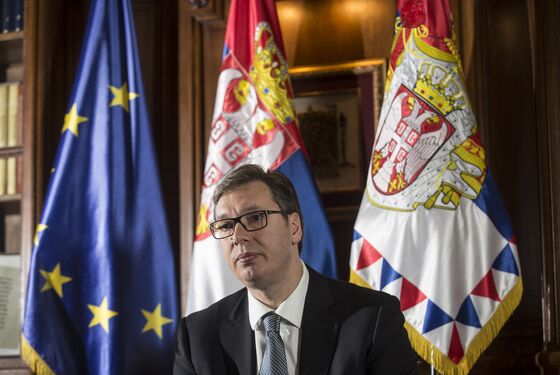 Vucic is seeking broad support from the European Union and the U.S. to mend relations with Kosovo -- a precondition for both neighbors in their aspirations to join the EU in the next decade. Vucic's proposal for a deal, which would allow ethnic Serbs and ethnic Albanians to live where their kin form majorities in a possible land swap, was rejected by German Chancellor Angela Merkel and other EU leaders fearing it may re-ignite tensions that led to Europe's bloodiest conflict since World War II.
Hundreds of protesters marched in Kosovo's capital, Pristina over the weekend, opposing any plans for partition, while President Hashim Thaci visited a disputed, mainly ethnic Serb area in the north, prompting Serbia to raise its army's combat readiness.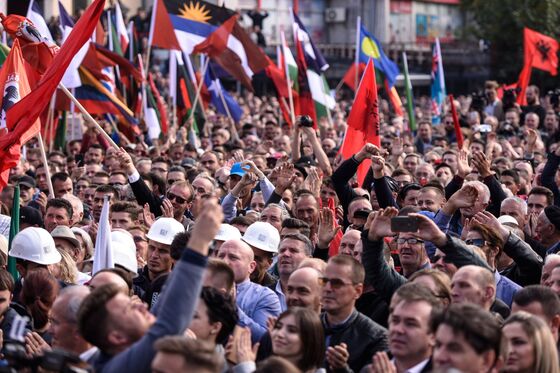 "The situation in the Western Balkans is very difficult, and Serbia as a state faces numerous provocations on a daily basis," Vucic said at the meeting with Putin in Moscow on Tuesday. "We are very far from any resolution of the Kosovo issue."
The two leaders mapped "future steps" in negotiating a deal with Kosovo that would encompass the interests of all stakeholders in the region, Vucic told reporters after the meeting. He declined to elaborate. Russia's ambassador to Serbia said last month Moscow would support a deal suitable for Serbia.
Serbia, one of the Kremlin's closest allies in the Balkans, refuses to recognize Kosovo's 2008 secession, a position shared with Russia, China and five EU member states. Vucic's pledge to lead Serbia into the EU, while maintaining close ties with Russia, has rattled EU leaders. Serbia has refused to back sanctions against its ally and promised not to join the North Atlantic Treaty Organization. In return, Russia is preventing the full international recognition of Kosovo and its UN membership.
NATO was also part of the discussion with Putin, where Vucic reiterated Serbia's position. "Serbia jealously guards its neutrality and for that we've got Russia's support," he said.
Russia has long sought to resist NATO's expansion into its former spheres of influence including the Balkans. While other ex-Yugoslav states Croatia and Slovenia have joined the EU and NATO, Serbia, Kosovo and Bosnia remain in limbo as world powers jostle for influence. In the Republic of Macedonia, Russia backed the opposition's campaign against a vote that would've helped settle a name dispute with Greece allowing it to join the EU and NATO.
Vucic's 13th meeting with Putin in six years takes place as Serbia hosts joint air drills with Russia, shortly before holding exercises with NATO later this month. Putin's popularity among Serbia's of 7.2 million people is unspoiled, with 58 percent saying he's the most trusted foreign politician, vastly exceeding support for Merkel and Donald Trump, according to a Faktor Plus survey.