Serbia Holds Rates With Vaccinations Among Europe's Fastest
(Bloomberg) -- One of Europe's fastest coronavirus-vaccination programs is helping Serbia navigate the pandemic without further cuts in interest rates.
The central bank -- the first in Europe to lower borrowing costs when Covid-19 struck last year -- kept its benchmark rate at a record-low 1% on Thursday, as predicted by all 19 analysts surveyed by Bloomberg.
"Coordinated measures of monetary and fiscal policies continue to have a favorable impact on financing terms for the economy and citizens," the central bank said as it announced its decision.
Among the first to deploy shots from China and Russia alongside those made by Western drug makers, the biggest former Yugoslav republic boasts the continent's highest level of inoculation per capita bar the U.K. and Malta. That, coupled with a fresh $3 billion stimulus plan that includes cash handouts for businesses and households, should be sufficient to guide the economy through the latest Covid-19 disruption.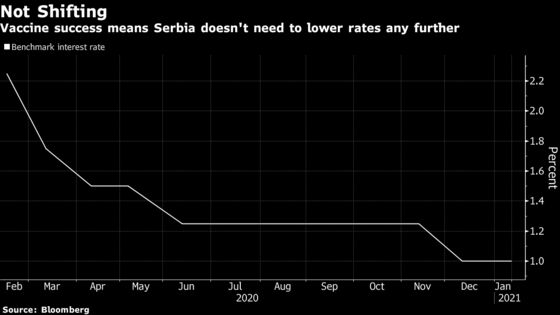 After slashing borrowing costs and ramping up state spending, Serbia notched one of Europe's shallowest economic contractions last year. Despite forecasting a 6% rebound in 2021, analysts see inflation remaining under 2% and aren't predicting any rate hikes until next year.
That groups the Balkan country alongside most of eastern Europe in keeping interest rates stable for the foreseeable future. The Czech Republic is leading the way in the region in flagging the possibility of monetary-policy tightening this year.
A new relief package that's expected soon should enable Serbia's economic activity to return to pre-pandemic levels already in the second quarter, the central bank said.
Read more: Czechs Stick to Outlook for Rate Hikes But Virus Clouds Timing
One concern for Serbia is the stability of the national currency, which the central bank has kept in a narrow range against the euro for years. While the dinar has barely budged this year against the euro, appreciation pressures could mount as economic expansion takes hold.
Poland intervened at the end of 2020 to cap gains in the zloty and has said it may do so again, seeing the currency as a key policy tool in reviving its own growth prospects.
In Serbia, "the dinar exchange rate remains the anchor of it all," said Vladimir Djordjevic, head of treasury and FX at Credit Agricole Srbija in Belgrade.