Anti-Government Protesters Defy Serb Ban With Peaceful Rally
(Bloomberg) -- Anti-government protesters in Serbia defied a ban on large gatherings, with thousands turning out for a peaceful rally as the demonstrations continued for a third night against a plan to introduce a public health curfew from Saturday.
People gathered in front of parliament on Thursday evening, after dozens were injured over two days of clashes between police and what police said were far-right groups among the demonstrators in the biggest outbreak of violence against President Aleksandar Vucic since he came to power in 2014. The Serbian leader earlier had pledged to quell the unrest as he flew to Paris ahead of European Union-brokered talks on mending ties with Kosovo.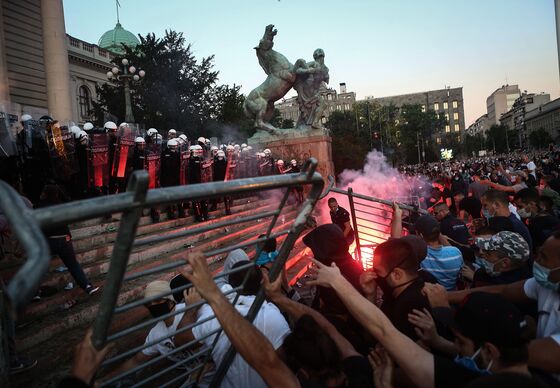 The rallies reflect widespread public anger that manifested itself in demonstrations before last month's elections and prompted opposition parties to boycott the vote. Fresh off his ruling Progressive Party's landslide win, Vucic accused unspecified domestic and foreign "opponents" of trying to weaken his position ahead of the talks.
"We know how to protect peace and stability against the criminal hooliganism and violent attacks that shocked us all," Vucic said in a video message aboard the flight to Paris. He called for restraint after running battles between riot police and protesters who at one point briefly broke into the parliament building in Belgrade.
While Vucic earlier said reinstating the lockdown was needed to contain the spread of Covid-19, on Wednesday, he backtracked on the plan. As new cases filled hospitals to capacity, Prime Minister Ana Brnabic banned meetings of more than 10 people in Belgrade.
The former Yugoslav republic lifted its virus restrictions -- which had included overnight and weekend curfews and banned inter-city travel -- in May along with the rest of Europe after the social-distancing restrictions helped stifle contagion. More than 17,000 people in the country of 7 million have been infected with the coronavirus and 357 have died.
The president has warned of the risk that the disease will persist into the winter, when it may coincide with the seasonal flu, while Brnabic said the rallies were a potential hotbed for contagion.
Vucic took part in a video conference with French President Emmanuel Macron, German Chancellor Angela Merkel and EU representatives on Friday, in preparation for talks with Kosovo's top officials which have been postponed to July 16. The Balkan foes that were at war two decades ago need to end their dispute to qualify for membership in the world's biggest trading bloc.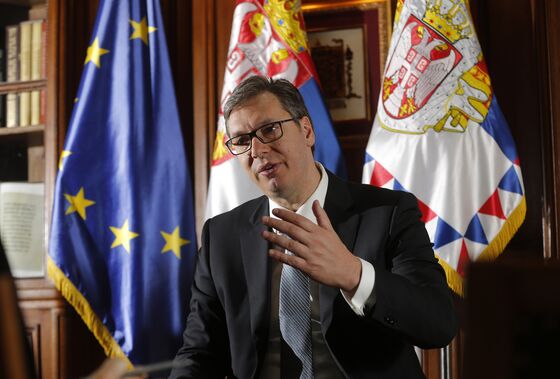 But the government's response to the protests has drawn criticism. The Council of Europe's top human rights official sounded off after videos posted on social media showed Belgrade officers using tear gas to disperse crowds and beating protesters with batons.
"The violent dispersal of demonstrators by the Serbian police in Belgrade yesterday raises serious human rights concerns," Commissioner Dunja Mijatovic tweeted. "The Serbian authorities must carry out effective investigations to establish responsibility and punish the officers responsible."