Senators Propose Saudi Sanctions Over Yemen, Khashoggi Murder
(Bloomberg) -- A bipartisan group of six U.S. senators proposed new sanctions against Saudi Arabia including a suspension of arms sales, in a challenge to President Donald Trump's stance that he doesn't want the loss of American jobs that he says would result.
The senators aren't satisfied with the sanctions announced Thursday by the Trump administration, which target individuals identified as being involved in the murder of journalist Jamal Khashoggi but don't target the regime more broadly. Nor are the senators satisfied with actions taken so far to end the Yemen civil war.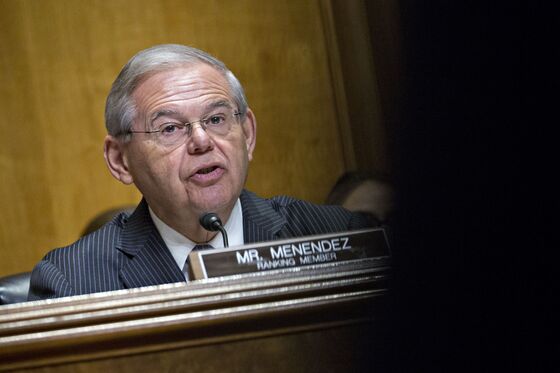 Three Republicans -- Todd Young of Indiana, Lindsey Graham of South Carolina and Susan Collins of Maine -- joined with Bob Menendez of New Jersey, the ranking Democrat on the Foreign Relations Committee, Jack Reed of Rhode Island, the top Democrat on the Armed Services Committee, and Democrat Jeanne Shaheen of New Hampshire -- in backing the legislation.
"There must be a transparent, credible investigation into Khashoggi's murder and with this bill Congress is demonstrating its commitment to accountability and human rights," Menendez said in a statement.
"This legislation provides the Trump administration leverage it should use to push all parties in Yemen to engage in good faith and urgent negotiations to end the civil war and address the world's worst humanitarian crisis," Young said.
The bill would prohibit U.S. refueling of Saudi coalition aircraft bombing Yemen, sanction people who block humanitarian access to Yemen, impose mandatory sanctions on anyone responsible for Khashoggi's death and require various reports, including a report on human rights in Saudi Arabia. The administration announced this month it has stopped the aerial refueling that the bill would ban.
Khashoggi, a former palace insider turned critic, was strangled at the Saudi consulate in Istanbul on Oct. 2 and his body dismembered, the city's chief prosecutor has said. Turkey has stopped just short of blaming Crown Prince Mohammed bin Salman, who runs the affairs of the kingdom day to day.