Trump Conduct 'Shameful,' Murkowski Says: Impeachment Update
(Bloomberg) -- President Donald Trump is set to be acquitted of two impeachment charges in final votes set for Wednesday at 4 p.m. Senators heard lawyers' closing arguments Monday and now have two days for discussion on the chamber's floor.
Here are the latest developments:
Trump Conduct 'Shameful,' Murkowski Says (7:08 p.m.)
Republican Senator Lisa Murkowski said she will vote to acquit Trump even though his behavior was "shameful and wrong."
"The president has the responsibility to uphold the integrity and the honor of this office," Murkowski of Alaska said on the Senate floor. "Degrading the office by actions or even name-calling weakens it for future presidents and it weakens our country."
Still, she said, "I cannot vote to convict," in part because the House built its case on a "rotted foundation."
"The House rushed through what should have been one of the most serious consequential undertakings of the legislative branch simply to meet an artificial self-imposed deadline," she said. The House could have pursued censure and not jumped immediately to impeachment, Murkowski said.
Murkowski said she said "enough" when it became clear last week that a third GOP vote in favor of calling witnesses would "simply be used to burn down" the judiciary by creating a 50-50 tie and a live question of whether Chief Justice John Roberts would break the tie. Roberts later announced that he wouldn't have cast a tie-breaking vote.
She told reporters later that she was worried about Democrat Elizabeth Warren's question during the trial about whether the proceedings would reflect poorly on Roberts or the Supreme Court.
"For gosh sakes, we want to make sure that there's at least one branch of government that hasn't been drug into the political mud," Murkowski said to reporters. "And that's where we were going."
On the Senate floor, she said, "The Constitution provides for impeachment, but does not demand it in all instances."
Removal from office is the "political death penalty," Murkowski said. "The voters will pronounce a verdict in nine months and we must trust their judgment."
Manchin Undecided, Proposes Censure of Trump (4:47 p.m.)
Moderate Democrat Joe Manchin said he's undecided on how he'll vote. But he also said that because he sees "no path" to a two-thirds Senate majority to convict Trump, he's proposing that both parties unite behind a censure of the president.
"I am truly struggling with this decision and will come to a conclusion reluctantly," Manchin of West Virginia said on the Senate floor after closing arguments were completed.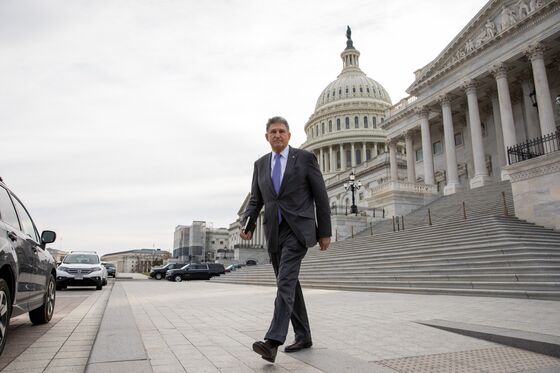 Trump's July 25 call with Ukraine's president "was not a perfect call," Manchin said. "It was simply wrong." He condemned the "false argument" that the president can do no wrong.
But he also said that removing Trump would "further divide our deeply divided nation."
"History will judge the Senate harshly" for failing to hold a fair trial and refusing to call for witnesses and new documents, Manchin said.
He said a censure would allow the Senate to unite across party lines.
A censure of the president would be purely symbolic, but it's highly unlikely because Democrats, as the minority party, can't force a vote.
Schiff Says the House Has 'Proven Our Case' (3:07 p.m.)
Lead House manager Adam Schiff completed final arguments in the trial by calling Trump "a man without character or ethical compass" and calling on the Senate to remove him from office.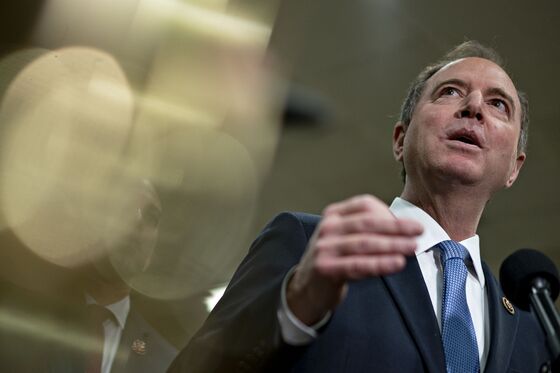 "We have proven our case," Schiff said, adding that the Constitution's framers "gave you a remedy and they meant for you to use it."
"We have proven Donald Trump guilty, now do impartial justice and convict him," Schiff said.
"The alternative is a runaway presidency and a nation whose elections are open to the highest bidder," the California Democrat said.
"History will not be kind to Donald Trump," Schiff said. "If you find that the House has proved its case and still vote to acquit, your name will be tied to him with a cord of steel and for all of history."
What has changed over the years is that members of Congress are no longer willing to take on a president of their own party, he said. The lawmaker appealed for at least one Republican to show courage to find Trump guilty.
"He has not changed. He will not change," Schiff said. "The plot goes on, the scheming persists, and the danger will never recede."
GOP Advises Trump to Avoid Trial in Speech (2:28 p.m.)
Trump is getting some advice from Republican senators ahead of his State of the Union address: don't mention impeachment.
"If I was him, I would avoid that subject," said Senator Roy Blunt, a member of Senate GOP leadership and a close adviser to Majority Leader Mitch McConnell. "I think there's plenty to talk about, and it's an opportunity to move on."
"I just think there's no way you talk about that and that not be the takeaway," said Senator Marco Rubio, a Florida Republican. "He has a lot of positive things to talk about."
But Republican senators also acknowledged that it's impossible to predict what the president will say and difficult to constrain his impulse to take on his opponents.
"The other option is to address it head-on, and he often is a head-on kind of guy," Blunt said.
"He's going to do whatever he wants to do," said Senator Kevin Cramer, a freshman Republican from North Dakota. "I wouldn't do it because I'm more of a traditional political strategist and I couldn't deliver it. He, on the other hand, is very successful being himself."
Trump Team Urges Senate to Acquit President (1:03 p.m.)
White House Counsel Pat Cipollone began the Trump team's closing argument by urging senators to "acquit the president and leave it to the voters to choose their president" in November's election.
"The only conclusion, based on the evidence and based on the articles of impeachment themselves and the Constitution, is that you must vote to acquit the president," Cipollone said.
"The American people are tired of the endless investigations and false investigations that have been coming out of the House," Cipollone said. Trump has achieved success with the economy and wants to continue doing so, he said.
Trump lawyer Jay Sekulow said, "The answer is elections, not impeachment."
The first article, alleging Trump abused his power, is invalid because presidents can't be impeached over policy differences, Sekulow said. The second article, accusing the president of obstructing the House investigation, is also invalid, he said, adding, "President Trump in no way obstructed Congress."
Deputy White House Counsel Michael Purpura said, "The president did not condition security assistance or a meeting on anything during the July 25 call."
Schiff Says Trump a Danger to U.S. Democracy (12:15 p.m.)
Lead House manager Adam Schiff argued that "a president free of accountability is a danger to the beating heart of our democracy."
"Donald Trump has betrayed his oath to protect and defend the Constitution, but it is not too late for us to honor ours, to wield our power to defend our democracy," Schiff said.
"Today we urge you, in the face of overwhelming evidence of the president's guilt, and knowing that if left in office he will continue to seek foreign interference in the next election, to vote to convict on both articles of impeachment, and to remove from office, Donald J. Trump, the 45th president of the United States," Schiff said.
Impeachment manager Hakeem Jeffries asked senators to think about how U.S. allies in Europe and adversaries around the world would view the Senate's decision to acquit Trump. He said one of the main actors in the impeachment allegations, Trump's personal lawyer Rudy Giuliani, "returned to the scene of the crime" in Ukraine to continue digging up dirt about Joe Biden.
"What message do we send when we say America's national security is for sale?" Jeffries said.
House Managers Urge Senate to Remove Trump (11:30 a.m.)
House managers argued that Trump sought to use his official power to cheat in the 2020 election, urging senators to remove him from office for withholding U.S. aid to pressure Ukraine to investigate his political rival.
"Your duty demands that you convict President Trump," Colorado Democrat Jason Crow told the Senate Monday.
While impeachment is intended only for "rare instances of grave misconduct," if left unchecked, Trump "threatens the fairness of the next election and risks putting foreign interference between Americans and their ballots," Crow said.
"The president would have us believe that he did not withhold aid to force these sham investigations" of Democrat Joe Biden, Crow said. "How many falsehoods can we take? When will it be one too many?"
Florida Democrat Val Demings said Trump was the "central player in the corrupt scheme, assisted principally by his private attorney, Rudy Giuliani."
"He remains unapologetic, unrestrained and intent on continuing his sham to defraud our elections," Demings said.
Both Sides to Present Closing Arguments (11:04 a.m.)
The impeachment trial convened to hear closing arguments, with the House managers and Trump's defense each getting two hours.
After that, the Senate floor will be open for members to explain which way they plan to vote. The final decision is scheduled for 4 p.m. Wednesday, when the Senate's Republican majority will have the votes to acquit Trump.
Senate to Hear Final Arguments on Charges (6 a.m.)
The Senate will hear four hours of closing arguments starting at 11 a.m. Monday on the charges against Trump.
Plans for the president's final acquittal on Wednesday were sealed after Friday's 51-49 vote blocking the Senate from calling witnesses sought by Democrats, including former National Security Advisor John Bolton.
The House managers and Trump's defense team will each have two hours to make their arguments, and senators -- including the Democrats running in Monday night's Iowa caucuses -- are required to be in the chamber.
Afterward, members will have until the scheduled vote time at 4 p.m. Wednesday to explain their votes on the Senate floor, though the other senators won't have to be there to listen to them.
The timing means Trump's acquittal will come after his State of the Union address to a joint meeting of Congress on Tuesday night. He'll be able to claim victory, but it won't have happened yet.
Catch Up on Impeachment Coverage
McConnell Likely Has Votes to Block Witnesses in Trump Trial
Trump's Trial Defense Shifts From 'Perfect' to Not Impeachable
Democrats Plead for Trial Witnesses While McConnell Leans on GOP
Bolton Presses White House in Standoff Over Ukraine Chapter
Bolton Overshadows Final Day of Trump Defense Arguments