Senate Finishes Reading 628-Page Measure: Stimulus Update
(Bloomberg) -- Clerks in the U.S. Senate finished reading the entire coronavirus relief early Friday morning after a session that began Thursday afternoon. Earlier, the Congressional Budget Office estimated that the Senate's version of the pandemic-relief plan falls within the limit previously set by Congress for the bill.
Senate Completes Reading of Coronavirus Bill
The U.S. Senate completed a reading aloud of the 628-page, $1.9 trillion coronavirus relief bill early Friday, after nearly 11 hours.
The reading, which ended just after 2 a.m. Washington time, was forced by Senator Ron Johnson, a Wisconsin Republican, and carried out by a rotating team of Senate clerks. The completion of the reading allows the Senate to begin debating the measure, President Joe Biden's top domestic priority. The chamber then adjourned until 9 a.m.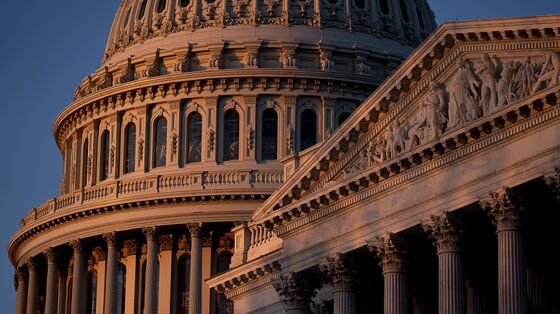 Republicans later Friday are expected to begin offering numerous amendments to the bill dragging the final vote into the weekend. -- Erik Wasson
CBO Finds Senate Version of Aid Bill Within Limits (9:57 p.m.)
The Congressional Budget Office estimated the 10-year cost of the Senate's version of the pandemic-relief bill at $1.874 trillion by 2030 -- within the $1.889 trillion limit set in the budget resolution approved last month by the two houses of Congress.
The CBO had found the House's version to be $31 billion over the limit set under the fast-track process known as reconciliation that Democrats are using to approve the bill with a simple majority in the Senate.
Most of the spending in the bill comes this year, with the bulk of the remaining outlays in 2022, the CBO said Thursday evening.
CBO's score also puts the spending within the limits allocated for 11 Senate committees. -- Steven T. Dennis and Erik Wasson