Brazilian Stocks, Currency Surge as Bolsonaro Consolidates Lead
(Bloomberg) -- Brazilian assets extended a rally on Wednesday as traders price in higher odds of far-right presidential candidate Jair Bolsonaro winning this month's presidential election, a scenario seen as more favorable to financial markets among the leading contenders.
The real soared 2.4 percent, the best among major currencies, pushing weekly gains to 5.3 percent. Stocks climbed 3.4 percent led by surges in state-run companies, while bond risk measured by five-year credit default swaps plunged the most since March 2016.
The outsized two-day advance is being driven by opinion polls that showed Bolsonaro extending his first round lead while statistically drawing even with leftist Fernando Haddad in a second round. Brazilians head to the polls this Sunday and if none of the candidates get more than 50 percent of the valid votes, the two most-voted will face off on Oct. 28 to see who will lead Latin America's largest economy for the next four years.
The latest opinion survey released by Datafolha late Tuesday showed the former paratrooper rose four points to 32 percent with just days to go until the vote. Haddad, an heir to former president Luiz Inacio Lula da Silva who is currently incarcerated, saw his vote intentions fall within the margin of error, to 21 percent from 22 percent. The controversial conservative's rapid advance in the final stretch of the race has brought up the possibility -- still seen as remote -- that he wins the election in the first round, which hasn't happened in Brazil since 1998.
"There is a low but not zero probability of a first round victory for Bolsonaro, which would be quite bullish for Brazilian assets," said Shamaila Khan, the director of emerging-market debt at AllianceBernstein in New York. "We have been and are constructive on Brazilian assets."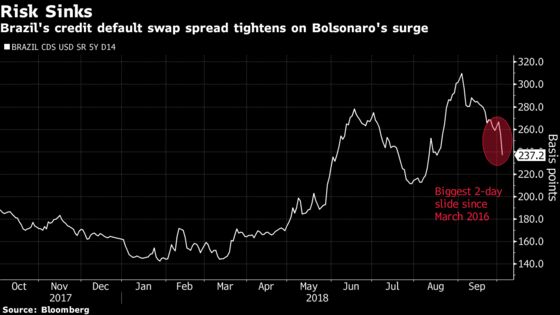 Brazilian assets had already surged on Tuesday, following the publication of an Ibope poll which showed an increase in support for Bolsonaro, a seven-term congressman who has pledged to sell-off state companies in the event of victory.
Of the 13 candidates running for the presidency on Sunday, Bolsonaro and Haddad are almost certain to make the second round. Markets eye Haddad warily, fearing a return to the statist policies pursued by previous Workers' Party governments. In a runoff scenario, both men are technically tied, with Bolsonaro on 44 percent and Haddad on 42 percent, according to Datafolha.
As with Ibope, the poll showed that Bolsonaro's support grew among female voters, despite large demonstrations over the weekend to protest his conservative views on women. It also grew among Brazil's most educated voters, as well as those with incomes five to ten times the minimum wage.
The Datafolha survey of 3,240 people was conducted in 225 municipalities on Oct. 2 and has a margin of error of plus or minus 2 percentage points. The survey showed Bolsonaro still has the highest rejection rating of any candidate at 45 percent, while the negative perception of Haddad rose to 41 percent from 32 percent.
Datafolha does not run polls for politicians or political parties, according to its website.