Second Duterte Critic Arrested, Raising Fears Among Opponents
(Bloomberg) -- Philippine police on Tuesday arrested a prominent critic of President Rodrigo Duterte, Senator Antonio Trillanes, in what the opposition said was an attempt to quell dissent.
Trillanes was taken quietly from the Senate building in the capital Manila to a police station in the Makati financial district after a local court issued a warrant for his arrest over coup attempts in 2003 and 2007 against then president Gloria Arroyo.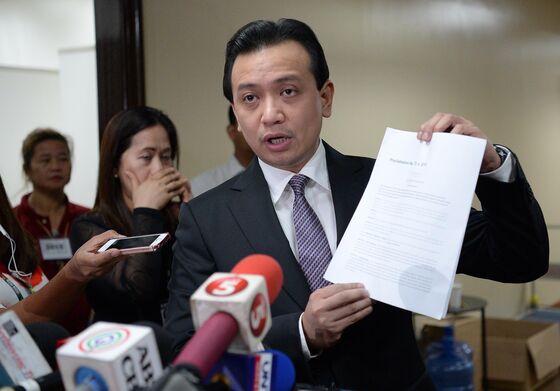 Earlier this month, Duterte revoked an amnesty granted to Trillanes for his role in the failed mutinies.
"Democracy was defeated today," Trillanes said at a briefing before his arrest. "Officially, there's no more democracy in this country." The senator was able to return to the Senate and avoid detention after posting bail worth 200,000 pesos ($3,680), but is barred from leaving the country.
"It will effectively set him aside, for the moment, from any threat to the Duterte administration," said Ramon Casiple of the Institute for Political and Electoral Reform. "At the same time, this raises to a new level the political battle with the opposition."
The move comes as Duterte's approval rating fell 13 percentage points to 75 percent in September from 88 percent in June, according to Pulse Asia survey of 1,800 adults conducted Sept. 1-7.
Another critic of the president, Senator Leila de Lima, remains in prison after she was arrested in February 2017 on drug trafficking charges which she has repeatedly denied. Supreme Court Chief Justice Maria Lourdes Sereno was ousted in May, while Vice President Leni Robredo has been sidelined from holding a government post since late 2016.
Trillanes' arrest was an attempt by the Duterte administration to intimidate the opposition and divert public attention from other issues such as rising inflation, minority Senator Bam Aquino said in a statement. "The public's welfare is being neglected while this government is exerting effort to silence its critics," he said.
Duterte's main legal adviser Salvador Panelo said there were solid legal grounds behind Trillanes' arrest, adding that the senator "has to stop milking the issue and act pathetically as if he is a victim of injustice."