Scottish Nationalists May Fall Short of Majority, Poll Shows
(Bloomberg) -- Scotland's nationalists remain on course for a big victory in May elections, though may fall short of the parliamentary majority that's critical to reinforcing their push for another referendum on leaving the U.K., according to the latest poll.
The Opinium survey for Sky News gave First Minister Nicola Sturgeon's Scottish National Party a 22 percentage-point lead over the Conservatives. That would translate into 64 seats in the Edinburgh legislature, one short of a majority, it said. Support for independence was 51% versus 49% for remaining in the U.K., the poll showed.
The poll was taken after a political scandal escalated over the Scottish government's handling of sexual harassment claims against Sturgeon's predecessor, Alex Salmond. A report by cross-party committee is due to be published before parliament breaks for the election campaign next week.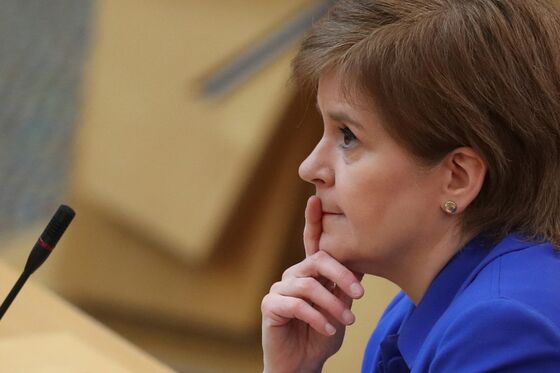 Opinium interviewed 1,096 Scottish adults online from March 11 to 16. That was a week after Sturgeon appeared at the committee and rejected claims of a plot against Salmond.
A former first minister and figurehead of the independence movement, Salmond had earlier told lawmakers there was collusion to purge him from public life and accused the government of a failure of leadership. He was acquitted by a court last year after a judge earlier had ruled that the way the government had investigated the claims had been unlawful.
The May 6 election could prove critical to the future direction of not just Scotland, but Britain as a whole. Sturgeon is pushing for a second vote on breaking away from the rest of the U.K. and is seeking a renewed mandate to exert more pressure on Prime Minister Boris Johnson to grant one.
Johnson told the Scottish Conservative Party conference at the weekend that the coronavirus pandemic was not the time to hold another vote. The SNP plans to put forward draft legislation next week outlining its plans for an independence referendum.
The SNP has run the semi-autonomous administration in Scotland since 2007. It has only once before achieved a majority, in 2011, with Scotland's electoral system designed to ensure coalition government. That then paved the way for a referendum three years later after the British government granted one. Scots voted 55% to 45% to remain in the three-centuries-old U.K.
The party currently runs a minority government, supported on most issues by the pro-independence Scottish Green party.