Schumer Asks Biden to Seek More Than $1.3 Trillion in Relief
(Bloomberg) -- Incoming Senate Majority Leader Chuck Schumer has pressed President-elect Joe Biden to propose more than $1.3 trillion in spending for his initial round of Covid-19 relief, according to a person familiar with the matter.
The two have discussed Biden's plans ahead of the president-elect's announcement on his economic-rebuilding proposals, the person said, asking not to be named as the talks were private. Biden is set to speak at 7:15 p.m. Thursday to outline "his vaccination and economic rescue legislative package," his transition team said in a statement.
Aides have been mulling the price tag of the immediate assistance package that the Democrats will seek after the administration takes office Jan. 20. Democrats last fall sought a $2.2 trillion Covid-19 bill -- $1.3 trillion more than the $900 billion measure enacted in late December.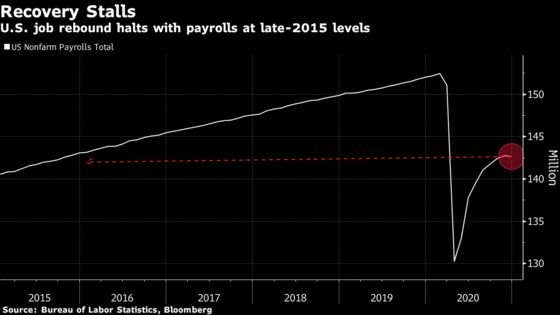 Biden will seek a deal with Republicans on the next round of Covid-19 relief, rather than attempting to ram a package through without their support, people familiar with the matter said on Tuesday. The new president could pass some stimulus items using a special budget tool with just the votes of the 50 Democrats and independents in the chamber, but prefers to try a bipartisan approach first.
Another person familiar with the discussions said Wednesday that the thinking is that at least 10 Republican senators can be found to back the initiative to be unveiled Thursday -- speeding its passage in a chamber that will have a 50-50 partisan split.
Wall Street banks have been penciling in about $1 trillion or less for the coronavirus aid plan, and equities climbed to record highs last week on expectations of further fiscal stimulus.
The relief plan won't include any surprises, and will be composed of elements that Democrats have been pressing for weeks in the wake of the $900 billion bill enacted last month, that person said.
A Biden transition spokesperson declined to comment on the plans.
Funding for vaccines, aid to state and local governments, boosting direct payments to $2,000 from the $600 approved last month and further unemployment-insurance support will be key components, the person said.
A larger stimulus package and infrastructure plan is anticipated after the immediate relief bill, the person said.
While funding for state and local governments was left out of December's bill, a number of Republicans backed a compromise proposal for $160 billion in such spending.
There's also bipartisan support for boosting stimulus checks. GOP Senator Marco Rubio urged Biden, in a letter to the president-elect Tuesday, to ask Congress to send him legislation raising the payments to $2,000.
"It would send a powerful message to the American people" in the wake of what happened at the Capitol on Jan. 6, Rubio said in his letter.
Ron Wyden, the incoming chair of the Senate Finance Committee, on Wednesday also put direct payments as a priority, as has Schumer. The Oregon Democrat said assistance should "start with the $2,000 relief checks and continue with enhanced unemployment."
Current extended and supplemental jobless benefits expire in mid-March, serving as a deadline for lawmakers to act on the next dollop of economic support -- all the more because vaccinations won't have reached most Americans by then.
"The country isn't going to be back to normal by March," Wyden told reporters Wednesday. He reiterated his proposal for automatic triggers that would extend unemployment aid programs based on national and state jobless rates.