Scholz Confident He'll Take Over as German Chancellor Next Month
(Bloomberg) -- German Finance Minister Olaf Scholz said he's confident that talks with his potential coalition partners will wrap up in time for him to take office as chancellor next month.
"The things that need to be discussed are not so numerous" as to be insurmountable, Scholz, the Social Democrats' chancellor candidate, said in Berlin on Thursday. "I've experienced other situations that were more challenging."
Top party officials from the SPD, Greens and pro-business Free Democrats will start holding a final round of negotiations on Monday to assemble a book-length blueprint for a new government. The parties have said they aim to finalize talks by the end of the month, giving the 21 negotiators a bit more than two weeks to bridge remaining differences.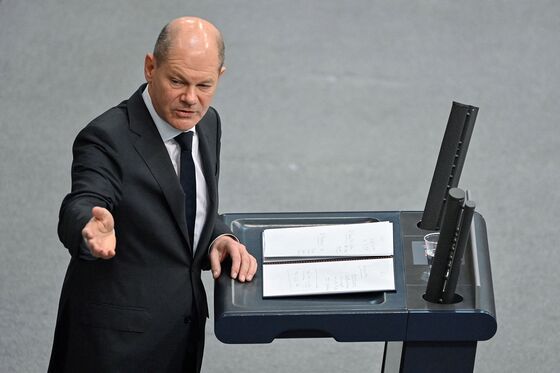 Little has leaked out from the talks, though Greens' co-leader Annalena Baerbock signaled this week that tensions have arisen between the three parties over climate policy. With the FDP rejecting tax increases and excessive debt spending, there's also potential for lingering disagreement on how to finance the new government's agenda.
More than six weeks after Scholz's SPD narrowly won the Sept. 26 election, political work in Berlin has ground to a halt as parties inch ahead in the months-long process of forming a new government. Angela Merkel remains chancellor in a caretaker capacity, as incoming and outgoing officials bicker over how to respond to a fourth wave of the pandemic.
Some 300 party officials have been meeting for the past two weeks in 22 different groups to hash out negotiating language on issues ranging from finances and climate to the digital economy and foreign policy. The main group will seek to conjoin draft texts produced by the working groups.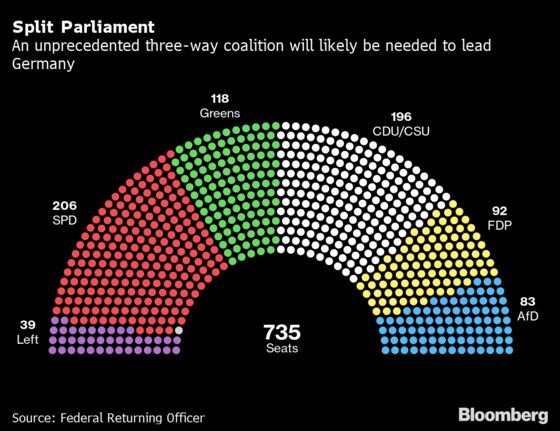 Scholz will gather officials in Berlin at the representation of the state of Hamburg, where he was mayor from 2011 to 2018.
Once negotiators finalize a draft, the parties will sign off on the coalition accord, which will map out the new government's agenda. Scholz aims to be sworn in by the lower house of parliament, or Bundestag, the week of Dec. 6.
Merkel, who did not stand again as chancellor, will then leave office after a 16-year tenure and her Christian Democratic Union party will go into opposition.