Scholz Says Germany Will Lift Debt Spending to Tackle Virus
(Bloomberg) -- Finance Minister Olaf Scholz said Germany will need to increase debt spending this year to help tackle the impact of the coronavirus crisis on Europe's largest economy.
"We will do extra activities yes, this is true, and we are able to do so," Scholz said in an interview Thursday with Bloomberg TV.
He declined to provide a specific figure, when asked about a Bloomberg report last month that said Chancellor Angela Merkel's government is weighing as much as 50 billion euros ($60 billion) in additional debt spending for 2021.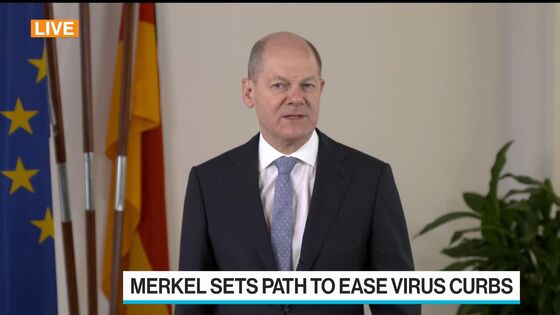 This year's budget currently foresees 180 billion euros in new borrowing and anything beyond that will require parliamentary approval.
Merkel and regional leaders agreed Wednesday on a timetable to gradually relax Germany's virus restrictions. The plan lays out a series of steps to reopen stores, cinemas and gyms, while leaving a decision on restaurants, hotels and events to a meeting on March 22. Restrictions can also be reimposed locally if contagion rates surge, creating uncertainty about the ultimate pace.
That means support for many businesses will need to continue, while the government also promised to fund a major increase in testing to monitor potential outbreaks as more people come into contact with one another.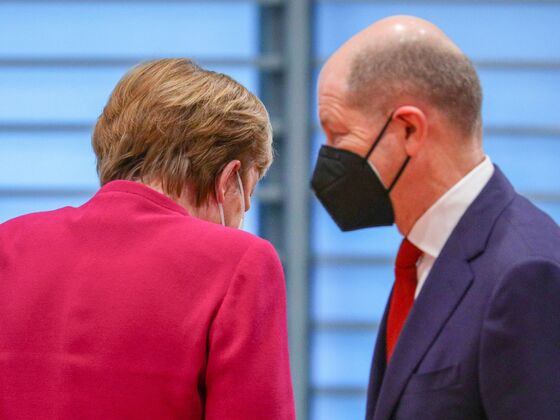 Scholz has repeatedly pledged that the government will spend freely to limit the damage from the pandemic and that years of budget discipline have put Germany's finances in a solid position. He has also highlighted that the country's debt will remain smaller than that of other major economies at around 70% of output.
As well as the expense of more testing, Merkel's administration is also pushing to ramp up Germany's vaccination campaign. The effort was given a boost Thursday when the government announced that the country's immunization commission has recommended AstraZeneca Plc's vaccine for people aged 65 and older. That expands on a ruling that initially limited it to adults between the ages of 18 and 64.
"This is good news for any elderly people who are waiting for a vaccination," Health Minister Jens Spahn said. "They can get inoculated faster."
Merkel's administration will present its 2022 budget proposal and a medium-term financing plan on March 24. The final decision on public spending beyond this year will be left to the new parliament after September's elections.
The government will likely have to spend aggressively next year as well. Scholz, who is running for chancellor for the Social Democrats, plans to propose a draft 2022 budget which will call for suspending constitutional borrowing limits for a third straight year, people familiar with his thinking told Bloomberg last month.
Scholz told Bloomberg TV Thursday that Germany's labor market is holding up much better than expected and that compared with other nations the country is among the most successful in battling the pandemic.