Scholz's Bid to Run Germany Hits Key Phase as Discord Persists
(Bloomberg) -- Social Democrat Olaf Scholz's bid to succeed Angela Merkel as German chancellor is reaching a critical phase as the party seeks to work through vast policy differences with its two prospective junior partners.
After 14 hours of talks this week and sparring over the weekend, the Greens and the pro-business Free Democrats said they made progress in finding common ground, but have more to do. The parties will continue to work before the next session on Friday, which could determine whether a three-way coalition is possible.
"This is a very serious and difficult exploratory process, but that doesn't mean that we're not conducting very positive talks with one another," FDP General Secretary Volker Wissing said on Tuesday alongside his counterparts from the SPD and the Greens. "It can only work if we proceed step-by-step."
The comments are a rare glimpse into the closed-door discussions to form Germany's next government. The three parties are under pressure to get a deal done as the country's fragmented political landscape provides little realistic alternative. 
In the Sept. 26 election, the Social Democrats narrowly beat Merkel's conservatives, which are in the midst of a power struggle and ill-positioned to lead a new government. Negotiators from the SPD, Greens and the FDP are now trying to find ways to bridge disparate positions on issues from spending and taxes to social policy and climate protection.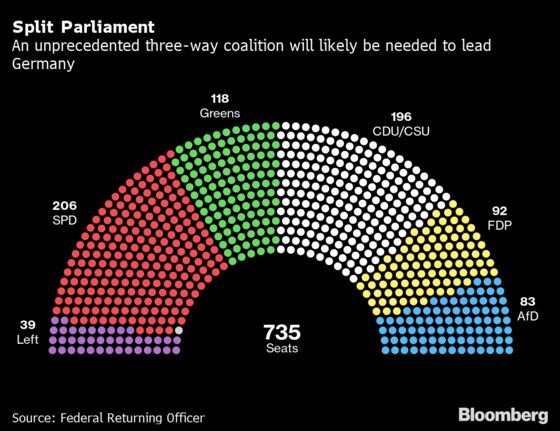 The officials insisted that the parties aren't going into policy details in this week's talks, but rather gauging whether differences on the big questions are bridgeable in order to begin negotiations on what a Scholz-led government would look like.
"The share of common positions has grown, while the share of differences has shrunk," said Michael Kellner, the Green party general secretary. "But there remain things to solve and clarify."
With Scholz traveling to Washington in his current role as Germany's finance minister, negotiators will take a break, and the parties' general secretaries will use the next two days to prepare the next session, which could be critical. 
Officials will reconvene on Friday for a round that may determine whether they have enough in common to enter formal negotiations to form a government, a process that can take months. 
"There is no obligation to make any decision on Friday, but our goal is to establish a basis by Friday to achieve clarity on the next steps," Wissing said.
After an upbeat start to the talks last week, the prospects for smooth coalition building dimmed as the two junior partners sparred over the weekend. Green co-leader Robert Habeck urged debt-relief for beleaguered European Union member states, while Wissing reaffirmed the party's insistence on no tax increases and sticking to constitutional debt limits. 
After the joint arrival on Monday, the FDP delegation was the first to exit in the evening, with officials from the SPD and Greens -- two traditional allies -- departing later. 
"It worked in the past day and half, and I say that in full awareness that we have a long path ahead of us and that there will be barriers." SPD General Secretary Lars Klingbeil said Monday.