Scholz Proposes New EU 'Ostpolitik' to Ease Tensions With Russia
(Bloomberg) -- German Chancellor Olaf Scholz said Europe must be united in seeking dialog with Russia as part of a new "Ostpolitik," while reiterating that any violation of Ukraine's borders will carry a heavy price for the Kremlin.
In an 85-minute address to parliament, his first after being sworn in a week ago, Germany's new Social Democratic leader invoked the Cold War-era foreign policy of his predecessor Willy Brandt, who in the 1970s sought to ease tensions with East Germany and the Soviet Union through engagement. A new version of the policy must be a European Union initiative, rather than one directed from Berlin, he said.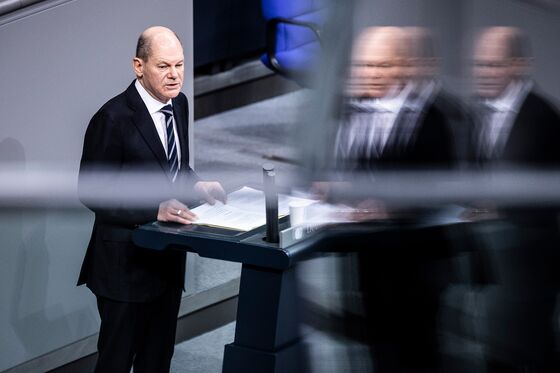 "We're willing to engage in constructive dialog," Scholz told the Bundestag on Wednesday. "This must not be misunderstood as a new German Ostpolitik," he added. "In a united Europe, Ostpolitik can only be a European Ostpolitik."
As Russia deploys troops on its border with Ukraine, the new German leader has declared his support for harsh retaliatory measures if the Kremlin steps up aggression against the former Soviet republic.
Still, he's said little about the controversial Nord Stream 2 pipeline transporting Russian gas to Germany, even as pressure mounts to halt the project as part of any response to Moscow. Scholz, assuring that Germany will work in concert with the 27-member EU, said his government "will not allow ourselves as Europeans to be divided."
Scholz's alliance with the Greens and pro-business Free Democrats is facing challenges on multiple fronts, including a surge in Covid-19 infections and threats to the European Union's eastern frontier.
In his speech, the chancellor laid out the new government's plans from its 177-page coalition accord in even, restrained tones punctuated by repeated applause from his allies.
Scholz spoke a week after succeeding Angela Merkel, bringing her 16-year term as chancellor to an end. With his cabinet assembled, he has already made his first trips abroad -- to Paris, Brussels and Warsaw.