Scholz Opens Path to German Chancellor as Full Talks Get Going
Social Democrat Olaf Scholz opened a new phase in his bid to succeed Angela Merkel as German chancellor after the pro-business Free Democrats approved comprehensive coalition talks. 
The leadership of the FDP unanimously agreed to negotiate a three-way alliance on the basis of a preliminary pact reached on Friday. After the Greens signed off at a conference on Sunday, the FDP's approval was the final step before the disparate parties start haggling over detailed policy plans.
Dissension has already emerged over how each party will interpret the 12-page accord, with the Social Democrats raising the prospect of altering Germany's inheritance tax and the Greens and the FDP jockeying for control of the powerful finance ministry. 
"We see chances, but we also see challenges," Chairman Christian Lindner said at a press conference on Monday in Berlin. A Scholz-led government with the Greens and FDP "can only initially be a marriage of convenience. Whether something more can develop out of it depends on all those involved."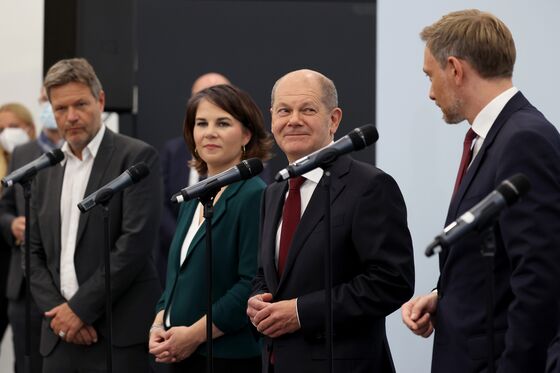 Financing is set to be a thorny issue. The FDP campaigned on an agenda of lower taxes and tight budgets, clashing with the SPD's and the Greens' push to leverage Germany's balance sheet to invest in an overhaul of Europe's biggest economy. 
Germany's complex process of transferring power has so far proceeded relatively quickly, despite vast policy differences. After the Social Democrats narrowly won the Sept. 26 election, three prospective partners found enough common ground to seek a joint government after a little more than a week of exploratory talks.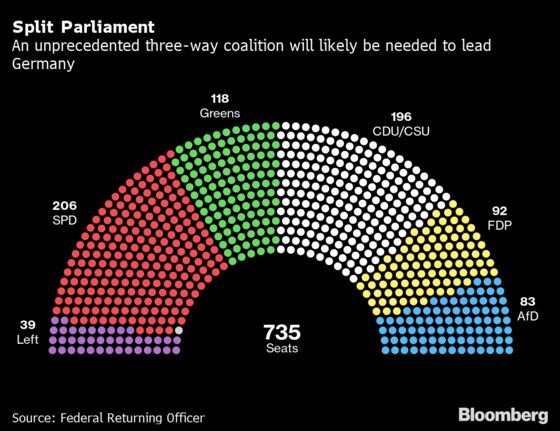 Robert Habeck, the Greens co-leader, signaled that the formal coalition negotiations can take four to six weeks, implying that Scholz could be sworn in as chancellor well before the end of the year. 
Lindner, who campaigned as a potential new finance minister, avoided a fresh debate on who would take on what role in the new cabinet. He also said that the parties hadn't drawn up any budget planning, after Habeck said they had targeted about 500 billion euros ($580 billion) in spending to address the climate crisis. 
"There's a clear understanding of leveraging public investment activities in Germany within the framework of the debt brake, but with the possibilities that the debt brake allows," Habeck said in interview with ARD television on Sunday.
As an example, he said the government could create funds that invest in electric-car charging stations in rural areas. "That can then be carried out in the various areas of public infrastructure," said Habeck, who is one of the candidates under discussion for finance minister.