Scholz Calls Out Unvaccinated Germans for Putting Others at Risk
(Bloomberg) -- Chancellor Olaf Scholz issued a strong appeal for Germans to get vaccinated against Covid-19, saying failing to do so puts others at risk as the nation grapples with the fast-spreading omicron variant.
Speaking to parliament on Wednesday, Scholz reaffirmed his support for making shots compulsory for all adults, saying the measure is needed to ensure health-care services don't get overwhelmed.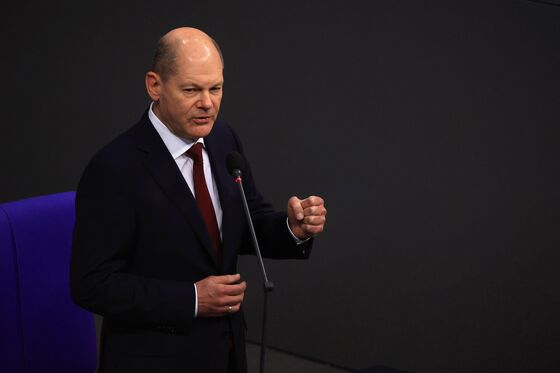 "There are no decisions that are taken for yourself alone, and that's why a vaccine mandate is the right way to go," Scholz said in the Bundestag in Berlin, after his speech was briefly interrupted by a protest over pandemic measures from the far-right Alternative for Germany. 
Germany is currently experiencing a similar omicron-fueled surge in Covid-19 infections as seen in countries like France, Britain and Ireland.
"The fact that you can infect someone has a consequence for our whole country, for our friends and neighbors," he said. "The fact that in Germany not as many people are vaccinated as we hoped at the start also has consequences.
There were a record 80,430 new cases in the 24 hours through early Wednesday, according to the latest data from the RKI public-health institute. The seven-day incidence rate per 100,000 people climbed back above 400, approaching the all-time high of 452 from the end of November.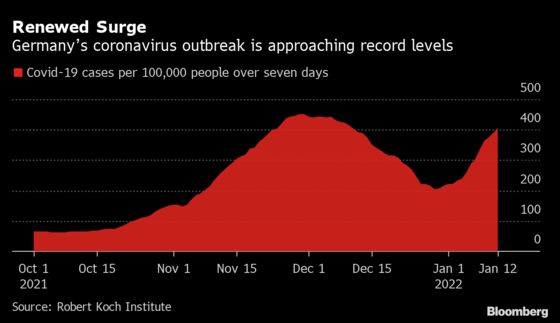 Despite surging infections, there's less urgency to impose harsh lockdowns amid widespread vaccinations and signs that omicron causes milder symptoms than earlier strains of the disease. The number of Covid patients in German intensive-care facilities has steadily dropped for weeks, easing pressure on hospitals.
More than 72% of the population is fully vaccinated with two shots, and over 44% have had a booster shot, according to the latest RKI data. But there remain pockets of intense opposition to inoculations.
To contain the spread, Scholz and regional leaders last week agreed on tighter rules on access to restaurants and cafes, adding to curbs that restrict non-vaccinated people from non-essential stores and theaters. There are also limits on the size of public gatherings that apply to all citizens.
Government officials initially said a vaccine mandate could take effect by March, but the timetable is slipping amid political wrangling -- including within the ruling coalition -- and legal complexities. The Bundestag is expected to begin debating the legislation in coming weeks, and Scholz said that he would personally campaign for the mandate.