Scholz Counts on Investors to Eradicate CO2 Emissions in Germany
(Bloomberg) -- Finance Minister Olaf Scholz said he'll bank on private investors to provide most of the funds required to eliminate Germany's carbon emissions over the next 25 years and improve internet connections to support online business.
Running for chancellor in September as candidate for the center-left Social Democrats, Scholz said he expects most of the investment for the green and digital transformation to come from the private sector. He's also proposing 50 billion euros ($60 billion) a year in public investment to help with the effort and backed a British idea to oblige companies to report their climate risks.
With his party running third in the polls between the Greens and Angela Merkel's Christian Democrats, Scholz is looking to carve out a space from which he can appeal to traditional voters who are wary of excessive government borrowing as well as those more concerned about leading the transition to a zero-carbon economy. By relying on private investment, he aims to finance the shift without abandoning constitutional limits on public borrowing, which the Green candidate, Annalena Baerbock, wants to abolish.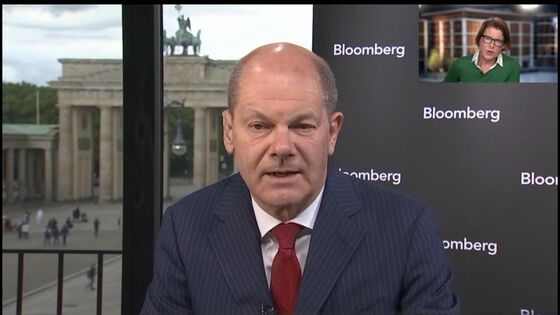 "It will be a decade of high private investment and high public investment," he said Tuesday in a Bloomberg webinar on the German election. "Investments will be mostly private for digitalisation and climate."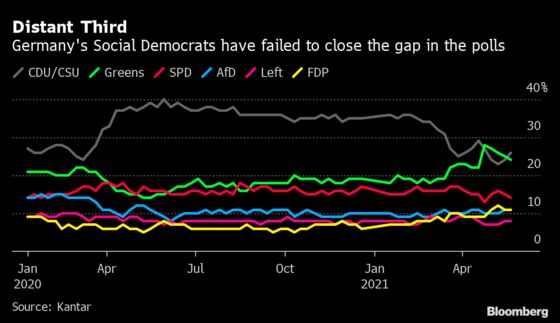 With Merkel stepping aside after 16 years in power, Germans are facing an election with no incumbent on the ballot for the first time since the Federal Republic's first election in 1949. With no party set to break 30% of the vote, Scholz said coalition negotiations will be tricky this time around but he's seen polling that suggests he is the most popular candidate with voters, even though his party is lagging behind.
"I have the leadership to save the wealth of our country," he said. "We have to establish a government looking for growth."
The Social Democrats' woes parallel struggles in other center-left parties across Europe. The blue-collar workers that traditionally made up the movement's backbone have become disillusioned, while the rise of gig workers and tech and service jobs have diluted the appeal of old school pro-union policies.
In Germany, some SPD voters have fled to the far-right AfD amid fears that migration could threaten their jobs, while the Greens have also lured away voters with their shift to the center.
The SPD's best chance of playing a role in Germany's next government might again be as a junior partner, but this time under the Greens. Despite suffering during two consecutive coalitions with Merkel, Scholz insisted that his party is not looking for a stint in the opposition in order to regroup. He also refused to rule out a pact including the far-left party Die Linke.
Scholz's economic strategy marks a dividing line with the Greens who have overtaken the SPD to become the main challengers to Merkel's Christian Democrats in September. While the Greens want to borrow an extra 500 billion euros over 10 years to invest in clean technology, Scholz would limit total public investment to 50 billion euros a year in order to meet the constitutional rules that allow only minimal borrowing.
In addition to supporting the U.K.'s plan for Group of Seven nations to force corporations to report their climate risks, Scholz is pushing a proposal for a so-called climate club to seek an agreement with the U.S. on the European Union's plans for a CO2 border-adjustment tax.
"We can't wait for countries to start climate action," he said.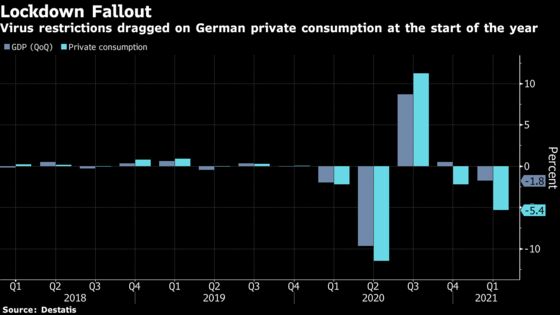 Scholz has been instrumental in Germany's response to the pandemic, greenlighting tens of billions of euros in stimulus measures. The country has suffered less from the fallout than other developed nations. After a contraction at the start of the year, the economy is set to rebound strongly in the coming quarters, fueled by household spending as the country comes out of months of lockdown.
The International Monetary Fund last week said it expects output to return to pre-crisis size early next year, while the Bundesbank is more optimistic and predicts it could already happen at the end of 2021.