Scandal Embroils South Africa's Self-Styled Party of the Poor
(Bloomberg) -- The top leaders of South Africa's Economic Freedom Fighters, famous for abrasive politics and brawling in parliament, have become embroiled in a string of scandals that has dented the party's efforts to portray itself as a voice of the poor ahead of elections in May.
Deputy party leader Floyd Shivambu allegedly secured funds looted from the failed VBS Mutual Bank, a probe commissioned by the central bank and reports by the AmaBhungane Centre for Investigative Journalism show. Party president Julius Malema and Shivambu also unduly benefited from municipal vehicle fleet contracts worth 1 billion rand ($69 million), according to another AmaBhungane report. The EFF says there's no proof its officials did anything wrong.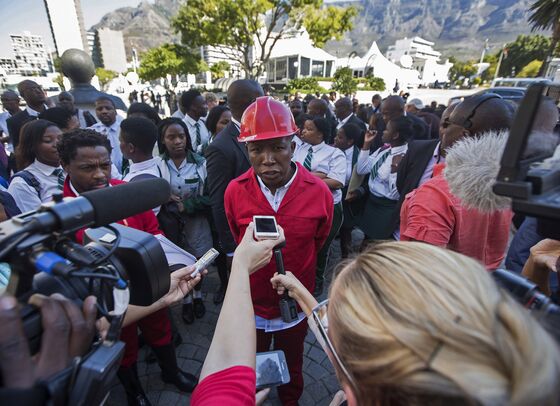 Yet its public relations woes are good news for the ruling African National Congress, which hemorrhaged support during former President Jacob Zuma's scandal-marred tenure and is trying to rebuild its image under new leader Cyril Ramaphosa. The Democratic Alliance, the main opposition party, faces its own difficulties, including infighting in its Cape Town stronghold and challenges in governing cities it won from the ANC in a 2016 municipal vote.
"What has definitely set the EFF back is the VBS bank scandal," said Dirk Kotze, a political science professor at the University of South Africa. "The party has up to now, and relatively successfully, presented itself as the anti-corruption voice in South Africa."
Fifty-six percent of 1,017 registered voters surveyed by the South African Institute of Race Relations between Nov. 26 and Dec. 4 said they supported the ANC, up from 52 percent in September. Backing for the EFF dipped to 11 percent from 13 percent, and for the DA to 18 percent from 23 percent. Based on a 69 percent turnout, the institute projected that the ANC would end up with 59 percent of votes cast, the DA 22 percent and the EFF 10 percent.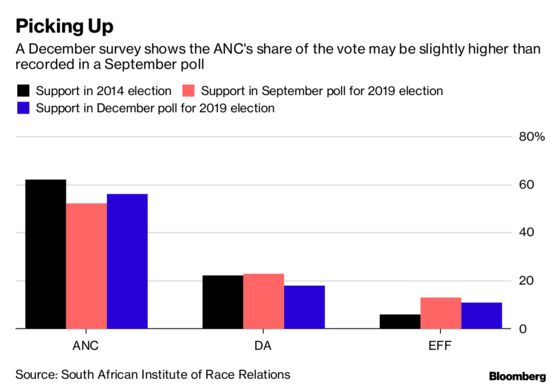 Malema, a 37-year-old former leader of the ANC's youth wing, founded the EFF five years ago after he was expelled from the ruling party for criticizing Zuma and his policies. The EFF's calls to nationalize land, banks and mines have found resonance among many poor, black township residents, whose standard of living has improved little since the end of apartheid. It won 6 percent of the vote in the last national election in 2014 to become the third-largest party.
The EFF's charismatic leadership and its penchant for political theater have bolstered its support. Its lawmakers wear red miners' coveralls and maids' uniforms to parliament and fought with security guards trying to stop them from disrupting Zuma's speeches. Its share of the vote rose to 8 percent in a 2016 municipal election, while support for the ANC slumped to a record low of 54 percent. The DA polled 27 percent.
Despite its proclaimed pro-poor stance, some of the EFF's leaders have taken up residence in exclusive Johannesburg suburbs, drive Range Rovers and wear Breitling watches and other expensive fashion accessories. That's led critics to dub them "Gucci revolutionaries" and "champagne socialists." Some ANC officials have been criticized for similar lifestyles.
"The fact that the EFF presents itself as a Marxist or socialist movement but the leaders have a very capitalist lifestyle on the one hand is very problematic for the lower income people, but on the other hand that's not their main support base," Kotze added. "Their main support base includes young professionals, students, academics and intellectuals in the urban areas and that's the typical middle-class group."
Malema is adamant that the EFF draws support because of its pro-poor stance and determination to give the black majority a bigger stake in the economy. He argues that supporters aren't alienated by the conduct of some of its leaders or reports that implicate them in wrongdoing -- allegations Malema says are unfounded.
"The brand EFF will never be shaken by such things," he told reporters in Cape Town on Dec. 4. "If anything, we are more resolute."
Malema may have a point, according to Ralph Mathekga, an independent political analyst. He sees the EFF cementing its position as South Africa's third-biggest party despite its recent public relations challenges.
"The EFF supporters are not willing to listen to any opposition about their party," he said. "They are extremists, if they believe in you, then they believe in you."