Saudis Reignite Memories of Oil's 1970s Trauma
The Saudi-U.S. diplomatic clash over the disappearance of journalist Jamal Khashoggi is stirring memories of the most traumatic event in the history of oil.
Crude prices jumped this morning after Saudi Arabia vowed to hit back at any punitive measures against it following a White House warning that President Donald Trump may take "stern action" should the kingdom be found responsible for Khashoggi's demise.
Traders interpreted that as a veiled threat the world's biggest exporter could deploy its "oil weapon" – by cutting supplies to the U.S. The only time that option was used was the 1973 oil embargo to protest Western support of Israel.
The U.S. is increasingly convinced that Khashoggi, a Washington Post writer and critic of Riyadh, died after entering the Saudi consulate on Oct. 2. Turkish officials have said they believe he was murdered and his body dismembered. The Saudi king has ordered an internal investigation.
The heightening U.S.-Saudi tensions are fueling unease about a global economy nervous over Trump's threat to impose more tariffs on China. The last oil embargo sparked a global recession and ultimately undermined Middle East producers as the West sought new supplies and technologies.
Today's price surge quickly eased, suggesting traders believe that, behind the heated words, oil producers are in no rush to repeat the mistakes of the past.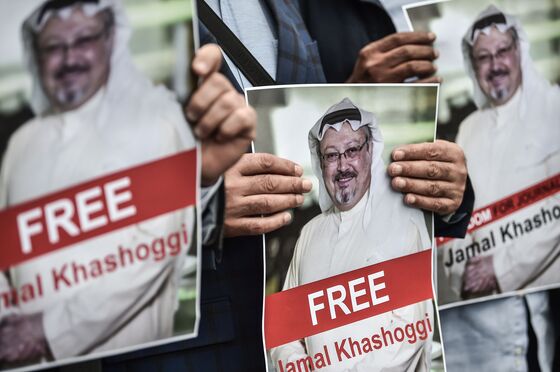 Brexit impasse | The latest round of Brexit negotiations broke up in stalemate over the weekend, all but eliminating any chance of a breakthrough at this week's European Union summit in Brussels. What follows will likely be more talk of a chaotic and acrimonious no-deal split, coupled with threats of resignations from the U.K. cabinet. Prime Minister Theresa May must now focus on holding her government together long enough to get an agreement that can be put to a parliamentary vote.
More China tariffs? | Trump told CBS's "60 Minutes" that while he "might" add to tariffs on $250 billion worth of Chinese imports, he didn't want to push the world's second-biggest economy into a depression. Trump, who's previously threatened to slap duties on virtually all goods the U.S. buys from China, also repeated allegations that Beijing's leaders were meddling in U.S. elections, calling the country a "bigger problem" than Russia.
Bavarian rhapsody | Angela Merkel could be forgiven a moment's Schadenfreude at her CSU sister party's kicking in Bavarian state elections yesterday after months of fighting her over migration. But with voters flocking to the pro-immigration Greens and the far-right AfD, the result was a stark reminder of how polarized German politics has become. Another state vote in two weeks is the next test.
Midterm momentum | Democrats can retake the House of Representatives in next month's midterm congressional elections provided they're able to get voters who don't typically turn out on polling day – among the young and racial minorities – to cast their ballots, according to a new CBS survey. A separate Washington Post-ABC study showed voter enthusiasm up across the board, but especially among younger adults.
Security forces amass power | Almost 40 former soldiers, police officers and firefighters rode the coattails of Brazil's right-wing Jair Bolsonaro, a former paratrooper, to win election to congress earlier this month. If the ex-army captain takes the runoff vote against Fernando Haddad of the Workers' Party on Oct. 28, he has promised to name as many as five generals to his cabinet – a combination would give the security forces the largest public role in Brazil since the country's return to democracy in 1985.
And finally ... Turkey is renaming the street on which a new U.S. Embassy is being built after the black Muslim civil rights leader Malcolm X. President Recep Tayyip Erdogan has also demanded that the U.S. president's name be taken off signs around Trump Towers in Istanbul in response to his proposal for a Muslim immigration ban during his presidential campaign. That hasn't happened yet, but last month the municipal assembly voted to remove it from the metro underpass leading to the Trump complex.