Trump, Pompeo Cite U.S.-Saudi Ties as Khashoggi Crisis Escalates
(Bloomberg) -- President Donald Trump and his top diplomat cautioned against putting the entire U.S.-Saudi Arabia relationship at risk over the disappearance of Jamal Khashoggi, as the crisis over the missing journalist escalates more than two weeks after he entered the Saudi consulate in Istanbul.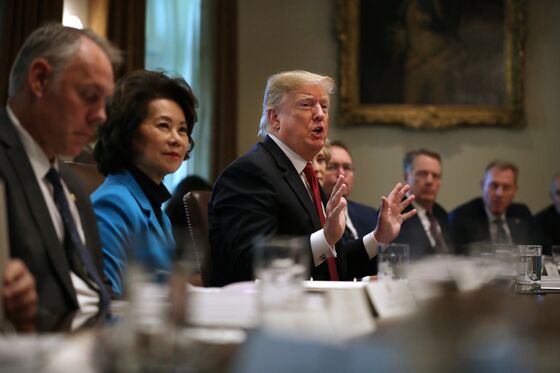 Trump reiterated to reporters on Wednesday that Crown Prince Mohammed bin Salman's government agreed to buy $110 billion in U.S. weaponry during his visit to the country last year -- his first trip abroad after becoming president. He's previously said canceling those purchases would just push Saudi Arabia to look to Russia or China for arms.
"If you look at Saudi Arabia, they are an ally," Trump said. "They are a tremendous purchaser of not only military equipment but other things."
That echoed points made earlier in the day by Secretary of State Michael Pompeo, who was dispatched by Trump to Saudi Arabia and Turkey on Monday.
"It's important that everyone keep in their mind that we have lots of important relationships -- financial relationships between U.S. and Saudi companies, governmental relationships, things we work on together all across the world," Pompeo told reporters aboard his plane Wednesday after it left Turkey. "The Saudis have been great partners in working alongside us."
Khashoggi contributed many columns to the Washington Post, and on Wednesday night the newspaper published what it said was his final piece.
In the column, he wrote of the hopes for freedom that emerged during the Arab Spring uprisings of 2011 -- hopes that were dashed by repressive governments.
"As a result, Arabs living in these countries are either uninformed or misinformed," Khashoggi said. "They are unable to adequately address, much less publicly discuss, matters that affect the region and their day-to-day lives."
The crackdowns on dissent "no longer carry the consequence of a backlash from the international community. Instead, these actions may trigger condemnation quickly followed by silence," he said.
The crisis over Khashoggi has threatened to undermine U.S.-Saudi ties around which Trump has staked much of his Middle East foreign policy strategy. The president has embraced the crown prince, twice hosting him in the Oval Office, and is counting on Saudi Arabia to help compensate for a decline in Iranian oil sales next month when new U.S. sanctions kick into place.
The U.S. has also backed Saudi Arabia's widely-criticized war in Yemen, which the United Nations has described as the world's worst humanitarian crisis.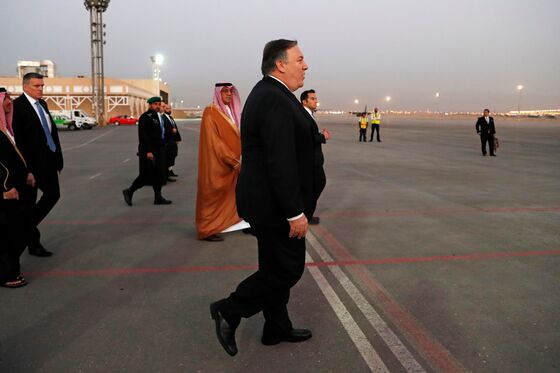 After a day of meetings in Riyadh and a few hours on the ground at an airport in Ankara, Turkey, Pompeo said Saudi Arabia understands the need to conclude its investigation into the disappearance of Khashoggi -- a U.S. resident and critic of the Saudi government -- in a timely and rapid fashion.
Pompeo added that "unlawful" actions such as the killing of a journalist would be "unacceptable." Pompeo returned to the U.S. on Wednesday evening and was to meet with the president on Thursday morning.
Trump said he expects to know this week "what happened and where is the fault." He's asked Turkey to provide audio and video related to Khashoggi's fate, if it exists. The New York Times, citing Turkish media, said Khashoggi was tortured and beheaded shortly after entering the consulate.
The Trump administration is also under rising pressure from top members of Congress to act. The Saudi crown prince is a "wrecking ball" and "toxic" figure who must have known what happened to Khashoggi, Republican Senator Lindsey Graham of South Carolina said Tuesday.
Louisiana Republican John Kennedy said he believes "the Saudis killed him" and the U.S. needs to "condemn the conduct in the strongest possible terms." He added that he didn't think the U.S. should sever ties with the Saudis.
Pompeo urged patience as a Saudi probe, and a joint Saudi-Turkish investigation, are carried out. He said Turkish officials told him that Saudi officials are cooperating in the inquiry.
"They told me they were going to conduct a thorough, complete, transparent investigation" and made a commitment to holding anyone connected to any wrongdoing accountable, Pompeo said earlier, referring to the Saudis.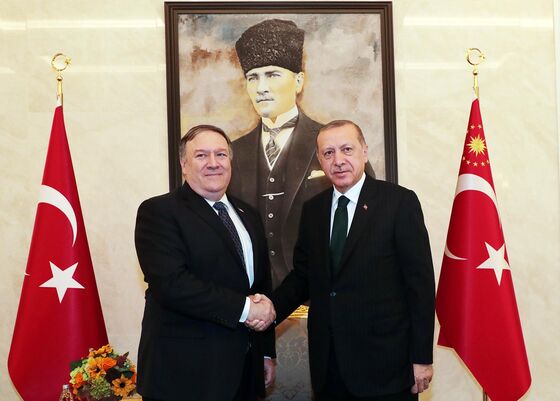 Turkish officials have said privately, without offering evidence, that Khashoggi was killed and dismembered inside the consulate. Saudi Arabia initially said he left the building alive, without backing up the claim.
However, they've since undertaken an internal probe, and some Saudi officials have floated an alternative narrative suggesting he died in a botched interrogation.
That explanation could be used to attempt to deflect suspicions that Prince Mohammed ordered him killed and give the U.S. and Turkey a way out of confronting an important regional player.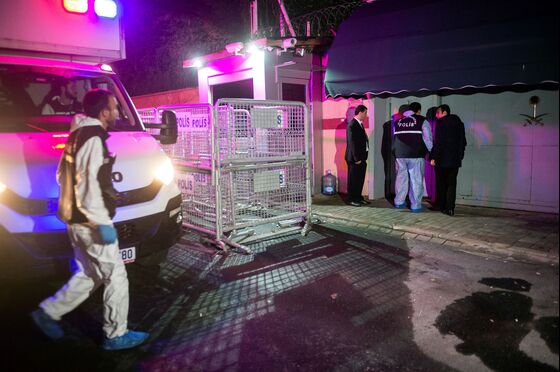 Trump said in an interview with Fox Business Network on Wednesday, "I hope that the king and crown prince didn't know about it," he said. "That's a big factor in my eyes."
Suggestions of top-level involvement grew after the New York Times reported Tuesday that one of the suspects identified by Turkey in Khashoggi's disappearance was a frequent companion of Prince Mohammed on foreign trips, while three others have been linked to the prince's security team.
The revelation came as further leaks emerged from unnamed Turkish sources of the journalist's last moments.
Khashoggi vanished Oct. 2 after going to the consulate to pick up a document he needed to marry.
Asked if the Saudis said Khashoggi is alive or dead, Pompeo replied: "I don't want to talk about any of the facts; they didn't want to, either," as they work through the investigation.
Turkish officials have stepped up pressure on the Saudis over the episode, providing the Washington Post with scans of passports that they say were carried by seven men who were part of a Saudi team involved in killing Khashoggi.
They are also looking to search the home of the Saudi consul-general, according to Interior Minister Suleyman Soylu.
Khashoggi's disappearance has prompted top global business leaders to pull out of an investment conference scheduled for next week in Riyadh.
Christine Lagarde, the head of the International Monetary Fund, deferred a trip to Saudi Arabia that would have included a visit to the conference, which has been designed to highlight the kingdom's modernization plans.
Foreign ministers from the Group of Seven most advanced economies issued a joint statement Tuesday saying they remain "very troubled" by Khashoggi's disappearance, and calling on the Saudis to conduct "a thorough, credible, transparent, and prompt investigation, as announced."