Saudi Prince Tries to Come In From the Cold
Feted just months ago as a young liberal reformer, Saudi Crown Prince Mohammed bin Salman has turned into a pariah after the gruesome details of the murder of prominent critic Jamal Khashoggi were splashed around the world.
MBS, as he's known, has flown into Argentina for the Group of 20 summit looking to bring himself in from the cold. While he's likely to be shunned by leaders of western democracies, he may find Russia and China more receptive.
Face time with Donald Trump would be a big win. The U.S. president has publicly praised the crown prince, and is letting the Saudis buy a missile defense system from Lockheed Martin, a deal worth up to $15 billion.
But Trump also faces pressure at home from senators in both parties threatening to limit U.S. support for the Saudi war in Yemen. Republican Lindsey Graham, a key Trump ally, is demanding a briefing from the CIA chief on MBS's possible role in Khashoggi's killing.
Any interaction, no matter how brief, between Trump and MBS would be scrutinized intensely around the globe. It's not just the crown prince feeling some heat from this.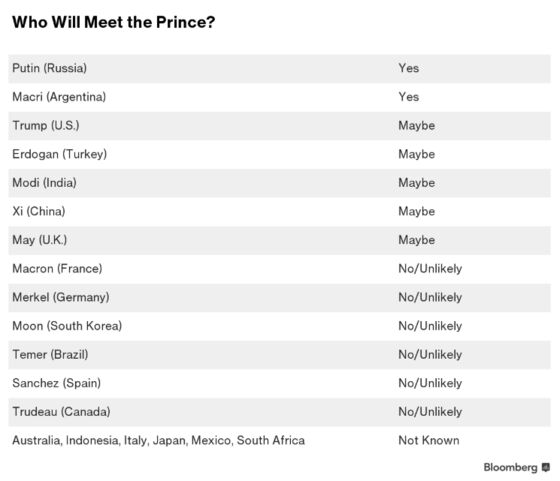 Punishing GM | Trump has asked federal agencies to look for ways to cut subsidies to General Motors following the automaker's decision to cancel production at several factories and lay off thousands of workers, Justin Sink and Ryan Beene report. The president also sought to shift the focus to China, raising the prospect of slapping a 25 percent tariff on imported cars and ordering a review of Beijing's retaliatory auto tariffs against the U.S.
Pardon possible | Trump isn't ruling out a presidential pardon for Paul Manafort, his former campaign chairman turned convicted felon. Manafort has been a reluctant cooperator in Special Counsel Robert Mueller's investigation into possible collusion between the Trump campaign and Russia in the 2016 election. Clemency is "not off the table," the president told the New York Post. Trump's lawyer Rudy Giuliani said any action would come only once the investigation is over.
Doggy diplomacy | North Korean leader Kim Jong Un's September gift of two hunting dogs to South Korean counterpart Moon Jae-in is bearing fruit in the form of a litter of puppies and now a historic railway deal. South Korean trains will cross the border for the first time in a decade, another sign of steady progress toward Moon's goal of achieving "irreversible progress" on relations by year-end. The dogs produced six puppies, "which is great luck," Moon tweeted.
Merkel's heir | Businessman Friedrich Merz is energizing Germany's Christian Democrats with his bid to succeed Chancellor Angela Merkel as party leader. Yet Merz needs to overcome missteps and her 18-year legacy of cautious, technocratic leadership, Patrick Donahue reports. His race against Merkel's favored heir, Annegret Kramp-Karrenbauer, is likely to go down to the wire for a Dec. 7 convention vote.
First 100 days | Elected on high hopes to battle corruption and fix Pakistan's economic malaise, Prime Minister Imran Khan set a raft of ambitious targets for the start of his term. The former cricket star has made progress on some initial pledges, but critics say his administration is in disarray and point to mixed messages, U-turns and a lack of coordination across government. Negotiations for a much-needed IMF bailout also have stalled.
Almost everyone agrees that Theresa May's Brexit deal won't get through Parliament when it comes to a crucial vote on Dec. 11. But can anything else? Kitty Donaldson and Robert Hutton take a closer look
The Afghan Taliban rejected an offer by President Ashraf Ghani to hold peace talks, in a blow to efforts by the U.S. administration to end the 17-year old war.
And finally…Georgia chose its first woman president yesterday. Salome Zurabisvhili, who was backed by the ruling Georgian Dream party of billionaire political kingmaker Bidzina Ivanishvili, is also the first woman to be elected president in any former Soviet republic outside the Baltic states. French-born Zurabishvili, 66, defeated Grigol Vashadze, an ally of ex-President Mikheil Saakashvili. Georgia's first runoff vote was its last direct contest for president – from 2024, a 300-member electoral college will make the choice.