Isolated Qatar Gets Saudi King's Invite to Gulf Council Summit
(Bloomberg) -- Saudi Arabia's king invited Qatar's ruler to attend a regional summit in Riyadh this month in a sign of a potential thaw between the nations as the Saudis struggle to overcome international condemnation for the killing of columnist Jamal Khashoggi and its conduct in the Yemen war.
It wasn't yet clear if the Qatari Emir Tamim Bin Hamad Al Thani accepted the offer from Saudi King Salman Bin Abdulaziz Al Saud to attend the Dec. 9 meeting. And Qatar could say the invite to the Gulf Cooperation Council summit was only natural because the emirate is a member of the group. But the invitation highlighted Saudi efforts to defuse tensions with its neighbor as it faces an onslaught of criticism aimed at Crown Prince Mohammed bin Salman.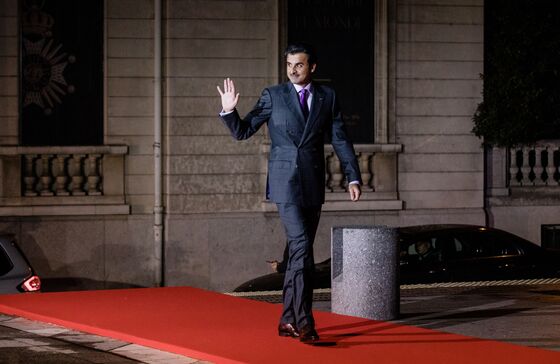 The invitation also comes as the Saudis face renewed pressure to end an 18-month blockade of Qatar over alleged funding of extremist groups and for being too close to Iran. That move put the U.S., which is allied with both nations, in a difficult position. The Trump administration has said it needs the countries of the region to be united against Iran's "malign behavior" as it steps up pressure on the Islamic Republic.
Despite Saudi Arabia's economic might, the blockade hadn't forced Qatar -- the world's biggest exporter of liquefied natural gas -- to accept Saudi ultimatums, including calls to suppress the Islamist Muslim Brotherhood movement. Instead, it has arguably made Qatar -- which shocked the oil world on Monday by announcing plans to quit the OPEC cartel after 57 years -- more independent as it weathered the embargo with the help of its deep pockets and alternative trade routes.
The invitation to the GCC summit follows positive comments Prince Mohammed unexpectedly made about Qatar at a conference in Saudi Arabia in October. In what appeared to be a shift in tone, the prince acknowledged the resilience of Qatar's "strong economy" and forecast it would be one of the countries in the region capable of changing for the better in the next five years.