Saudi Foreign Minister Says He Had 'Great Meeting' With Pompeo
(Bloomberg) -- U.S. Secretary of State Michael Pompeo held an hour-long meeting with Saudi Arabia's foreign minister on the sidelines of the Group of 20 summit in Argentina amid growing congressional pressure to punish the kingdom further over its killing of columnist Jamal Khashoggi.
A State Department spokesman, Heather Nauert, said in a statement that Pompeo and Adel Al-Jubeir talked about "the importance of making progress on the investigation" into the death of Khashoggi, the Saudi insider-turned-critic. He was killed in early October at the Saudi consulate in Istanbul, where he had gone for paperwork related to his planned wedding.
"Upcoming talks related to the Yemen conflict" were among other issues discussed, Nauert said. It was Pompeo's first known encounter with the foreign minister since he visited Saudi Arabia in October.
"It was a great meeting -- very productive," Al-Jubeir said Friday as he left the Park Hyatt Hotel in Buenos Aires. "We discussed challenges in the region and the bilateral relationship and ways of moving it forward."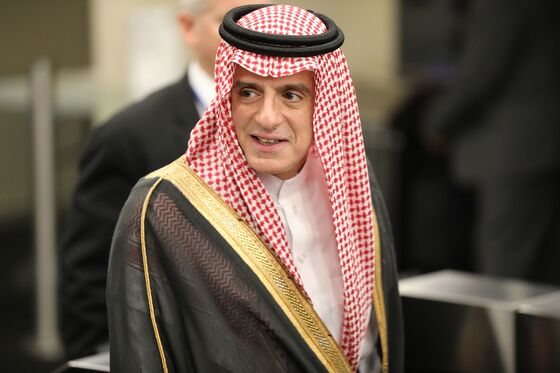 Al-Jubeir declined to say whether the two men discussed Khashoggi.
The meeting wasn't on Pompeo's public schedule and appeared to come together at the last minute. President Donald Trump shook hands briefly earlier in the day with Saudi Crown Prince Mohammed bin Salman but didn't have a formal meeting. Several world leaders at the G20 have declined to meet with the crown prince, who was seen giving Russian President Vladimir Putin a high-five when they met on Friday.
The killing of Khashoggi, a U.S. resident who wrote for the Washington Post, has emerged as the most serious threat to American-Saudi ties since at least the Sept. 11, 2001, terror attacks. U.S. senators have insisted that the White House be more forthcoming about intelligence gathered on Khashoggi's killing, and demanded to know whether the crown prince, who has repeatedly denied having any involvement, knew about it in advance or ordered it.
According to several reports, the U.S. intelligence community has concluded with high confidence that Prince Mohammed ordered the killing. American officials, including Trump, have publicly questioned whether the crown prince's role will ever truly be known.
Earlier in the week, Pompeo and Defense Secretary Jim Mattis told senators that the strategic relationship with Saudi Arabia, and the fight against Houthi rebels in Yemen, were too important to risk a broader rupture in ties with the kingdom. But many senators, who emerged from that hearing angrier than they went in, are weighing the possibility of restricting support for the Saudi-led campaign against the Houthis.