Saudi Cleric Visits Auschwitz and Reaches Out to Polish Jews
(Bloomberg) -- As world politics overshadows the 75th anniversary of the liberation of Auschwitz, arguably the most remarkable visitor to Poland isn't part of any official state delegation.
Mohammad Al-Issa, secretary general of the Mecca-based Muslim World League, visited the Nazi death camp on Thursday and was headed to the Museum of Polish Jews in Warsaw before breaking bread with local Jewish leaders for Shabbat on Friday. The four-day trip is unprecedented for such a powerful Muslim cleric.
The commemorations marking the anniversary of the Soviet army's liberation of Auschwitz on Jan. 27, 1945, have been fraught with background tension as world leaders converged in Israel rather than at the German-built camp in southern Poland.
Al-Issa, who led the biggest-ever delegation of Muslim clerics to Auschwitz, has been an advocate for more moderate Islam and has visited synagogues in Europe and the U.S. A former justice minister, he's a supporter of the social changes in Saudi Arabia under Crown Prince Mohammed bin Salman, who attracted further scrutiny this week after a United Nations report alleged the Saudis had hacked the phone of Amazon.com Inc. founder Jeff Bezos.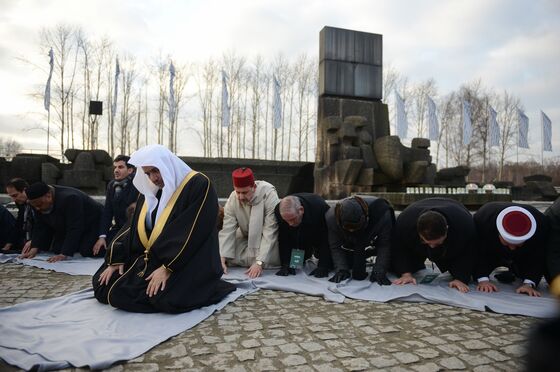 Poland's chief rabbi, Michael Schudrich, said Al-Issa's visit was a "moral act" by religious leaders at a time when elected officials were making politics around Auschwitz. The visit can "show the world that we can sit down normally around a table, be together, share a meal and discuss," Schudrich said.
Speaking before his trip, Al-Issa said the visit had nothing to do with politics or normalizing relations with Israel, but was rather a message of "religions standing together."
"We as Muslims strongly condemn and feel strong pain over the crimes committed against humanity in general and against religions in particular and especially against ethnicities," he said in an interview in Riyadh.
Asked about parts of the Arab community who dispute the Holocaust, he said it was a crime to "falsify history," especially "the most atrocious crime in the history of mankind."
There was the predictable backlash on social media. Some people called the visit a humiliation that diminishes Muslims. Another wondered why the cleric's focus was on Auschwitz and not the Palestinians under attack by Israelis in Gaza. Others said the Muslim delegation doesn't represent Muslims, calling the holocaust a lie.
Al Mayadeen TV, which is based in Beirut and close to Shiite Iran, used the headline "Israeli media celebrates a former Saudi justice minister's visit to Auschwitz."
The main commemorations marking the liberation of Auschwitz took place in Israel instead of the museum in southern Poland, where the remains of the camp still stand.
Polish President Andrzej Duda boycotted the Jerusalem event because he was not allowed to join Russia's Vladimir Putin in addressing it, amid a diplomatic row between the countries over their roles in World War II. A separate gathering of representatives of more than 50 nations will take place on Monday at Auschwitz.
"We're already seeing people starting to do politics around Auschwitz—this is totally unacceptable," Schudrich said. The Muslim scholars' visit, on the other hand, may have more significance, he said.
"In the Arab world, the Holocaust is rarely mentioned and this visit will raise awareness, which is extremely important," he said. "Regardless of whether religious leaders want to be involved in politics or not, sometimes when they do something that's moral it also has a political impact."