Saudi Critic Missing After Entering Consulate in Turkey
(Bloomberg) -- Jamal Khashoggi, a Saudi government critic and journalist living in self-imposed exile, has gone missing after entering the Saudi consulate in Istanbul on Tuesday, according to his fiancee, raising concerns that he's been detained.
Khashoggi, a contributor to the Washington Post, was accompanied by his Turkish fiancee to the consulate around 1 p.m. on Tuesday, where he hoped to obtain a document necessary for them to marry. Asking to be named only as Hatice, the woman said she waited for Khashoggi until 1 a.m., even after being told there was no one left inside the building, and then returned on Wednesday morning.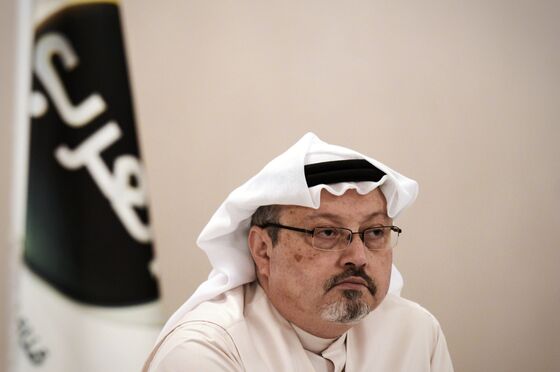 "He's not a traitor, he's someone who loves his country," a tearful Hatice said in an interview outside the consulate.
"We think he's being held inside," said Turkish-Arab media association head Turan Kislakci, a friend of Khashoggi's who was also waiting. "The Turkish authorities we've spoken with also think he's being held inside."
A Saudi official said in a statement on Wednesday that reports of Khashoggi's disappearance inside the consulate were false.
"Mr. Khashoggi visited the consulate to request paperwork related to his marital status and exited shortly thereafter," the official said. "The government of Saudi Arabia follows up diligently on any reports related to the safety of any of its citizens and will continue to follow up on these reports."
Turkey's Foreign Ministry had no immediate comment and Yasin Aktay, an adviser to the chairman of Turkey's ruling AK Party, didn't respond to calls to his mobile phone. Bloomberg was unable to reach Khashoggi by telephone.
Saudi Arabia has cracked down on dissent since the rise to power of 33-year-old Crown Prince Mohammed bin Salman, arresting activists, businessmen and religious scholars who don't support the government's policies. Foreign Minister Adel Al-Jubeir said last year that one of the roundups had targeted people who were "pushing an extremist agenda" with the help of foreign funding.
Khashoggi has lived in the U.S. since last year after leaving Saudi Arabia over concerns he would be arrested or prevented from traveling abroad. He became one of Saudi Arabia's most prominent journalists after interviewing Osama bin Laden in Afghanistan. Under previous Saudi monarchs he was close to the government, serving as adviser to senior officials, including former intelligence chief Prince Turki Al-Faisal.
During his self-imposed exile, Khashoggi has become a vocal critic of Prince Mohammed's increasingly authoritarian tendencies, writing columns in the Washington Post that struck a nerve inside the kingdom. He was subjected to frequent attacks online calling him a traitor and accusing him of being funded by enemies of Saudi Arabia.
Before entering the consulate, he had told his fiancee to call the Turkish authorities if he was late.
"Jamal and I have not seen eye to eye on many issues but having him go missing like this is awful and my thoughts and prayers are with him and his family," tweeted Ali Shihabi, head of the Arabia Foundation, a pro-Saudi think tank in the U.S.
Prince Mohammed's clampdown has undercut his efforts to fashion himself as a modernizer trying to open Saudi Arabia's economy and loosen social restrictions. In May, some of the country's most prominent women's rights activists were arrested as well, accused of cooperating with unspecified foreign entities. Many Saudis say space for respectful criticism has shrunk, while local journalists complain of escalating government pressure.
Separately, a Saudi Arabian national who is wanted for "non-sufficient funds checks" was arrested and extradited to the kingdom, according to a report by state-owned Saudi Press Agency. The report didn't identify the arrested individual or where he was extradited from.
The action was taken within the framework of international cooperation between Saudi Interpol and Interpol member states to combat overseas and public crimes in all its forms, according to SPA.