Saudi Arabia Holds First Court Session for Khashoggi Murder
(Bloomberg) -- Saudi Arabia held its first trial session for the murder of government critic Jamal Khashoggi, whose killing at the kingdom's consulate in Istanbul rattled relations with the West and investors.
Eleven suspects and their lawyers were present at the proceedings in Riyadh. Prosecutors are still waiting for evidence from Turkey, and the interrogation of some of the suspects continues, state-run Saudi Press Agency reported, citing the country's public prosecutor. The court granted a request from lawyers for time to respond to the indictment.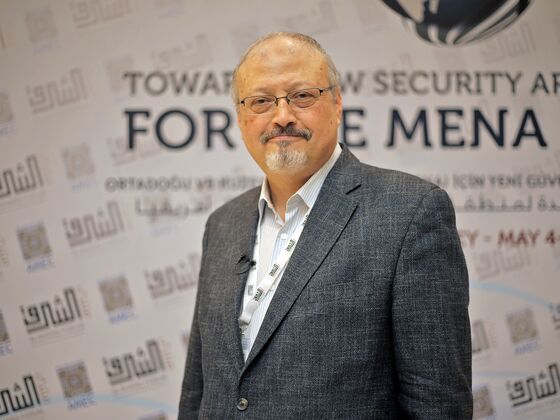 There was no immediate response from Ankara, which has requested that the suspects be tried in Turkey.
Khashoggi was a critic of Crown Prince Mohammed bin Salman's policies, and intelligence leaks from Turkey have suggested the prince had a role in the decision to kill him, something Saudi Arabia denies.
There was no advance notice of the court session and no footage of the proceedings was immediately shared on state-run television or media. The public prosecutor has requested the death penalty for five of the suspects.
Saudi trials are largely closed to media, and Cinzia Bianco, a Middle East and Gulf analyst for Gulf State Analytics in London, said she didn't expect a public trial in this case, either. The case is highly politicized "and much more complex than it appears just based on the evidence being shared with the public," Bianco said.
Members of the Saudi Human Rights Commission attended the court session and said the proceedings were in accordance with the kingdom's regulations, state-run SPA reported.
The trial will be more for domestic consumption, allowing officials to say something has been done, said David Roberts, an assistant professor at King's College London who studies the Gulf. "There is enormous skepticism as to whether anything will be done and this is Saudi Arabia's opportunity to prove people wrong," he added. But "I doubt anyone is going to be ultimately satisfied."
Khashoggi was killed by Saudi agents at the consulate on Oct. 2. His death sparked an international uproar, leading the U.S. and Germany to rethink their arms sales to the kingdom.