Botin Risks Confronting Latin America-Style Populism at Home
(Bloomberg) -- Ana Botin knows a thing or two about dealing with populists.
Over more than two decades the 59-year-old chairman of Banco Santander SA, Spain's largest lender, helped build the biggest overseas banking empire in Latin America, successfully navigating bouts of anti-market populism by the region's governments. Now, she may have to contend with one at home.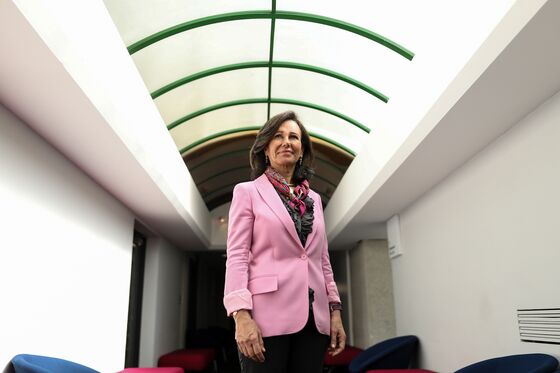 A coalition government taking shape in Spain may bring together the Socialists, led by Pedro Sanchez, and the anti-austerity Podemos, which wants to tax banks more to recuperate 60 billion euros ($66 billion) spent on their bailout during Europe's financial crisis.
Sanchez still needs support from other parties to cobble together a government. But if Podemos is part of the new administration, Botin will need all her diplomatic skills honed in Latin America to mitigate the pain of any populist measures at a time when Europe's banks are hit by historically low interest rates, regulatory changes and the region's sluggish economic growth.
"It makes sense for them to be proactive," said Mauro Guillen, a professor at the University of Pennsylvania's Wharton School and the author of "Building a Global Bank: The Transformation of Banco Santander." "They can't afford to be on the wrong side of things given the other challenges they're facing."
Spanish bank stocks tumbled on Nov. 12, when Sanchez signed a coalition deal with Podemos. Bankia SA, whose privatization the anti-establishment party has threatened to put on hold, tumbled 4.6%. Santander slid 4.5% in the two days following the announcement.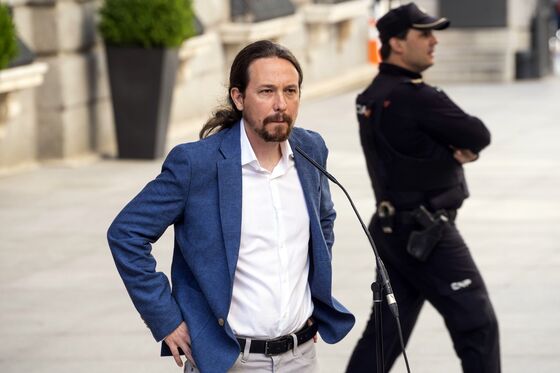 For now, Botin has made no public overtures to Podemos. Asked about a possible populist party in power, Santander said it is committed to "work closely with governments in every market in which we operate."
As the biggest party, Spain's Socialists would be the drivers of government policy. But coalition partner Podemos would have some say, and its leader Pablo Iglesias wants to restrict real estate holdings by large funds. That would effectively bar a key player from snapping up banks' bad loans.
With Podemos's emergence in government, Botin will come face-to-face with a party whose leaders have acted as advisers to the governments of the so-called "pink tide" in Latin America. The ponytail-sporting Iglesias advised Hugo Chavez in Venezuela and at one point lived with supporters of the Zapatista rebel movement in their camps in Mexico.
Botin's dealings with Iglesias and Podemos might be helped by her courtship of populist leaders in Latin America, a region that accounts for 46% of Santander's business -- matching that in Europe -- and is the driver of the bank's growth.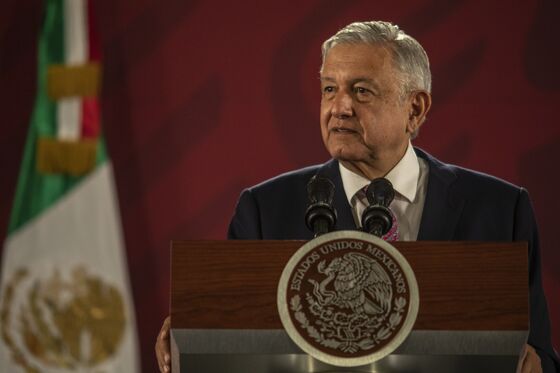 Botin cultivated a close relationship with Mexican President Andres Manuel Lopez Obrador, or AMLO as he's known, capitalizing on his roots in the northern Spanish region of Cantabria, where Santander was founded. The two have met three times in the past two years after being introduced by the president of the region, Miguel Angel Revilla.
Botin was among the few Spanish business leaders to meet with him when as a candidate for president he visited Cantabria in 2017.
In contrast, Carlos Torres, the chairman of Banco Bilbao Vizcaya Argentaria SA, the Spanish lender that owns the largest bank in Mexico, only got to meet AMLO in June. Torres's predecessor Francisco Gonzalez hadn't been very diplomatic about AMLO, saying in 2017 that electing a populist would be "a step backward" for Mexico.
Santander, for its part, launched Tuiio, a subsidized micro-financing platform for low-income businesses. In November, Botin appeared in a video with AMLO saying Santander won't charge commissions on remittances by Mexican immigrants in the U.S.
Botin also often speaks about investing in infrastructure, education, women and bringing jobs to Mexico, all topics that play well with AMLO. Mexico is an IT hub for Santander's business in the Americas and the bank is expected to move more back office functions there.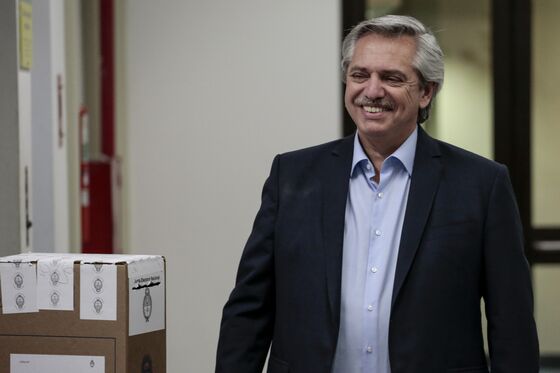 Botin, who spent the early years of her career expanding Santander's investment banking operations in Latin America, has also leveraged contacts made during that period.
She was the first banking executive Argentina's Alberto Fernandez met when it was clear he would win in the general election. The leftist leader, sworn in this week, met with Botin in September in Madrid, and again in Buenos Aires last month. Botin pledged $500 million in credit lines to promote Argentine exports.
Fernandez's links to Botin go back to 1992, when he headed the Argentine insurance regulator, and Santander and state-run Banco de la Provincia de Buenos Aires jointly created Origenes AFJP, a pension fund, according to two people with knowledge of the matter.
When Fernandez became vice president of Grupo Banco Provincia SA, Banco Provincia's holding company, he helped Botin negotiate a capital increase to allow Origenes to buy a rival and become one of the three largest pension funds in Argentina.
Santander, the largest foreign bank in Argentina, maintained ties with him when he became cabinet chief to ex-President Nestor Kirchner and then to Cristina Kirchner, sworn in as vice-president this week.
The connection helped Santander persuade Banco Provincia to approve Origenes's sale to ING in 2007 for $280 million. The sale was both lucrative and prescient. In 2009, all of Argentina's pension funds were nationalized as Cristina Kirchner's government lurched left.
In her dealings with populists, Botin has taken a leaf out of her father's playbook. When Luiz Inacio Lula da Silva emerged as a credible candidate for Brazil's presidency in 2002, Emilio Botin reached out to him while others pulled back. Santander spent 1.8 million reais ($948,000 at the time) backing Lula, more than on his moderate Social Democrat opponent.
The investment paid off. Santander went on to buy ABN Amro Holding NV's Brazilian unit, doubling its size in the country. Former executives of the bank were appointed to key posts in Lula's government and at the central bank.
Botin has continued with the tradition, meeting Jair Bolsonaro twice since the right-wing populist became the president of Latin America's biggest economy on Jan. 1 -- first at the World Economic Forum in Davos and then for 30 minutes in Brasilia in March.
Brazil today accounts for 29% of Santander's underlying profit and its business there continues to expand even as European units in Spain and the U.K. falter.
Spain is to some extent protected from populist measures by the European Union's strict monitoring of fiscal policy. The continuity of Nadia Calvino, a former EU technocrat, as economic policy chief will also provide a "firewall" against Podemos's more radical proposals, said the Wharton's Guillen.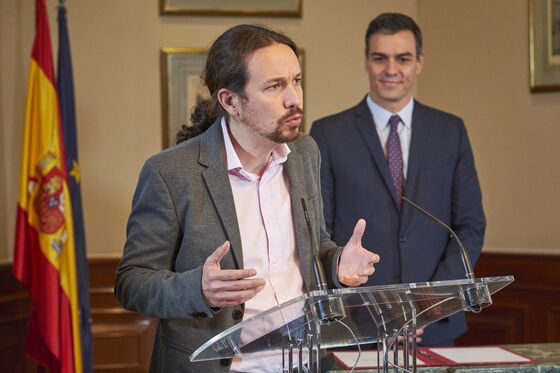 Still, Sanchez may have to cede to Iglesias on some policies. The Socialist government has already extended limits on rent increases, but Podemos wants to go further, guaranteeing a family spends no more than 30% of its income on rent and banning evictions when people have nowhere else to go.
Podemos also proposes banning the custom of handing lucrative board appointments to former politicians. It wants to ban banks from owning media companies. Santander holds shares in Promotora de Informaciones SA, the owner of El Pais newspaper.
It's not clear how Botin will cap the Podemos effect. But that she will have to reach out to the new coalition is clear, said Guillen.
"I wouldn't call it lobbying, I would call it a very fluid, very close relationship," he said. "You can't get anything done in Spain without the banks and you can't get anything done without the government."