Iowa City Newspaper Endorses Klobuchar: Campaign Update
(Bloomberg) -- The Iowa City Press-Citizen on Friday endorsed Amy Klobuchar for president, saying she "has the capacity to unify our country."
In an unsigned editorial, the 14,000-circulation newspaper in Iowa's fifth-largest city cites the Minnesota senator's track record in elections in her home state, saying she has the "ability to appeal across urban, rural and progressive, moderate divides."
While noting that some have criticized her as a "moderate incrementalist," the paper praises her 100-day plan to use executive orders to move ahead on climate change, gun safety and family separation.
Still, the editorial notes that she has "struggled to gain national traction in the way that other candidates have."
"Whatever the precincts report Monday night, Klobuchar will have to up her media game if she's going to be successful moving forward," it says.
She was previously endorsed by the Quad-City Times in Iowa, the New Hampshire Union Leader and co-endorsed with Elizabeth Warren by the New York Times.
Influential Iowans Switch to Warren (5:00 p.m.)
Democratic presidential candidate Elizabeth Warren on Friday locked in a major endorsement from an influential couple in Iowa politics three days before the caucuses.
Former Iowa Democratic Party Chairwoman Sue Dvorsky and her husband, former state Senator Bob Dvorsky, announced they were endorsing Warren for president in a statement to the Des Moines Register.
"This woman has integrity. She has grit. And she has a plan," Sue Dvorsky said in the statement. "And she's solutions-oriented."
The Dvorskys had previously endorsed Senator Kamala Harris, who dropped out of the race in December.
They join a list of about 22 Iowans who had formally endorsed other presidential candidates but then backed Warren after their initial picks dropped out. -- Misyrlena Egkolfopoulou
Poll Shows Biden Leads Field Nationally (4:21 p.m.)
More than a quarter of Democratic voters are supporting Joe Biden, according to the latest national poll from Investor's Business Daily.
The former vice president had the backing of 26% of those polled, followed by Vermont Senator Bernie Sanders at 19% and Massachusetts Senator Elizabeth Warren at 13%.
Former New York City Mayor Michael Bloomberg is at 8%, statistically tied with former South Bend, Indiana, Mayor Pete Buttigieg who had 7%.
The survey of 336 adults contacted via mobile phones and landlines was conducted from Jan. 23-30. The poll's overall margin of error was 3.3 percentage points.
Biden remains in first place nationally in the RealClearPolitics average, but Sanders is ahead in some recent Iowa polls and leads in most recent New Hampshire polls.
Bloomberg is the founder and majority owner of Bloomberg LP, the parent company of Bloomberg News.
DNC Changes Debate Rules (2:41 p.m.)
The DNC has changed its rules for participation in the Democratic primary debates, eliminating the individual donor requirement. This could allow Michael Bloomberg to participate in debates after the February 11 New Hampshire primary.
Ad Offers Iowans Respite from Barrage (2:18 p.m.)
Turn on a TV in Iowa right now and you'll be bombarded by ads making the closing arguments for the 2020 candidates.
Bernie Sanders vows to protect Social Security and criticizes President Donald Trump. Elizabeth Warren touts her endorsement from the Des Moines Register. Joe Biden pledges to fight climate change and the National Rifle Association.
One group took the crush of advertising as an opportunity to make a splash with its own messaging.
Images of flowers and waterfalls are shown as soft music plays. A woman's voice comes on.
"This break in political advertising is brought to you by the Des Moines home and garden show," she says.
Delaney Ends Marathon Just Before Starting Line (12:40 p.m.)
When John Delaney announced his presidential run, Reince Priebus was still White House chief of staff. "Spider-Man: Homecoming" was in movie theaters.
Now, 917 days, two White House chiefs of staff and another "Spider-Man" movie later, Delaney has dropped out just before the first nominating contest, the Iowa caucuses, on Monday.
Without a national profile, the former Maryland congressman was always a long shot for the Democratic nomination. He hoped that by setting up shop in Iowa early and lending his campaign more than $24 million of his own money, he could break through, but it wasn't meant to be.
Delaney had a standout moment at the second Democratic debate, criticizing "fairy tale economics" in an exchange with Elizabeth Warren. But he failed to make the stage at any other debates and remained mired at the bottom in the polls.
His withdrawal leaves 11 candidates in the race.
Biden Says Trump Impeachment Is 'Not Partisan' (8:53 a.m.)
Joe Biden sought to make a distinction between comments he made assailing partisanship during the 1999 impeachment of former President Bill Clinton and his support for removing President Donald Trump, whose Senate trial nears its end Friday.
"It's not a partisan impeachment," Biden said on ABC's "Good Morning America" on Friday. "He violated the Constitution, period."
Biden said his comments in 1999 against party-line votes to remove a president were different because the Clinton case didn't involve a constitutional violation.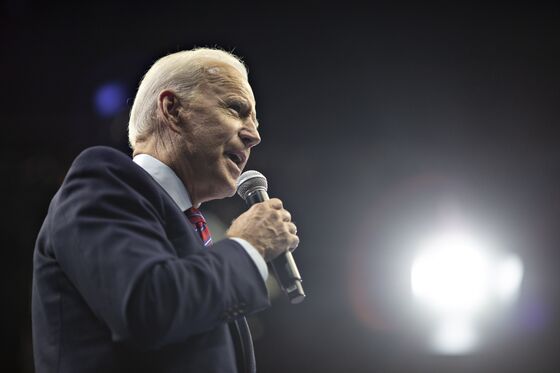 "A party-line vote on something that doesn't relate to a constitutional violation is a different thing," Biden said.
Biden said a vote against impeaching Trump reflects poorly on "those who know, in fact, in their heart and head that, in fact, it's a violation of the Constitution to do what he did." -- Caitlin Webber
Sanders Rivals Biden for Top Spot Nationally (7:27 a.m.)
A new poll shows Bernie Sanders continuing to challenge Biden for the lead spot among Democratic voters nationally as the party's first nominating contest approaches in Iowa on Monday.
Sanders is neck-and-neck with Biden among Democratic Party primary voters garnering 27% support, a virtual tie with Biden, who had 26%, according to a Wall Street Journal/NBC News poll released Friday.
The survey had Elizabeth Warren fall to third with 15% support after being about even with Sanders for second place in the outlets' previous two polls.
Michael Bloomberg came in fourth in the poll, which also found that about 60% of Democrats said they'd seen a Bloomberg ad.
The poll of 428 registered voters was conducted Jan. 26-29 and had a margin of error of plus-or-minus 4.74 percentage points, according to Dow Jones. -- Caitlin Webber
Some of the Democratic candidates will debate again in New Hampshire on Feb. 7.
The first-in-the-nation Iowa caucuses will be held Feb. 3. The New Hampshire primary is Feb. 11. Nevada holds its caucuses on Feb. 22 and South Carolina has a primary on Feb. 29.
CNN will host town halls featuring eight presidential candidates in New Hampshire on Feb. 5 and 6.
(Disclaimer: Michael Bloomberg is also seeking the Democratic presidential nomination. He is the founder and majority owner of Bloomberg LP, the parent company of Bloomberg News.)