Buttigieg Flips Chops With the Iowa Pork Queen: Campaign Update
(Bloomberg) -- Pete Buttigieg won over royalty Tuesday at the Iowa State Fair.
"He's pretty good," said Grace Greiner, the 18-year-old Iowa pork queen, after she watched Buttigieg flip pork chops, a traditional task for politicians at the fair.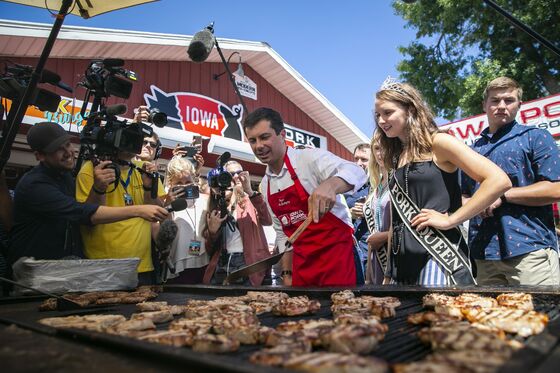 Greiner had also flipped chops with 2020 Democratic rivals Kamala Harris and Tim Ryan, but at least on meat-turning skills -- apparently pork queens don't discuss politics -- "He was probably the best."
Buttigieg, the mayor of South Bend, Indiana, spent an afternoon at the fairgrounds with cameras, staff and fans in tow. He gobbled down a bacon ball BLT, posed for photos while holding a pork chop, ate fried Oreos and detoured to a slushee stand after he saw he could make his own.
When asked about the pork chop, while on his way to see the famed butter cow, Buttigieg gave rave reviews.
"The thing about good meat is that you don't have to season it too much," he said.
Later in the afternoon, Buttigieg promised to ride the fair's big slide with a young boy.
Trump Brags of 13 Visits to Key Electoral State (3:36 P.M.)
President Donald Trump made the case in a visit to a petrochemical plant in Pennsylvania that he had a special connection to the state, part of the group of Rust Belt states that will be key to the presidential campaign.
"This is my thirteenth visit to Pennsylvania during my administration, which is more than any other president to this point in the term," he said as he began remarks at the Shell Pennsylvania Petrochemical Complex. "I went to school in Pennsylvania, Philadelphia, so we love this state."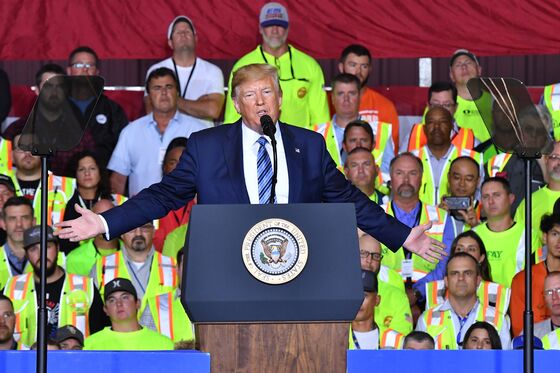 It wasn't immediately clear whether other presidents had visited Pennsylvania as many or more times.
He went on to blame the media, a frequent target in his speeches, saying that "the election would be over" if coverage were different. "Have they ever called off an election before?" he asked.
Amazon, Post Attack by Sanders Echoes Trump (12:52 P.M.)
Senator Bernie Sanders echoed Trump in accusing The Washington Post for biased coverage because of the Vermont senator's promise to break up its parent company Amazon.com Inc. if elected president.
"Anybody here know how much Amazon pays in taxes?" Sanders asked the crowd of voters gathered at a town hall in Wolfeboro, New Hampshire. "Nothing!" they yelled back.
"I talk about them all the time and then I wonder why the Washington Post, which is owned by Jeff Bezos, who owns Amazon, doesn't write particularly good articles about me," Sanders said. "I don't know why. But I guess maybe there's a connection."
The president has made similar claims. In July 2018, Trump tweeted, "The Amazon Washington Post has gone crazy against me ever since they lost the Internet Tax Case in the U.S. Supreme Court two months ago."
In his second run at the Democratic nomination, Sanders has promised to break up big corporations to "level the playing field" for working-class people.
Washington Post Executive Editor Marty Baron responded to Sanders's remarks, calling them a "conspiracy theory."
"Contrary to the conspiracy theory the senator seems to favor, Jeff Bezos allows our newsroom to operate with full independence, as our reporters and editors can attest," Baron said in a statement late Monday. -- Misyrlena Egkolfopoulou
Steyer Says He's Hit Donor Threshold for Debate (10:00 A.M.)
Billionaire Tom Steyer, a late entry into the crowded 2020 Democratic presidential race, said Tuesday he's met one of the thresholds to make the party's next debate in September.
In a statement, Steyer's campaign said he hit the Democratic National Committee's requirement of 130,000 individual doors and has averaged 26,000 donors a week since announcing his candidacy five weeks ago. He has yet to hit polling benchmarks.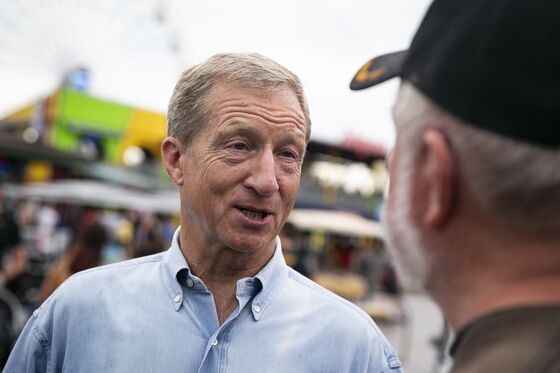 "Tom reaching this milestone just five weeks into his campaign is proof that his message is resonating with people across the country," Campaign Manager Heather Hargreaves said in a statement.
Steyer is a former hedge fund manager who has been running a television ad campaign urging the impeachment of President Donald Trump. Speaking on MSNBC on Tuesday, he denied impeachment is a divisive issue and lashed out at court decisions since the 1980s he said gave corporations more influence in government.
"It was really those legal decisions that basically put corporate CEOs in the position of only answering to shareholders," Steyer said.
The next round of Democratic debates is scheduled for Sept. 12-13 in Houston.
Sanders Asks N.H. to Repeat His 2016 Win There (5:30 A.M.)
Bernie Sanders began his two-day swing through New Hampshire by asking voters there to show the same support for his progressive agenda as they did in 2016, pitching himself as the trailblazer of the top issues in the Democratic Party.
"I laid out an agenda that the establishment said was an extreme agenda," Sanders said during a town hall in North Conway, New Hampshire. "The people of this state said that agenda makes sense to us. When the people speak, an idea that once seemed radical, turns out not to be quite so radical."
Sanders, a Vermont senator, won the 2016 New Hampshire primary against Hillary Clinton with 60% of the vote.
Sanders pitched voters his signature policies of raising the minimum wage to $15 an hour, canceling all student debt and providing universal health care.
These issues have made it to the top of agenda for many of his competitors in the 2020 race for the Democratic nomination, who have embraced a more progressive agenda in an effort to appeal to an increasingly left-leaning electorate that catapulted Sanders' campaign in 2016. -- Misyrlena Egkolfopoulou
* President Donald Trump holds a "Keep America Great" rally in Manchester, New Hampshire, on Thursday.
* The Democratic National Committee holds its meeting Aug. 22-24 in San Francisco. All Democratic presidential candidates are expected to speak.
* The next round of Democratic presidential debates is Sept. 12-13 in Houston. So far, nine candidates have qualified to participate.