Sanders as Front-Runner Raises Democratic Jitters in Congress
(Bloomberg) -- The muddled Democratic presidential contest is raising jitters among some in the party that their House majority and chances of taking the Senate could be at risk in 2020.
The rise of Bernie Sanders to the top after the New Hampshire primary and the Iowa caucuses, and him supplanting former Vice President Joe Biden as front-runner in national polls, has particularly unsettled some of the Democrats running in heavily Republican areas.
They say the Vermont senator's embrace of what he calls democratic socialism and promise of a "Medicare for all" system to replace private insurance will motivate President Donald Trump's voters and turn off the moderates they need to win re-election.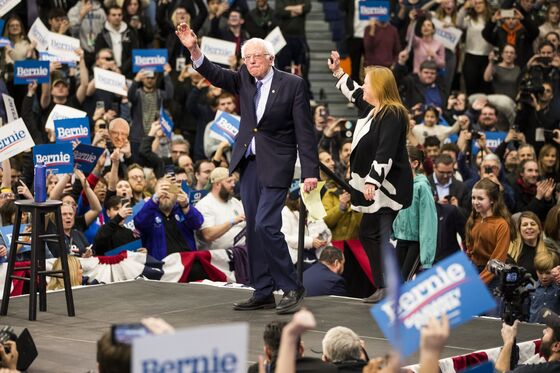 "I've said quite clearly that I would prefer for there to be a moderate at the top of the ticket," said New York Representative Anthony Brindisi, who ousted a Republican in 2018 and represents the most pro-Trump district of any first-term Democrat. "I would say the voters in New Hampshire felt the same way."
Although Sanders narrowly won Tuesday's primary in New Hampshire with 25.7% of the vote, the two runners up, Pete Buttigieg and Amy Klobuchar running as centrist candidates, garnered a total of 44%.
Democrats claimed the House majority in 2018 primarily by combining voter anger over Trump with a moderate message. Brindisi's upstate New York district is one of 31 that voted for Trump in 2016 and were won by House Democrats two years later.
In the Senate, Democrats are targeting more than half a dozen vulnerable GOP-held seats. But Democratic presidential nominee Hillary Clinton won just two of those states in 2016: Colorado and Maine. Trump won the key battleground states of Arizona, North Carolina, Iowa, Georgia and Kansas.
The swing-district Democrats who've backed a candidate for the party's nomination are mostly split between Biden and former New York Mayor Michael Bloomberg, who isn't competing in the first four contests but is spending millions to make his mark in the Super Tuesday round of primaries on March 3.
(Bloomberg is the founder and majority owner of Bloomberg LP, the parent company of Bloomberg News.)
Sanders has the endorsement of many of the Democratic Party's progressive stars, including New York Representative Alexandria Ocasio-Cortez, who represent solidly Democratic districts.
Democratic leaders in Congress, who have not embraced any of Sanders's more left-leaning policy initiatives, have been trying to tamp down talk of anxiety or panic within the party ranks.
"Just because some people may be speaking out about not liking one candidate or the other -- that's the Democratic way, that's politics. It's a messy business," House Speaker Nancy Pelosi said Thursday. "We're calm, we're cool, we're collected."
Senate Democratic leader Chuck Schumer said that as the primaries play out "Democrats will be strongly united."
That hasn't stopped the chatter in Congress.
"I think Sanders is a problem for some moderates. There's no question about it because I hear the talk around," Democratic Representative Al Lawson, who represents a safe Florida district, said.
Allies of Sanders dismiss the angst as part of winnowing process in the primaries. They say that if the goal is defeating Trump, the party will coalesce around the nominee.
"There will always be concerns about party unity no matter who it is," Ocasio-Cortez said. "Like, if Klobuchar or whomever were the front-runner right now, there would be a lot of stress as to whether progressives would unify" behind her.
Washington Representative Pramila Jayapal, a Sanders supporter and co-chair of the Congressional Progressive Caucus, said Democrats repeatedly make the mistake of picking moderate candidates who end up alienating the more liberal base of the party and losing the election.
"We can't keep doing the same thing and expect a different result," Jayapal said. "We are in this situation because we did not expand the electorate and nominate someone the voters actually trust."
Sanders maintains a loyal base of supporters and has a proven ability to bring out youthful and working-class voters. Also, polls show him performing about as well as moderates Biden and Bloomberg in head-to-head match-ups against Trump.
Four years ago, establishment Republicans had similar concerns about their prospects in congressional races when it became clear that Trump would be their nominee. They still emerged with control of both the House and Senate despite a net loss of two Senate seats and six House seats.
As he attempts to claw his way back into contention, Biden has tried to stoke the concerns about the impact of a Sanders nomination on House and Senate races.
"Elected officials across the country understand that there would be down-ballot carnage for the Democratic Party if we nominated the wrong person," Biden said Thursday on ABC's "The View." "And if Bernie Sanders was at the top of the ticket, we would be in jeopardy of losing the House. We would not get the Senate back."
Republicans have been eager to stoke the divisions.
"He's a socialist who would destroy the economy," Iowa Republican Senator Joni Ernst, who is up for re-election in November, said. "I think he helps everyone up and down the ticket," she said of GOP candidates.
House Republican leader Kevin McCarthy of California on Thursday also goaded Democrats over Sanders.
"Think about what would be his cabinet -- AOC? Tlaib? Omar?" he said referring to Ocasio-Cortez, Michigan's Rashida Tlaib and Minnesota's Ilhan Omar, the self-described squad of first-term progressives who have been particular targets of Trump and Republicans.
Senator Doug Jones of Alabama, the most-vulnerable Senate Democrat on the ballot this fall, was an early Biden backer and said having Sanders atop the ticket could be problematic in races like his.
The moderate wing "is where I think most of the Democratic party is across the country," he said.
But Jones and other Democrats are also saying they will be patient while the race plays out.
"I just think all this front-runner stuff -- we're now on our third front-runner -- we'll just have to wait and see," said Representative Jim Clyburn of South Carolina, which is holding a Feb. 29 primary that will help define the race.