Sanchez Wants Options Open for a Deal With Center-Right in Spain
(Bloomberg) -- Spanish Prime Minister Pedro Sanchez is looking to keep his options open as he prepares for talks with potential allies over his next government.
And that includes Ciudadanos, the center-right party that spent the last few months saying that he must be kicked out of office.
Sunday's election delivered a clear victory to Sanchez's Socialist party, but no straightforward route to a majority in parliament. The party will likely hold off starting talks with other groups until after the European and municipal elections on May 26, Socialist President Cristina Narbona said Monday.
Sanchez is working out how to take his second government forward as he seeks to heal the wounds from the Catalan crisis of 2017, sustain the country's economic expansion and ensure more people get to share the benefits of growth. His victory also offers hope to center-left politicians across Europe who've seen their ranks decimated as they struggled to offer voters a compelling vision in the aftermath of the financial crisis.
The anti-establishment Podemos offered the support of its 42 lawmakers after the results were announced, but Sanchez would also need help from a more controversial group such as the Catalan separatists to get over the threshold of 176 votes. Both Sanchez and Narbona signaled that they would now be open to talking to Ciudadanos about an alternative, despite the bad blood between them. Those two parties alone have 180 lawmakers.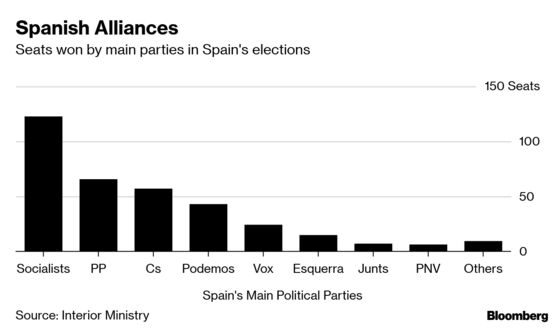 Ciudadanos has repeatedly ruled out supporting the Socialists. But the political sands will shift again when the new parliament sits, with 24 lawmakers from Vox entering the chamber as the first significant nationalist group since the end of the dictatorship in the 1970s. That's something that Ciudadanos will have to respond to.
When Sanchez delivered his victory speech to crowds of euphoric supporters outside Socialist headquarters in Madrid, activists made their feelings about Ciudadanos leader Albert Rivera clear. "Not with Rivera," they chanted, as Sanchez smiled and waved surrounded by his wife and leadership team.
"I have heard that," he told them. "But look: we're not going to be like they were when they cordoned off the Socialist party. The only condition we will set is to respect the constitution and to advance toward social justice, cohesion and cleaning up politics."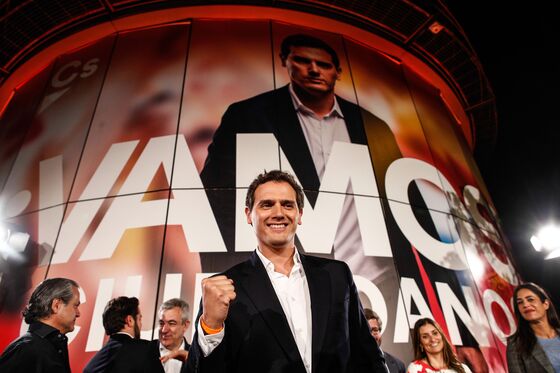 During the campaign, Rivera called Sanchez a fake and a liar and accused him of cheating on his PhD thesis.
Even the possibility of support from Ciudadanos would increase Sanchez's leverage in talks with Catalan separatist parties, who forced him to call a snap election when they refused to support his budget after helping him win power last year. Ciudadanos has been the most consistent critics of Catalonia's attempts to break away from Spain and a pact with Sanchez would signal a significant hardening of Madrid's stance on the issue.
Nine separatist leaders are facing jail terms for their roles in organizing an illegal referendum in 2017 -- up to 25 years in the most severe case. Sanchez's policy of reconciliation with Catalans has raised hopes that they might receive pardons once the political heat has died down, but that would be out of the question if the government relied on Ciudadanos.
Sanchez would need at least one of the separatist parties to abstain in a confidence vote to let him take office with the backing of Podemos and the Basque Nationalists. With Ciudadanos, he could forget about the Catalans' demands and craft a more centrist economic program, but he would risk unrest among his base and among the moderate Catalan voters who contributed to his victory.
The risk is that whichever option he goes for, Spain could end up with another weak government that won't be able to complete the four-year term, according to Goldman Sachs.
"Given the fragmentation in Congress, we cannot exclude the possibility of a minority government, or that a government cannot be formed," Goldman Sachs analysts Silvia Ardagna and Roxane van Cleef said in a note to clients. "Also, it could be possible that any coalition government that may eventually emerge will not remain in power for the entire term and that new elections will be necessary at some point in the future, before the end of the legislature."